Hey Friends ... sign up for my newsletter and get my
FREE Practice Checklist
---
Coach Little League

 Surviving Working with Baseball Parents 
---
REMEMBER...this is a lady at a 9 year olds ball game. This is way too much enthusiasm. Do you think winning is very important to her? Do you think player development has even entered her radar screen? "Punch the ticket?" Really?
This is why I tell my parents to never coach from the bleachers. Sit back and enjoy the game. 75% of children are out of the game by age 14.
---
To coach little league or any youth baseball level and you will have to be able to deal with baseball parents. Most baseball parents will be fine. Many will not without some direction.  
The win-at-all-costs approach can infect baseball parents severly on occasion if not exterminated. 
This is the baseball parent resource page to help stamp out the overly bearing moms and dads that are normally fine people until their child puts a baseball uniform on and crosses into competitive sports.
Really Never Coach Your Own Child Part 2
This One Tidbit is a Game-Changer
The Easy Way to Watch Your Kids Play Baseball
You're Kid Just Wants to Play 'Catch'
You Better Put This on Your To-do List!
Vital Baseball Parents Survival Checklist
Parents Better Protect Your Children
My Message to Baseball Moms & Dads
Question? Rec Ball or Travel Team
How Much Does Travel Ball Cost?

Shopping for a Summer Baseball Camp
Tips to Coach Little League Parents
How Much Do You Love Baseball? Test Yourself

---
---
---
---

What ALL Youth Parents Must Know

This Is a Game-Changer
When baseball parents first sign-up this should be plastered on a banner at the sign-up table. Realize the expectations from day one and your entire outlook could change for the better for your families.
Baseball Parent Guide: You MUST know this...
Secret to Watching Your
Kids Play Baseball
Many baseball parents feel they can control the games from the bleachers. In reality competition cannot be controlled off the field -- only on the field. Parents can become quite emotional when control of the games is not possible and on field circumstances do not turn out in the parents kids favor. 
There are some who have wisdom and experience and often understand this.  See the Best way to watch your kids.
---
Are You Playing Catch With Your Kids?
Hopefully, better than the guy on the TV commercial. The more you play ball away from the organized team the more likely you will have a polished baseball kid. Just play catch!
---
If You Do Not Do Anything Else...
You Better Do This
Plan a pre-season parents - coaches meeting.  To coach little league or any youth baseball team you must have a mandatory meeting and go over everything with the parents. This will save you down the road. 
How to put on a pre-season parent/coaches meeting.
---
Parents & Coaches Protect Yourselves
There have been several cases of inappropriate behaviors between adults and children. None more publicized than the Penn State football coach.
If you coach little league, youth baseball or have a child--do not let our children ever be in a situation alone with an adult. Parents and baseball coaches keep a look out and take precautions to protect yourselves.
Baseball Parents Should Ask the Coach
Baseball parents should know who they are leaving their children with two and three hours a day. This is not like taking your kids to a birthday party and dropping them off.
Far too often baseball coaches act as though they have a free license to yell, scream, curse, belittle, berate and embarrass children on the ballfield.
I am sorry to say that if you as a parent allow this to happen to your child then you are an accomplice to the crime. Know who is coaching your child.
---
How to Be a Baseball Mom
Advice for the baseball mom. To coach little league and youth baseball you need help from volunteer adults. Baseball moms can be quite helpful--or they can be a little too involved.
I have some gentle advice for all the great baseball moms. Check out Baseball Moms.
My Coaches Letter to
Baseball Dads & Moms
---
For all those great men and women out there that coach little league and youth baseball this is a letter that I use to share with my baseball parents every year.
Please take a look and see if any of it might help you along the way to a great season for your family. My message to baseball parents.
---
Travel Ball or Rec Ball?
How Much Does It Cost to Play Travel Ball

A large number of baseball parents will reach a point where they will at least ponder these questions.
Should I take the leap into Travel Baseball or stay with the local rec league ball? This question merits some thought so i put some of my ideas down for you consider when looking at your options.

How Much does it cost to Play Travel Baseball?

---
What to Look For in a Baseball Camp
Baseball camps especially in the summer can be a blast. Like anything else some baseball camps are better than others.
Always do some homework before you jump in and pay your hard earned money. Here is what you should consider when choosing a good summer baseball camp.
---
How to Happily Work Baseball Parents
Strategies for success. Be eager and ready to get to work with your baseball parents.
Make sure you have your coaching philosophy, procedures, playing time, approach to winning and losing, and ground rules in place before the baseball season. You can do it. Tools for dealing with baseball parents.
---
Parents As Coaches
85% of the time those who coach little league and youth baseball have a child on the team.
Coaching your kid is a touchy situation but it can be very healthy if handled right.
It can go very wrong it handled poorly. I put down some suggestions to try to help you out and have a good time coaching your own child.
Back Home from Coach Little League
---
Little League Parent Syndrome
Yes it does exist. No, I know nobody reading this has the disease. But, I am sure that you have seen a few that have been infected.
Yes, if you coach little league baseball or any youth leagues you will run across folks with the syndrome. Little league parent syndrome.
Worst Moment In Youth Sports
The Nightmare Ride Home
Sports Parenting can be tough at times. Here is a way to make it easier. Players dread the ride home more than anything. Must take a look here at  avoiding the Nightmare Ride Home.

Baseball Impossible: Player Development Make-Over



Build Your Own Culture of Player Development


&
Increase Your Players FUN Level

6-DVD Video Set Building Your Complete Player Development System

Click to Order

Audio CD Format Click Here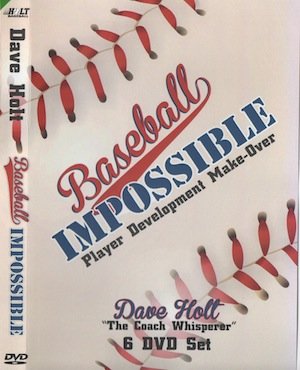 Coaching 6-DVD Box Set
Yes Dave, I Want to Help My Players Enjoy the GAME

Coaching little league baseball & youth baseball can be a blast or could be a  Tough Gig.

Who in their right mind would come back year after year and have teasing baseball practice and never improve their baseball skills? and get welled at by adults?
Baseball Coaching Videos:  Watch over 6 hours of tips on coaching approach, style, philosophy, and my unique player development system. 
Youth baseball carers are short-lived so lets make it count for our players. What do players really want out of playing baseball?
I want to find out more about the 6 DVD Player Development System

---
---