---



'Baseball 

Coaching'
THAT "Matters"

Time-Tested Proven Methods
(for coaches, parents and kids)



Coaching THAT Matters...Lasts Forever


Search for your topics here...
Custom Search
---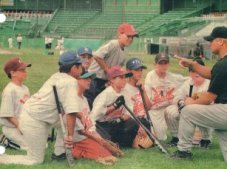 Great Coaches make it Fun for Kids, connect with kids and work positively with Parents
The win-at-all-costs mentality in the modern game of youth baseball that is attributed to the adults has all but destroyed the focus of player development and player enjoyment...
SEE how a simple baseball coaching system can BOOST your players FUN-Level
My exclusive baseball coaching model brings FUN to your players.
How would you like it if your players loved to play for you?
How easy would it be if the kid's parents appreciated your coaching style?

---
LOVE your site and your philosophy. Wish you could be cloned and sent all around the country to coach youth baseball! :) Maria, momtalksbaseball.com.

How Many Of Your Kids
Will Reach the
High School Baseball 'Funnel'?

You Can Now Create a Super Simple Community-Based
Player Development System



With all the amateur baseball now being played why are we not developing more quality baseball players?
The common denominator is coaching.
Great coaches get all they can from players...
Are you helping baseball players reach their talent ceiling?
Are you able to increase the enjoyment level of your players?
Can you find teachable moments to teach more than the game.
Help Kids Play High School Ball

YES You Can Get on Board and

Create Your OWN Brand New

"Culture of Player Development"...
The lack of proper baseball coaching in youth ball is our problem so I am here to help show us how to coach and play baseball using the professional baseball development system as our template.
---
Our Youth Baseball Model Has a Problem: Don't Wait Any Longer

Bob 'the Bull' Watson, the sensational former All-Star player, distinguished Yankees GM, and just retired from Major League Baseballs Commisioners office commented on...

What he thought was Wrong with the game of Baseball

He said, 'The two things wrong with baseball today are

1. The strong emphasis on winning vs. the emphasis on player development of strong players at the youth level.

and

2. The lack of coaching at the youth level.'

How to Completely Modernize Your Own 'Culture of Player Development'

Coaches Helping Players Enjoy
Playing the Game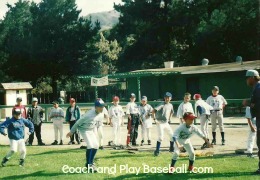 Don't Miss the UNIQUE, dynamic youth baseball coaching and hard to find development system that puts player-development over the winning-at-all-costs- 'no regards to player development' style.

It's Up to You to Get insider tips on great baseball coaching, how to teach kids how to play baseball, baseball parents approach, and the proper mindset needed for building your awesome youth baseball coaching approach today

Don't hesitate to make sure great Baseball coaches include the enormously important right approach for an exclusive guide for teaching and excellent learning mindset for ultimate player development.


From t-ball to little league, youth league, rec league, Pony League, Babe Ruth league, Cal Ripken leagues, Travel baseball, high school baseball we bring the player development model to baseball basics and keeping winning and losing in perspective. So let us get to work with baseball America.
It's Up to You to Fix Our Broken System
The Current Youth Baseball System is a little wobbly. It is upside down. It is top heavy on dominating volunteer coaches that mostly mean well but unknowingly are over coaching our youth players.

A generation of ballplayers have been scolded and ridiculed in the batters box to a point of no return. The dominating adults have over taken the youth baseball leagues driving players out of the game prematurely with their over emphasis of harping on mistakes rather than teaching and encouraging kids in the cause of the win-at-all-costs approach.

But, Baseball Looks So Easy
Uh, Oh...It's a Very Difficult Game to Play Well

Join the Movement Creating a New Brand of Baseball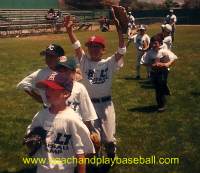 Have you ever noticed how incredibly easy the remarkable game of baseball looks from the bleachers and dugout, or on TV.
Yet, when you get between the lines to play you realize amazingly it is not that easy at all.
Professional coaches and players realize how incredibly tough the game can be.
Don't Delay: Tap Into Dave's 25 Years of Pro Experience Developing Magnificent Baseball Players

Smart Pro Baseball people know you have to be patient, positive and look long term in developing, training, coaching, mentoring, teaching and instructing players.

Since baseball is so ultimately difficult to play everyone will or has experienced unsurpassed frustration and undisputed disappointment along the way.

The peaks and valleys of the game are a little smoother when you have the right, crucial baseball mindset.


Winning-at-all-costs vs. Dynamic
Player Development:
Why Wait?
How Great Baseball Coaches Develop Kids to

Reach Their "Talent Ceiling"

& Maybe Play High School Baseball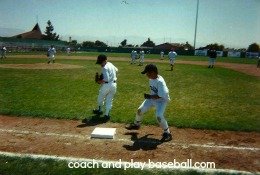 Intrigued? Are you caught up in the win-at-all-costs approach... rather than the mindset of how a powerful player development system can really benefit everyone involved?

Fortunately You Don't have to wait. I've been through both approaches.
I will show you how to put into practice both winning and player development together, at your level just like the major league baseball teams do it with their minor league players.
Forget the Ways of the Past and Join the New Culture of Player of Development


"A coach is someone who can give correction without causing resentment." John Wooden.
• How to slice through coaching and playing with unprecedented baseball IDEAS with an unsurpassed emphasis on pro ball mindsets with elite pitching, brand new pro hitting methods, the best fielding and throwing systems.
• Decide Now to Create the Masterful pro baseball developmental model.
• You judge the Inside Look at my unique views of Dynamic Youth Baseball, the good, the bad, and the ugly.
• Proven Sensational Coaching qualities, Completely new powerful practice planning, dealing with energetic players, intense and vital umpires.
• Essential Approach to get your superb mindset around winning and the right priorities.

• Authentic look at the wonderful game with the Big Picture in mind. In coaching I have won a lot of games and I have lost my share. But I always try to teach more then the game.

• Critical Reasons Why kids play? Why they drop out? What role do parents play? Coaching Your Own Kids?
• Decide Now to have Fun in your Baseball instruction and team drills.
• Revitalizes your approach to developing players. I have done the leg work for you and your youth players.
Your Players Might just love to play for you!

---

Baseball Impossible: Player Development Make-Over



Build Your Own Culture of Player Development


&
Increase Your Players FUN-Level

6-DVD Video Set Building Your Complete Player Development System

Click to Order

Audio CD Format Click Here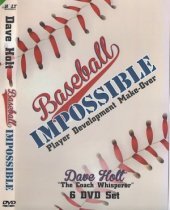 Coaching 6-DVD Box Set
Yes Dave,  I Want to Help My Players Enjoy the GAME

Coaching little league baseball & youth baseball can be a blast or could be a  Tough Gig.

Who in their right mind would come back year after year and have boring baseball practice and never improve their baseball skills? and get yelled at by adults?
Baseball Coaching Videos: Watch over 6 hours of tips on coaching approach, style, philosophy, and my unique player development system. 
Youth baseball careers are short-lived so lets make it count for our players. What do players really want out of playing baseball?
I want to Find Out More about the 6 DVD Player Development System

---
---