"Coaching Your Hitters"

Special 'PRO Coaching' eBooks


This is Professional Baseball
Hitting Approach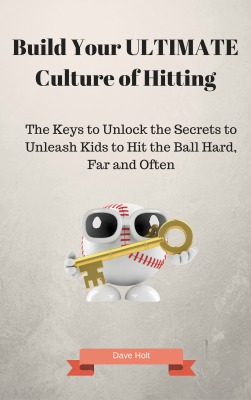 This is a Game-Changer
---

(2) Two eBooks: Powerful concepts to build your own "Culture of Hitting" 
"Kids will go as far as their bat takes them"
---
This eBook will completely revolutionize your teams hitting approach.

Unleash your kids to hit, hit it hard, hit it far, and hit it often.

Which players will last long enough in baseball to make the local high school varsity team?
That's right...the kids that swing the bat the best.
How to STOP the adults from Sabotaging hitters success.
87 Pages jam packed with my systematic methods to Build Your Own Culture of Hitting in your organization

---



Everyone Wants the "Magic Drill"


Drills vs PRO Approach?

Drills Won't Work w/o PRO Approach


The current coaching methods and hitting myths are driving way too many kids out of baseball prematurely.
Hitters who hit the ball hard, far and often have more FUN and stay in the game longer.
Why do the 'big people' (parents and coaches) not get it that they are actually the cause of the lack of hitting from their kids?
Questions: I answer all these...
More important to Have a 'Good Eye' vs. being aggressive?
Is it okay to swing at 'Bad Ones'?
Should I coach kids while batting?
Why can't I coach from the bleachers?
How to  professional baseball coaches coach?
What is my role during games?
What mechanics should I know what to look for?
How should I communicate with my hitters?
What is wrong with walks and bunting?
Can We still try to win games?
What system would I implement to help kids play High School Varsity Baseball?
Why do my hitters need to hit without the fear of failing?
What do I need to know to Build the ULTIMATE Culture of Hitting?
ORDER NOW & 'Make Your Hitters Great Again'
---

Turn Your Team Into
'Big Time' Hitting Culture

Increase the Fun-Factor Too



Reverse course now from the current Win-at-all-Costs approach to the Kid-Centered player development style.
Watch your team turn into a powerful hitting line-up immediately.

How fun is it to have kid after kid come up to bat an pound the ball hard, far and often.
No more bunting, walks or taking pitches...its a completely new way of playing baseball.
How much fun is it to totally out-hit our opponents.
What a show of force and dominance when your team completely gets the upper hand on opponents with overwhelming hitting firepower.
Order 'Build Your Culture of Hitting'
How Many of Your Kids Will Reach High School Varsity Baseball?

Kids Who Hit the Best Play the Longest
& 
Have the Most Fun


Your local high school varsity baseball team is the major league team for the youth leagues and organizations.
In other words the local youth baseball teams are the minor leagues feeder team to the local Varsity team.

The ballplayers that are still wearing a baseball uniform in high school are likely the kids that hit the ball hard, far and often.

ALERT: No 'Magic Drill' Will Fix it

PRO Hitting Cues are the KEY in

Your Hitting System




If you don't get this right you will continue down the spiral of frustrating players and baseball families.
Learning how to communicate with your hitters is the game-changer.
How to earn coaching 'credibility' the right way.

Know what to say and when to say it.
Teach parents how to watch their kids games.
Learn how to 'Build Kids Up'
Key to Build a dominating hitting team.
Win more games and develop more players
Understand how to help kids handle adversity.
How to detect errors and give correction properly.

Increase every kids Fun-level
Get your coaching communication in line with the professional baseball coaches.

Key Hitting Mechanics That Matter

Undo the Myths that Harm Kids




Understanding what hitting mechanics are important to help kids maximize power is the KEY.
To hit the ball hard, far, and often kids will need to do some things they are not accustomed to doing.
Learn how to teach and model power hitting players.
Know what elements of the swing to look for.
What mechanics increase power hitting.
Understand where hitting power comes from.
See what MLB power hitters all do to hit for power.
Why kids have bad mechanics and how to help them.
Remove many MYTHS that you currently are using.
Hitting mechanics are supposed to be simple to understand. This is not complicated. You just need to know what to look for.

Yes, I want to Make My Hitters Great Again!
Buy One or Both eBooks
or 
'Coaching Your Hitters'

It is NOT a Hitting Drill...

It IS a 'Culture of Hitting'

Get Your Coaching 'APPROACH' in Gear



'Big-people' are sabotaging our hitters big time. In the cause of trying to 'HELP' often unknowingly they slowly take away the aggressiveness required to hit the ball hard, far and often.
Hitting the ball hard, far and often will not happen without the parents and grandparents on board.
Easy to sell parents on your Culture of Hitting System because their kids are going to improve their hitting.
Parents need to let go and allow their kids to fail (its ok).
How to be a silent source of support
How to communicate to their kids
Clearly understand the difficulty of in-game hitting
Know when your coaches are 'putting on a show' for 'cred'

How to remove tension, anxiety and pressure.
How to manage and embrace failure.
Why tracking Batting Average on On-base % is a problem.
Key place to lay out & explain your hitting system

Better hitters are better players, have more fun, and play baseball longer. What parent would not want to jump on the boat with you?
---
---
Click to Order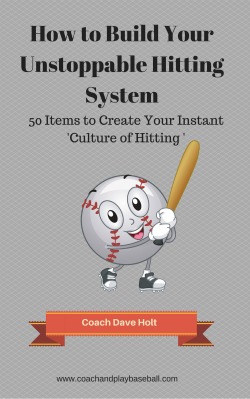 Click the Cover for More Info
---
GO ALL IN...

'Special PRO Hitting eBooks'



Click Here to order #1 "How to Build Your Unstoppable Hitting System'
#2 Build Your Ultimate Culture of Hitting
---
What's In the Book?

The Endless Search for that "Magic Drill"


Take this opportunity to pick up your 86 page copy of the eBook 'Build Your ULTIMATE Culture of Hitting.'
I have divided this eBook into 5 Chapters or 5 Legs of the Stool.
Introduction: #1 Objective Help Kids Hit Hard, Far & Often
Our Current Hitting Culture: How Adults Sabotage Hitters
Choice #1: Win-at-all Costs
or
Choice #2: Culture of Hitting
The 5-Legged Stool: Missing Legs Weaken the Culture
1st Leg of the Stool…  Keys to Set Up the Culture
2nd Leg of the Stool… The Key Mechanics that Really Matter
3rd Leg of the Stool… Key to Know Where to 'Meet' the Ball
4th Leg of the Stool… Key to Think Like a Pro Hitter
5th Leg of the Stool… I Can't Help You Here
Action Plan: Keys to Put the System to Work
---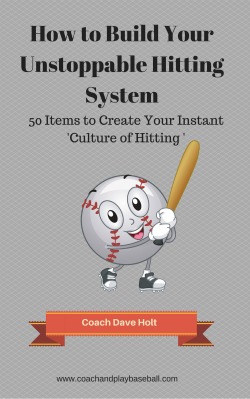 Click on the Cover See Whats Inside
click to Order
I'm ready to Make My Hitters Great Again!
---
I work closely with many volunteer youth baseball coaches and parents every day at my indoor training facility.
I have no doubt that coaches and parents mean well. But it is frustrating to listen and observe some of the things they focus on and many of the vital aspects of hitting that are neglected.
I realize coaches and parents lack the background and knowledge to properly communicate with youth level hitters.
This is why I write these books to help clear some of the hitting myths, mind clutter and coaching misconceptions that are hindering our youth hitters.
---
Dave, I am ready to go all in and order both eBooks for $18 and get to work immediately...
I'm ready to see how Great My Hitters are going to Be!
---




Stop Wasting Time Looking for that "Magic Drill"





Hint:

It Does NOT Exist...there is NO 'Magic Drill'


Pull the trigger and start developing real hitters.
Separate from the other coaches that are 'following the crowd'.
Step up to the plate and find out how to 'really help kids hit the ball hard, far and often'.
Quit repeating 'MYTHS' because you heard someone else say it.


Take control of your player's long term development.

Start increasing your player's FUN-Level

Pull your team parents on board with you.

You become the EXPERT in coaching hitting.
Let's Make Your Hitters Great Again...ORDER NOW
Looking forward to Talking with You!
Yes Dave, I only want the eBook "Build Your ULTIMATE Culture of Hitting'...$9
---
Dave, I think I am going to start slow with "How to Build Your Unstoppable Hitting System"...$9 (You can always add the other book later on)


Testimonials From Coaches


What Others Say...
"Dave: Came across your books & videos 2 years ago at the end of the season.

I implemented your techniques the next season and can't thank you enough. The kids love practice, we accomplish a lot, and most importantly they all develop throughout the season. I don't worry much if we win or lose just as long as we try and they get better.

My pitchers only throw fastballs and a change up and we do just fine. If the other team hits the ball, great it gives the defense an opportunity to make a play.

I never coach from the box, I just encourage them to hit. And they all know the have the green light on 3-0. The best thing I can do for them is make them better hitters and the only way is to hit! By the way my kids are Junior Little league ages 13-14". Zach, Stockton, CA.


Never Ordered eBooks?

It's Easy...



Frequently Asked Questions




Q: How do I download my eBooks?

A: After you click the 'Buy Now' button and your payment is processed you will be able to open a link to download the eBooks. You have plenty of time to download the eBooks to your computer or device.
Just save the file to your PC or Mac or any device. You will need 'Adobe Reader' installed so if you need the link I have it on the info pages and it is FREE.
Keep an eye out in your email box. If you have Gmail then look in your 'Promotions' Box.


Q: What is Your Guarantee on your products?

I offer a one year money back guarantee on the products. I have not had any returns yet but all you have to do is contact me by my website email or call me and we will make it right for you.

Q: I have never downloaded eBooks. Is it safe?

A: Really safe. eBooks are becoming more and more acceptable and popular. 'Adobe Reader' is very easy to use and is widely popular as a software package (and it is free) which most newer computers have installed.
Adobe Reader keeps the words locked in place so you do not get a jumbled up book. It is like the pages are photographed so everything stays in place when the books download.

Q: What should I do right after I purchase?

A: Follow the download instructions. Its very easy. Just remember to save the eBook files to your computer. No worries if you forget--just email me and I will send you the eBook again.
Q: Do you have a Hard Copy of your books: A: At this time the book is in electronic eBook format. I will let you know if I can get the book copied in hard copy.