Podcast Episodes

'Coaching Youth Baseball'


Season #1





Welcome to the Coaching Youth Baseball Podcast line-up. Listen to the latest episodes from Dave Holt on player development 
Are you a difference maker? Want to be "That" coach when kids look back in 10-15 years and say, "Wow, did I love playing for Coach_________!"  Dave Holt, from CoachandPlayBaseball.com reveals his top strategies as he coaches the coaches. 
If you are a youth baseball coach and into helping kids develop in the game of baseball then this show will be right in your wheelhouse.
Dave Holt spent 19 years (16 seasons in the Boston Red Sox organization) in professional player development as a coach, field manager, instructor and scout.
Discover the baseball coaching methods, processes, and philosophies that will prepare and mentor all youth baseball coaches and baseball parents in the vitally important areas of player development.
You will hear from someone who has inside experience and knowledge on how to use some of the best coaching approaches and teach player development to your 'flock' of players.
For all baseball coaching levels and experience from T-Ball to High School. And, you might just get an edge on the ways you can help your kids survive the 60/90' fields and reach the high school baseball funnel.

---

Episode 001: Everyone is a Shortstop

How to Train Your Players to Play SS


Description
Dave Holt, from www.coachandplaybaseball.com talks to youth baseball coaches, ballplayers and parents on the value and merits of developing and training baseball players via the shortstop position.
All non-lefthanded players workout at shortstop during practice. Dave gives the pros on why the benefits are so high to train all your players at shortstop during baseball practices.
Avoid the 'pigeon-hole' approach putting your players at 2B, OF only. Expose players to the leftside of the infield at shortstop and thirdbase to develop arm strength that helps kids transfer easier to the 60/90' ballfields.
---
CYB 002: Develop an Endless Supply of Pitchers

How to Build a Deep Pitching Staff


Description
How do you as a baseball coach approach building and developing pitchers?
One of the biggest and vitally important responsibilities of our youth baseball coaches is to develop a large amount of pitchers.
Dave talks about the importance of looking at every kid as a pitcher in 12 & under age levels and build an endless supply of pitchers at all levels. Pitching depth is vital to building a quality, sustainable baseball organization.
---

CYB 003: Baseball
Coach-Parent Relations

Organizing Your Pre-Season Meeting


Make sure you take the steps to plan a pre-season baseball coaches / parent meeting.
Dave explains advises youth baseball coaches to put all their cards on the table and communicate with baseball parents.
Parents want to know who they are dropping their kids off with. This is a great time to share with parents about your style, philosophies and approach to coaching youth baseball.
As the season ebbs and flows you can always fall back on your style, approach and procedures when issues emerge.
---

CYB 004: 3-Team-It
Baseball Practice Plan

Best Baseball Practice Template


One the best if not the best baseball practice planning tool is the 3-Team-it template.
Dave explains the way he organizes baseball practice to make coaches look like baseball experts. Your players maximize their time, get plenty of rep, touches, and swings while embedding the drudgery of drills into mini-competitions.
No standing around anymore. No boring practices that chase kids to play soccer. Highly energized practices and kids have a ton of fun at the same time.
---

CYB 005: Setting Your Coaching
Style & Approach 

What's Your Coaching Philosophy


Dave dives deeper into your baseball coaching mind to see what you are thinking about your coaching approach and philosophy.
Are you going to be a difference maker and leave a life-long impression with your players?
What do you think about winning, hitting approach, playing time. baseball practice, game coaching, teaching the intangibles, communication styles, player development and what is your 'end-game' goals.
At the end of the day are you going to make a difference.
---
CYB 006: Managing Your Baseball 'Flock'

Vital Classroom Management Techniques


Maybe more important than baseball knowledge is being able to 'manage' a group of (12) players.
Being able to communicate verbally and non-verbally, teach, complement, critique without being critical and establish your rules, procedures and expectations is vitally essential for effective coaching.
Having 'classroom management' skills can carry a coach a long way to being a good leader and getting the most out of your ballplayers.
---
CYB 007: In-Game Coaching

Baseball Coaches Role in Ballgames


Dave Holt helps baseball coaches understand the real important stuff that coaches should emphasize during ballgames.
Are you really a 'baseball coach' or are you performing for the parents. Often times much of the game coaching is just a show.
Find out how to best serve your players and give them room to do what they do. Games are the player's "time to shine". Coaches step aside and release the kids to play the game…just like the pro's do it.
---

CYB 008: 'Rapid Fire Fungo Drill'

My Favorite Practice Drill for Infielders


How do we as youth baseball coaches provide practice opportunities to help our players build ball handling and throwing skills?
Dave Holt's Rapid Fire Fungo Drill is an excellent drill template to follow and use at any level of baseball. Our kids need to be able to perform the most basic ball handling skills at a pretty high level and at the same time build arm strength to prepare to excel on the 60'/90' fields.
And, this drill is an instantly ramps up the player's fun-level by embedding mini-competitions. Use this drill to Increase reps, build up arms, improve ball handling skills and provide an action packed, fun practice.
---

CYB 009: Adding Sandlot Scrimmages

Kids Really Like to "Play' Baseball


---
CYB 010: Adding Competition to Your Practices

Easy Ways to Increase the 'Fun-Level'


Dave Holt explains why adding competition to your baseball practice plans is vitally important for baseball coaches.
Many competitive baseball drills are discussed as examples of easy ways and methods to incorporate mini-competitions in your everyday baseball practice planning.
Competition in practice starts with catch and throw warm-ups and is embedded in your entire youth baseball practice, including batting practice and ending with the sandlot scrimmage. Want to make baseball fun, enjoyable and exciting…then you want to listen in.
---

CYB 011: Avoid the "Daddy-Ball" Label

Easy Strategies to Coaching Your Own Kids


It is estimated that 85% of youth baseball coaches have their own child on their teams. Everyone is familiar of the term 'Daddy-Ball'.
Dave talks about several items that can help coaches successfully maneuver the coach/parent-child/player scenario and avoid the 'Daddy-Ball' label.
Want to have a healthy relationship while coaching your child? Here arr some ideas to make it work. Dave talks about playing for his own Dad while in college and how he made it work.
---
---
FREE Coaching Mini-Course


Take a sneak-peek under the hood and see how PRO baseball coaches approach youth baseball coaching.
Free Mini-Coaching Course

*It only takes an hour or so of your time.
---

Baseball Impossible: Player Development Make-Over



Build Your Own Culture of Player Development


&
Increase Your Players FUN-Level

6-DVD Video Set Building Your Complete Player Development System

Click to Order

Audio CD Format Click Here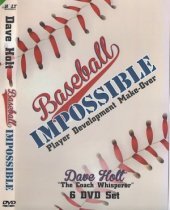 Coaching 6-DVD Box Set
Yes Dave,  I Want to Help My Players Enjoy the GAME

Coaching little league baseball & youth baseball can be a blast or could be a  Tough Gig.

Who in their right mind would come back year after year and have boring baseball practice and never improve their baseball skills? and get yelled at by adults?
Baseball Coaching Videos: Watch over 6 hours of tips on coaching approach, style, philosophy, and my unique player development system. 
Youth baseball careers are short-lived so lets make it count for our players. What do players really want out of playing baseball?
I want to Find Out More about the 6 DVD Player Development System

---
---