Hey Friends ... sign up for my newsletter and get my
FREE Practice Checklist
---
Fun Baseball Drills:
How to Make Practice a Blast

Fun Baseball drills are a great way to teach baseball to youth league players. Baseball practice plans are so valuable to be able to teach baseball skills and reinforce the fundamentals. 
Baseball practice is just as important as the ball games. Maybe more.
Often this practice time is the only chance players will be able to swing the bat multiple times and throw and field a large quanity of times.
Skilled baseball coaches are able to incorporate fun drills into baseball practice plan templates. Keep a note card file box with the various fun drills that work the best.
Read on to check out our favorite youth practice drills with competitive team building games.

'Stop the Tsunami in Youth Sports' is a wakeup call and a desire to shift the youth sports paradigm toward a play-for-fun atmosphere. The players still improve, but without the mental and physical hangover associated with today's youth sports paradigm." By VJ Stanley.
"Stop the Tsunami in Youth Sports by V.J. Stanley"
---
---
---
Fun Hitting Drills
The 'Arizona Hitting Game'
Read about this simple fun drill. The hitting game is more about conditioning and team building than any other skills.
This is a drill to use periodically and have your players get some conditioning in without them even knowing it. Click Here to read more on the fun baseball practice: Arizona Hitting Game
---
Another Top Practice Game:
The 'Army Hitting Game'
Take a look at the Incredible hitting game. This hitting game drill is face paced, intense, competitive and filled with skill development.
Make sure this batting drill is an important part of your baseball practice plan template. Develop hitting skills and agressive fielding practice with this drill baseball coach should have in their practice drill tool box.
Read the baseball article on 'Army Hitting Game.
---
Top Throwing Drills:
The 'One-Foot Catch Game'
This catch and throw game is one our favorite drills to improve throwing velocity and accuracy. Good for all youth baseball age groups.
Makes it easier to develop arm strength. Great throwing drill for high school and summer baseball camps.
Force your players to throw long, hard and accurate without a whimper using the Awesome fun One-Foot Catch Game Drill
For More Fun Baseball Drills go to Practice tips.
Return to Youth Baseball Home from More Fun Baseball Drills

Baseball Impossible: Player Development Make-Over



Build Your Own Culture of Player Development


&
Increase Your Players FUN Level

6-DVD Video Set Building Your Complete Player Development System

Click to Order

Audio CD Format Click Here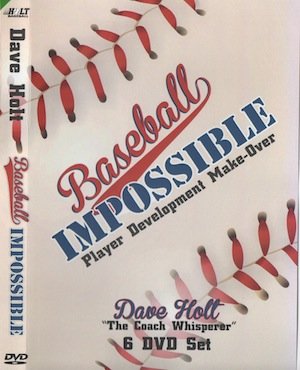 Coaching 6-DVD Box Set
Yes Dave, I Want to Help My Players Enjoy the GAME

Coaching little league baseball & youth baseball can be a blast or could be a  Tough Gig.

Who in their right mind would come back year after year and have teasing baseball practice and never improve their baseball skills? and get welled at by adults?
Baseball Coaching Videos:  Watch over 6 hours of tips on coaching approach, style, philosophy, and my unique player development system. 
Youth baseball carers are short-lived so lets make it count for our players. What do players really want out of playing baseball?
I want to find out more about the 6 DVD Player Development System

---
---