Hey Friends ... sign up for my newsletter and get my
FREE Practice Checklist
---
Youth Baseball League Template

Traditional Beliefs and Myths
Your youth baseball league is a product of the adults that are supervising and operating the league.
The mindset, approach and philosophy is put in place by the adult youth baseball league administrators, coaches, parents and leadership.
The

health

of the league should be measured not on wins and All-stars but on how many players are reaching the high school teams.
How are you running your league?
How healthy is your league or travel ball team?
How many kids are dropping out at age 12? Age 13? Age 14?
Are you really serving kids or are you feeding the traditional major league baseball model?
---
---
Important Topics 
Baseball Success Includes Losing Games
Kids Will Mess Up...It's Baked in the Cake
Practice More & Play Less Games
Vital Role of the Board of Directors
Is Player Development a Priority?
10U Baseball (9 &10 year olds)
13 & 14 Year Olds--the BIG JUMP
All Important Coaching Approach
 ALL-STARS (my solution to make if Better!)
Lower Levels for High School Baseball
---
Losing is Embarrassing...But Essential
Yes it is ok to to lose some ballgames. It's healthy and part of the process. Baseball success helps you understand the role of losing games in the developmental process. 
See How Baseball Success utilizes Losing Games
---

Did You Tell Them "I've Got Your Back"

Let Your Kids Know..."We Expect You
Will Mess Up"


Yes, youth baseball players are going to mess up. Failure in playing baseball is "baked in the cake". It is going to happen. The question is Have you told your players "Hey I Have Your Back" ?
Check Out How to Assure Your Kids that messing up is going to happen.
---

You Better Be Able to Make a Fun Baseball Practice


The #1 goal for your coaches is to practice as much or more than playing ball games. Neglecting fun baseball practice is cheating your players. 
Check out how to use my easy 3- Team- Practice Format
---
Admin, Board, Directors & Parents

You
Set the Tone
Few if any adults are properly trained in running a youth basball league. It is an emormous task.
To stand your ground can be daunting and difficult. It can be very difficult to break from traditional beliefs and ways of doing business.
The traditional major league baseball philosphy that overshadows youth baseball is a tough nut to crack. Here are some ideas for league administrators.
---
Player Development Trumps _____


We all like to win. Winning is great feeling. Winning alone will not get the job done. Severe damage and career ending problems occur when skill development is put on the back burner. 
Get your mind around your priorities.
---
How to Run Your League T-Ball
Kids just want to play. You know, the way kids play. But no, we have to get them uniforms, make an all-star team and win championships--right adults?
Come on--it is not that serious. Let the kids play....tee-ball system. and bat left handed. Tee Ball Coach & parents Checklist
---
Creating Your Baseball
Coaching Approach with 8U
Touch the baseball: The kids need to catch it, throw it and swing at it. If you can maximize the baseball touches you are on your way.
How to make sure the kids get their reps in.
---
9 & 10s Where The Kids
Start Really Playing
Develop pitching, swinging the bat (no bunting?), pre-game practice (yes it is a one hour practice), and keep winning in perspective. Your approach to 9 & 10 year old baseball.
---
Don't Be Decieved at the
12U Age Level
Often in a youth baseball league the 11 & especially 12 years old will apprear to on a fast track to the major leagues or college division 1 scholarship.
Slow the truck down!
You have not even left town yet with the monster beast lurking in the very large baseball fields waiting to devour the best of the best as soon as we turn 13.
You better have a solid package of good techniques, athleticism and patience to make it through the guantlet.
---
The BIG JUMP at Age 13
This is where a youth league baseball player will usually sink or swim. Most of them sink as 75% of ball players are out of the game by age 14.
This age requires an unique set of player development parameters. A difficult if not impossible age to grind through in baseball.
How to last through the early teenage baseball years.
---
Dynamic Baseball Coaching Approach
If baseball kids do not learn proper technique it will be difficult if not impossible to ever play in high school baseball. In fact, once the kids leave age 12U the game will be really difficult even for the best athletes.
Come and see how I look at coaching baseball at the youth levels.
---
The All-Stars Paradigm

Not Going Away
All-Stars in a youth baseball league is real problem. Rarely does much good ever come out of league all-stars. I have some simple ways to improve baseball league all stars rosters.
We Made it to High School Baseball
---
This is quite an accomplishment to play high school baseball. This is still a level for player development.
You are now the AAA team for the high school varsity. How to run your Frosh and JV baseball teams.
---
My Letter to Parents
My coaches letter to my player's parents. Educating the parents sets the stage for how you are going to approach coaching baseball. The parents have to at least know where you are coming from. My letter to baseball parents.
Back to Home page from youth baseball league.
---
---
---

Baseball Impossible: Player Development Make-Over



Build Your Own Culture of Player Development


&
Increase Your Players FUN Level

6-DVD Video Set Building Your Complete Player Development System

Click to Order

Audio CD Format Click Here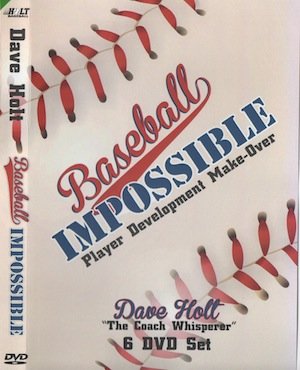 Coaching 6-DVD Box Set
Yes Dave, I Want to Help My Players Enjoy the GAME

Coaching little league baseball & youth baseball can be a blast or could be a  Tough Gig.

Who in their right mind would come back year after year and have teasing baseball practice and never improve their baseball skills? and get welled at by adults?
Baseball Coaching Videos:  Watch over 6 hours of tips on coaching approach, style, philosophy, and my unique player development system. 
Youth baseball carers are short-lived so lets make it count for our players. What do players really want out of playing baseball?
I want to find out more about the 6 DVD Player Development System

---
---