Hey Friends ... sign up for my newsletter and get my
FREE Practice Checklist
---
Baseball Throwing
'Tools for Players'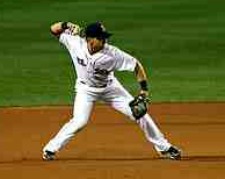 Baseball throwing is one of five tools measured by professional baseball scouts when evaluating and grading a ballplayer. The five tools are hitting skill, hitting for power, running speed, defensive skill and throwing.
You might have heard of the 'five-tool' player. This is a player that exhibits the highest scores in all five of these areas. Players that grade out the highest in these categories are the most sought after players in their age levels.
For example: a player in the first or second round of the major league baseball draft would likely grade out at the highest level in several of these five categories.
---
---
Good Throwing Will
Keep You in the Game
We know how valuable it is to be able to hit and even more so to hit with power. Of course running speed is always a plus.
Fielding ability is a big asset to a player's contribution to the ballclub. The better skilled in all five areas a player is the more weapons the ballplayer brings to a ballclub's strengths.
Throwing the baseball it the topic here…
Fastest Baseball Throw
'The Need for Speed'
There are many aspects to baseball throwing.
First there is velocity. How fast can a kid throw a baseball? Arm strength is mostly a natural God given ability. Proper throwing motion is important and can improve the speed a ball is thrown to some degree. 
Weight lifting, body strength and size, baseball throwing workouts, long tossing can all help a player maximize a hard throw in baseball. 
The players with the best arms players are more likely to play positions, which require a longer throw. Shortstop, thirdbase, catcher and right field require the fielders to make long throws. 
Firstbase and second base along with leftfielders can get away with less arm strength and still be effective baseball players. 
Of course I will take a high velocity power pitcher on the mound any day of the week especially if they can throw strikes.
Hit 'Em' in the Chest
Throwing for Accuracy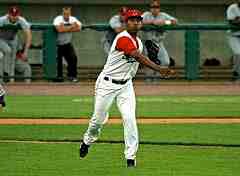 In addition to top baseball throw speed it is highly effective to throw the ball on the target as much as possible. This is easier said than done.
Making a high percentage of throws close to the target can be a real challenge. Add on the speed and urgency of the game and we find it is a real challenge to complete accurate throws on a consistent basis under game conditions.
A groundball hit in the infield by a fast baserunner will take a polished player to execute all the catching and throwing skills necessary to complete the play successfully.
How to Play Baseball Baseball
Tips on Throwing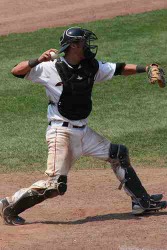 How to combine the fastest baseball throw with baseball throwing accuracy? Let me show you my favorite ways to teach ball throwing. I have simple, proven drills that are fun and vital to young baseball players' throwing skills. Incorporate throwing drills in to your daily baseball practice plan and pre-game drills.
When I go to a youth baseball game and watch how teams prepare during pre-game baseball practice I am usually appalled. The shocking reality to watch is how few times the kids get to touch the baseball (or swing at it). Find out my favorite ways to easily add play player development throwing to your baseball practice template.
Correct Throwing Motion
Polish Up Your Technique
This is where good throwing instruction can really help kids throw their hardest, with the most accuracy and getting rid of the ball quickest.
Unfortunately for throwers very few youth baseball coaches have the knowledge and background to teach baseball throwing technique correctly. It is not really the baseball coaches' fault.
First of all, teaching a kid to throw a baseball is rather difficult. Most baseball coaches just let it ride because they don't know how to coach throwing. 
Secondly, if no one has taught the coach how to teach throwing then we will get volunteer coaches receiving advice in the wrong ways to teach throwing mechanics to throw a baseball.
Throwing as a Tool of Value
It Can Be 'Game-Over' for Bad Throwers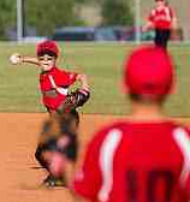 Playing time is a big issue in baseball today. Every ballplayer wants to play as much as possible. Sitting the bench for too long is not something a young baseball player wants much to do with. Kids want to play ball.
It gets embarrassing to sit the bench too much. One way to get in the line-up more often is to throw the ball accurately most of the time. Whether it is pitching and throwing strikes or fielding and throwing to the bases a strong, accurate, consistent arm is going to help a player get more playing time.
Having a weak arm and/or throwing inconsistently can cost a baseball player playing time. Good players usually do not sit on the bench too long.
In addition, once the kids reach the post-puberty years at 13 and over the ball fields get much bigger. Poor throwing ability will make an already difficult game to play that much harder.
Often poor throwing skills and speed of the throws can quickly make kids look for the exit door out of baseball because nobody wants to go out to the games and look like a 'duffus' throwing the baseball.
Back to Home from Baseball Throwing

Baseball Impossible: Player Development Make-Over



Build Your Own Culture of Player Development


&
Increase Your Players FUN Level

6-DVD Video Set Building Your Complete Player Development System

Click to Order

Audio CD Format Click Here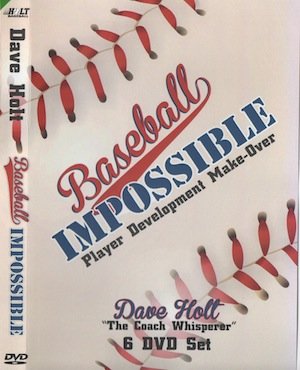 Coaching 6-DVD Box Set
Yes Dave, I Want to Help My Players Enjoy the GAME

Coaching little league baseball & youth baseball can be a blast or could be a  Tough Gig.

Who in their right mind would come back year after year and have teasing baseball practice and never improve their baseball skills? and get welled at by adults?
Baseball Coaching Videos:  Watch over 6 hours of tips on coaching approach, style, philosophy, and my unique player development system. 
Youth baseball carers are short-lived so lets make it count for our players. What do players really want out of playing baseball?
I want to find out more about the 6 DVD Player Development System

---
---