Hey Friends ... sign up for my newsletter and get my
FREE Practice Checklist
---
Baseball Chapel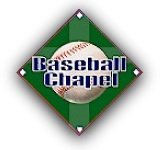 Baseball Chapel began back in 1973 by Watson Spoelstra, a baseball sports writer from Detroit. Watson wanted to organize a chapel service baseball ministry at every major league and minor league ballpark during the season for visiting teams.
By 1975 all the major league teams had a Sunday chapel at the ballpark. By 1978 services were started in the minor league ballparks.
Major League Player Testamonials
10 Commandments of Baseball
10 Commandments
Check out "Life is Not a Game"

Please click here for a simple, concise summary of the Gospel — "The Four Spiritual Laws" — and a clear explanation of how to receive Jesus as your Savior and Lord.
FCA Coaches Mandate
FCA Competitors Creed
Coach Dungy Uncommon Life Challenge
---
I will be happy to send you a FREE copy of "Life Is Not Baseball" tract. 
This is a short message for everyone that wants to know how easy it is to Walk with the Lord Jesus on earth and in Heaven.
Don't worry, your address is private and will not be given to anyone but me. I just need it to mail the pamphlet to you.
---
---
---
Baseball Church
I started playing in professional baseball in 1979 in Elmira, New York. In 1980 I played in the Florida State League. Watson Sproelstra was living in St. Petersburg, Florida and running the newly formed Baseball Chapel.
I got to meet 'Watty' briefly not realizing at the time that he was the founder and was on the ground floor of the whole Baseball Chapel ministry movement.
I was named the team chapel leader and my job was to get the team together and check with the Manager to see if we could meet for a few minutes for baseball church before batting practice in the clubhouse. We would have a visiting chaplain share a short message with a closing prayer.
As time went on sometimes both teams would meet together but usually the teams met separately.
Having a church service or Bible study in the clubhouse at the work site was really unprecedented at the time. The first generation of professional baseball coaches and managers sometimes had trouble excepting this baseball ministry concept taking place right in the 'office'.

Baseball Ministry
Now into the second generation with the modern coaches and managers having grown up in Baseball Chapel the ministry is just a regular part of the Sunday routine. Professional baseball is a seven day a week business. Often as a ballplayer you can't even keep up with what day of the week it is.
Sunday baseball chapel allows the players to realign and know there are a weekend and a Sunday on the calendar. Moving into a new town for five months with a very hectic schedule makes attending regular local church a little difficult. When the team is on the road it can also be tough to get to a local church service in a strange town.
Bringing baseball chapel right to the ballpark was a real blessing to thousands of players, coaches, clubhouse workers, bat boys, trainers, strength and conditioning coaches, umpires and anyone else near a baseball clubhouse. I had a chance to hear the Word from some local Bible leaders, pastors, chaplains and players almost every Sunday.
One local chapel leader even hooked us up with Fellowship of Christian Athletes (FCA) bibles one year and I spent a lot of time highlighting and studying that bible which I still have.
The local chapel leaders served as volunteers way back at the start although they should have passed the hat. Baseball Chapel is non-denominational Christian ministry devoted to spreading spiritual teaching in professional baseball. It is estimated that 3.000 baseball personnel a week attend a chapel service at a ballpark. Beginning in spring training and ending in winter ball leagues the chapel reach is enormous.

Athletes In Action (AIA)

From 2000-2004 my family and I owned and operated the Salinas Packers Baseball Club. The Packers were members of the California Coastal Collegiate League. Every season theAthletes in Action Baseball Team touring in the Alaska Baseball League would meet up in nearby Gilroy for a week or so before heading north to Alaska.
Chris Beck, the GM for the AIA team would schedule 2 or 3 games with us during their stay in Gilroy. We always made time for one of the AIA players to share their testimony with our team while they were here.
That is how I first came across the AIA baseball ministry.
Little did I know at the time that I would have the opportunity to manage their New York Collegiate Baseball League team in Alfred, New York for the 2009 season. Chris Rainwater the New York baseball tour GM sent me a message a few months after I contacted AIA in case they needed any help. Next thing I know I was part of an awesome group of young men and college/professional sports chapel leaders and chaplains.
We made the play offs and had the opportunity to spread some joy with many upstate New York folks. Athletes In Action is under the umbrella of Campus Crusade for Christ. AIA sends sports teams here at home and abroad on missionary tours year around and all over the world. Athletes In Action Baseball

Fellowship of Christian Athletes Coaches Mandate
Fellowship of Christian Athletes (FCA) Competitors Creed


John Wooden: The Greatest Coach
of All Time
Though John Wooden did not claim to have written it, he certainly popularized it. The poem read:

Talent is God-given: be humble.
Fame is man-given: be thankful.
Conceit is self-given: be careful..
"This book is about the early years of the greatest basketball coach who ever lived. John Wooden not only taught his players about basketball, he taught them how to live and appreciate life. He was a hero not just to basketball fans but to everybody. I respect John Wooden as a great coach but more importantly as a great man." Tommy Lasorda, former Los Angeles Dodgers Hall of Fame Manager.
Coach Wooden's 7 Principles
1. Be true to yourself.
2. Help others.
3. Make friendship a fine art.
4. Drink deeply from good books, especially the Bible.
5. Make each day your masterpiece.
6. Build a shelter against a rainy day by the life you live.
7. Give thanks for your blessing and pray for guidance every day.
These principles were the key to Coach Wooden's teachings and coaching approach.

Back to Coaching Tips from Baseball Chapel

Baseball Impossible: Player Development Make-Over



Build Your Own Culture of Player Development


&
Increase Your Players FUN Level

6-DVD Video Set Building Your Complete Player Development System

Click to Order

Audio CD Format Click Here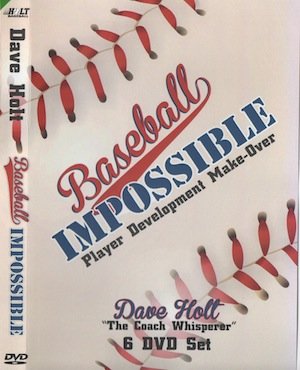 Coaching 6-DVD Box Set
Yes Dave, I Want to Help My Players Enjoy the GAME

Coaching little league baseball & youth baseball can be a blast or could be a  Tough Gig.

Who in their right mind would come back year after year and have teasing baseball practice and never improve their baseball skills? and get welled at by adults?
Baseball Coaching Videos:  Watch over 6 hours of tips on coaching approach, style, philosophy, and my unique player development system. 
Youth baseball carers are short-lived so lets make it count for our players. What do players really want out of playing baseball?
I want to find out more about the 6 DVD Player Development System

---
---