Hey Friends ... sign up for my newsletter and get my
FREE Practice Checklist
---
More Pro Hitting Tips & Drills
Your hitting abilities and offensive production will often dictate how much playing time a player gets.
The more run production = more playing time. Rarely do youth baseball coaches keep good batters on the bench for too long.
The better the player can produce offense, the increased chances that the player will continue wearing a baseball uniform.
Here is a list of topics on offensive baseball better from a professional approach.
I also included the one of kind 50 point baserunning checklist for baseball coaches of all ages
---
Overcoming Fear of the Baseball
Quiet the 'Bleach Creatures' Batting Slump Tips
Use the Whole Field
Pro Style Lingo: Know HOW to Say It!
Top 50 Baserunning Points Checklist
---
Hit Without Fear:
Baseball How to Teach Batting
To Hit the ball is difficult enough. But when you add too much fear to the batting swing we can really have problems teaching kids how to play baseball.
Not many batters are really look forward to being struck by a pitch. Especially when the ball is coming with four seam fastball velocity by a really good pitcher.
Chances are the ball will really hurt. The last thing we want is to get smacked in the face with a baseball. Younger baseball players from t-ball through twelve years old can really have some bad experiences with being pegged by a pitch and thus becoming afraid of the ball.
How do you teach batters to not be afraid of the ball. By the right batting tips and knowledge. By using a few batting techniques and batting drills you can as a batting coach, little league coach, parent and batting instructor help youth league players deal with the fear of being pegged with the ball.
Take a look at our baseball article on how to solve the problem of youth players swinging the bat with fear of the ball. Helping batters overcome their fear of the ball.

---
Hitting Slump Tips:
Everybody is a Hitting Coach
Name a sport that 'coaches' during game action? Tennis? Golf? Basketball? No other sport coaches during the event.
Are you causing your players and children to go into a batting slump?
Read this important baseball article to stop the In-Game Batting
Teaching Batting: Using the Whole Field
The top baseball batters know to try to meet the ball 'where it is pitched.' The inside pitch, the pitch down the middle, and the pitch on the outside part of the plate are completely different pitches.
Batting coaches teach good batting technique and will develop batting drills for players to practice using the whole field.
How do you teach batters to use the whole field? How do you teach bat swing drills that show the players where they need to make contact with ball when pitched in various areas of the strike zone?
Check out this baseball article on using your batting drills to teach using the whole field.
How Good Batters Take Advantage
of the Count
Want to really help coach baseball kids to hit?
Do you know what coaching terminology to use when coaching batters?
Are you giving the right batting tips to your baseball team?
Want to coach hitters like the Pros? You need to Go to the baseball article for the best pro batting tips.
Top 50 Baserunning Tips
Never seen before checklist for coaches of all ages. You will be teaching a baserunning clinic all season long. Baserunning is to baseball what the the 'special teams' factor is to football. Often it is the difference in the ballgame.Get your baserunning checklist now!
Back to Main Hitting Tips Page
---
---

Baseball Impossible: Player Development Make-Over



Build Your Own Culture of Player Development


&
Increase Your Players FUN Level

6-DVD Video Set Building Your Complete Player Development System

Click to Order

Audio CD Format Click Here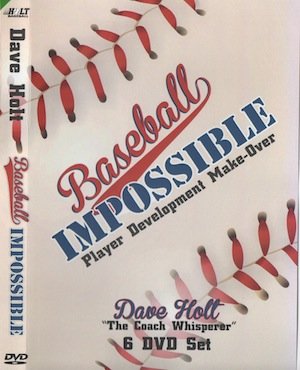 Coaching 6-DVD Box Set
Yes Dave, I Want to Help My Players Enjoy the GAME

Coaching little league baseball & youth baseball can be a blast or could be a  Tough Gig.

Who in their right mind would come back year after year and have teasing baseball practice and never improve their baseball skills? and get welled at by adults?
Baseball Coaching Videos:  Watch over 6 hours of tips on coaching approach, style, philosophy, and my unique player development system. 
Youth baseball carers are short-lived so lets make it count for our players. What do players really want out of playing baseball?
I want to find out more about the 6 DVD Player Development System

---
---