Hey Friends ... sign up for my newsletter and get my
FREE Practice Checklist
---
Best Baseball Interviews

Youth Baseball Experts
Baseball Interviews: Here at Coach and Play Baseball I am always seeking experts in the field of baseball coaching and playing. When the opportunity arises that I can speak with great baseball people I want to share their wisdom with my readers.
The "Interview" tab is set up to showcase some of the conversations I have with other knowledgeable baseball people. I appreciate their gracious time to share with us about their thoughts on teaching and talking baseball.
It is not necessary to be an expert in baseball at the lower levels of the game. The experts are usually in the higher levels of high school coaching and higher.
It is important to have the right baseball coaching approach and to be able to treat players, parents, game officials and opponents with high character values and respect.
You get a pass on baseball knowledge, but you ARE expected to treat kids fairly and respectfully, work hard, and be enthusiastic-- win or lose.
Please take a look at my baseball interviews listed below. Thanks!
---
---
Expert Interview Lists
Jack Perconte -Former MLB player, author, writer, youth coach, and host of www.baseballtips.net. - January 30, 2012
Major Wiley Channell - Author of "Baseballfarming" - January 10, 2012
Dan Clemens - Author of A Perfect Season: A Coach's Journey to Learning, Competing, and Having Fun in Youth Baseball. Dan is a noted speaker on positive coaching approaches and motivation. We are blessed again that another coaching approach expert has taken some time to talk with us.February, 2012
Don Edlin Expert Baseball coach and QCBaseball.com webmaster recently spent time with me discussing his views on youth baseball and coaching approach. Don has a solid baseball coaching platform and pushes the positive coaching style for youth baseball coaches.
This is a must read interview for coaches and parents that are involved in youth baseball at any age level. March, 2012
Unbelievable Baseball Interviews Dusty Baker, Al Rosen, Matt Williams
ESPN Host Tony Fiorino from the 'Hey Coach Tony' Show. Another can't miss interview. National sports parenting expert sits down with us to share his excellent professional advice and outlook on coaching and parenting youth baseball with the proper 'PERSPECTIVE'.
Every baseball parent and youth league baseball coach should take Tony's advice and keep the proper perspective on youth sports. March 15, 2012
Return from Coach and Play Baseball Interviews to Youth Baseball Home

Baseball Impossible: Player Development Make-Over



Build Your Own Culture of Player Development


&
Increase Your Players FUN Level

6-DVD Video Set Building Your Complete Player Development System

Click to Order

Audio CD Format Click Here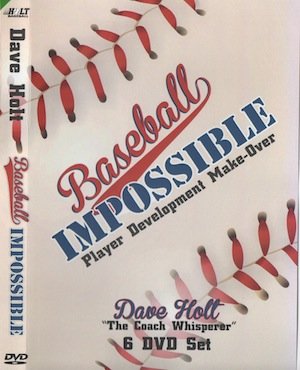 Coaching 6-DVD Box Set
Yes Dave, I Want to Help My Players Enjoy the GAME

Coaching little league baseball & youth baseball can be a blast or could be a  Tough Gig.

Who in their right mind would come back year after year and have teasing baseball practice and never improve their baseball skills? and get welled at by adults?
Baseball Coaching Videos:  Watch over 6 hours of tips on coaching approach, style, philosophy, and my unique player development system. 
Youth baseball carers are short-lived so lets make it count for our players. What do players really want out of playing baseball?
I want to find out more about the 6 DVD Player Development System

---
---