Hey Friends ... sign up for my newsletter and get my
FREE Practice Checklist
---
Youth Baseball Game Coaching, Management & Strategies

Baseball game management and coaching can be quite complex for any baseball coach. There is so much stuff going on it can get overwhelming.
Getting a lineup together, going over baseball signs for the offense and defense, defending the running game, working with umpires, making substitutions, putting on the baseball signs and plays, knowing when to steal and hit and run, making pitching changes and so much more.
---
Putting Game Strategies In Motion
How do you do it? Little by little you get better at it the more you do it and the better you design your baseball system.

Maximize Pre-Game Time for Skill Development
How to Work with Baseball Umpires
Simple Baseball Signs For Coaches
Easy Defensive Baseball Signs
Top 50 Baserunning Tips Checklist
Baseball Lineup Major League Style
Fun Ways to Make a Baseball Lineup Card
Pick Off Baseball Signs: Defending the Running Game
Baseball Signs and Signals for Stealing Bases
Top 10 Coaching Phrases for Baseball Games
Effective Baseball Signs & Signals
Team Strategies & Teaching Signs 
You Might Be a 'Win-At-All-Costs' Coach (take the test!)
Avoid the Baseball 'Dufus' Label

---
Pre Game Time Can Explode Your Team Skills
How well do you use your pre-game practice time? You may not be maximizing all the valuable time as well as you think. Take a few minutes to put a baseball practice plan template together and use the pregame to have a mini baseball practice. See how to utilize
vital pre game practice routine.
---
Check Out How to Get Along with Umpires
The baseball game cannot happen without umpires. The bad thing is we will never agree with baseball umpires most of the time.
Learn how to remove the stress and strain of umpires decisions from the baseball coaches, the baseball players and the baseball parents.
Know how to address the umpires by their names--NEVER call the umpires 'BLUE'. Make the umpiring a part of the game and an after thought for baseball teams and baseballl parents.
Learn about the best way to work with Baseball Umpires.
---
The Simplest Baseball Signs In the Game
Baseball Signs should be kept as simple as possible yet not so simple that the other team picks up your signs.
Come and take a look at the simple baseball signs that I have used for years and not yet has picked them up.
And guess what? My players do not miss signs. Check a couple of my easy simple Baseball Signs.
---
Vital Defensive Baseball Signs
I get so disappointed when I watch youth baseball teams playing a baseball game and letting the runner on 1B steal secondbase uncontested during a 1st & 3rd situation.
You might as well call time out and automatically put the baserunner on secondbase. No one tries to defend the play at all until we get to high school baseball.
Come on try something! Play the game. Compete. Battle.
Don't just give up a vital base without trying any kind of defensive play at all. Try some of these baseball strategies for the 1st & 3rd Defensive Situation.
---
Top 50 Fanstastic Baserunning Tips
I relate baseball baserunning to 'special teams' (kicking game) in football. Baserunning is vital to the success of a ballclubs ability to compete consistently.
Learning how to run the bases smartly can really help a baseball team over the course of a season. Use this checklist to teach your team
---
Writing Out Your Line Up Card
The baseball lineup card is quite an invidual item. Each baseball coach takes their own approach to writng a baseball lineup.
It is not rocket science at all but a lot of the approach to making out the lineup card depends on your players abilities and lack there of.
Combing running speed, power hitting, getting on base and hitting ability into the right combinations to be able to mount an affensive attack every inning is a great challenge.
Come take a look at some items to think about when making out your
Baseball Line Up Card and batting order.
---
Have Some Fun With
the Line Up Card

Sometimes you have to let it go and have some fun. Maybe put the names in a hat and pick out the lineup.
There are ways to choose your lineup without all the strategy, planning, plotting and thinking. Try something different and often the whole team loosens up and goes wild at the plate.
The coach becomes the facilitator and not the evil bad guy that put me in the nine hole. Fro a change of pace, try these
---
Defending the Opponents Running Game

Youth baseball teams largely do a poor job defending the running game. Most youth baseball coaches have no real idea about teaching or managing the teams ability to stop the opponents from stealing.
Do you know what a pitch out is? I give you a few pointers and ideas on how simple it is to slow down the opponents ability to steal bases.some simple baseball signs to plays to help your team
Defend against the opponents running game.
---
How to Use the Stolen Base
Good baseball teams can take advantage of their ability to steal bases. Getting into scoring position is a key vital part of scoring runs.
The likelihood of scoring runs goes way up as soon as a baserunner reaches secondbase.
Plus, when a team has runners in motion and stealing the added movemnet forces the defense to handle more situations which puts the defense at risk of making mistakes. Utilize your ability to
---
Winning Baseball & the Golden Rule
What is your main #1 goal? Is it to win? Win-at-all-costs? Do you look at youth baseball as major league professional ball and winning is the main objective?
You might want to check your ego at the door...winning baseball.
Effective Baseball Signs & Signals
Quick overview on team strategies for implementing easy simple baseball signs and signals.
Who, what, when and where on having a team approach to baseball signs and signals. 
---
Baseball Game Situations

Between Inning Transitions
Baseball people, like pros and stuff, know a few things about how the game process works especially, between innings.
You may be a low information coach and a bit of a baseball dufus if you are not aware of some things that should take place in higher levels of baseball.
Most of these are just routine items but to a baseball expert you would raise a red-flag if you are not trying to implement these items in your game management and strategies.
You Don't Want to be a 'Dufus'
Avoiding the Baseball 'Dufus' Label

---
Top 10 In-Game Coaching Points
for Baseball Strategy
Baseball game strategy is often overlooked by baseball coaches and baseball players.
Often coaches get side tracked by trying to over coach the hitters and forget to share important coaching points vital to good baserunning.
Reminding baserunners of possible plays that are going to happen is an ongoing repitition. You have to remind your kids over and over and over. Here are many of the baserunning baseball game strategy reminders to use as your
top 10 In-Game Coaching Points for Baserunners.
Go to Youth Baseball Home from Baseball Game

Download eBooks & Get One FREE

---
---
---

Baseball Impossible: Player Development Make-Over



Build Your Own Culture of Player Development


&
Increase Your Players FUN Level

6-DVD Video Set Building Your Complete Player Development System

Click to Order

Audio CD Format Click Here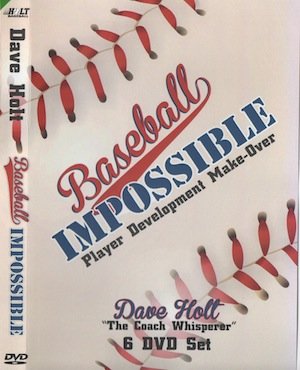 Coaching 6-DVD Box Set
Yes Dave, I Want to Help My Players Enjoy the GAME

Coaching little league baseball & youth baseball can be a blast or could be a  Tough Gig.

Who in their right mind would come back year after year and have teasing baseball practice and never improve their baseball skills? and get welled at by adults?
Baseball Coaching Videos:  Watch over 6 hours of tips on coaching approach, style, philosophy, and my unique player development system. 
Youth baseball carers are short-lived so lets make it count for our players. What do players really want out of playing baseball?
I want to find out more about the 6 DVD Player Development System

---
---