Hey Friends ... sign up for my newsletter and get my
FREE Practice Checklist
---
Baseball Strategy: 10 Top
In-Game Coaching Points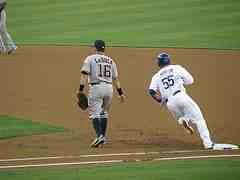 Top coaches will use baseball strategy constantly during ballgames and baseball innings.
The best baseball coaches especially the professional baseball coaches know how to spend your teaching and coaching time reminding their players about baseball fundamentals.

Poor coaches who do not know how to play baseball often spend too much time over-coaching the hitters between pitches instead of focusing on baseball strategy.
We are going to discuss baseball plays that happen all the time, inning after inning, in every game. To play a baseball game correctly youth baseball coaches should put a high regard on teaching baseball playing situations before they happen and afterwards to correct mistakes and compliment good baseball plays and decisions.
Don't expect your youth league players to play the baseball strategy perfectly because major leaguers cannot even play perfect baseball. Expect mistakes, correct the misplays and learn for the next game situation.
1. Freeze on the Line Drive Practice Drill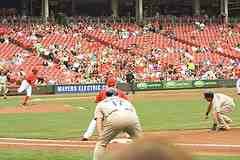 There is not much that halts a rally quicker than the line drive in the infield and the runner gets doubled off. As a thirdbase coach with less than two outs I constantly remind base running players to watch out for the line drive.
I use both hands to sign with palms facing down going back and forth simulating a line drive motion. I will keep doing this every two or three pitches.
Why? Because base runners get so excited when a ball is hit sharply. The aggressive runners often will take one or two too many steps off the bag and cannot bet back to the base in time.
I do a practice drill a couple times a season. Have someone play each infield position. Divide the remaining players equally on each base.
When you take the fungo back tell all three base runners to take their secondary leads. Then try to hit line drives in the infield and make sure the runners 'freeze' until the ball gets to the outfield. Rotate the fielders and the base groups at your discretion.
What you practice on in practice is what you will use in the games..
2. Avoid Getting Tagged in the Baseline
This play probably happensabout once or twice a high school season so it is not real common. With the BBCOR bats coming into play we know baseball games are going to be lower scoring with runs at a premium.
So, I always remind base runners with runners on first and third or the bases are loaded to 'Do Not GET TAGGED' by the second baseman in the base line on a grounder near the base line.
Stop, drop and roll so the second baseman has to run extra steps and reach down to tag the runner. This gives the runner on thirdbase ample time to score since the force play is off and a time play allows the run to count.
My baseball sign reminder is both hands together like I'm tagging a runner.
I practice this drill once per year having the base runners stop drop and roll on a grounder in the baseline in front of the secondbaseman. Players think I am crazy but the practice drill works.
3. Never Make the First or
Third Out at 3B Rule

The baseball hand sign I use is the palm up motion like telling a base runner to stand up when arriving at the bag. This baseball sign reminds all runners to make sure they can reach third base easy enough where they do not have to slide into the base.
It is bad baseball strategy and not worth the risk to get thrown out at thirdbase with zero or two outs.
So, if a runner can make third base easy enough without sliding then come on over. If the play is close enough to have to slide then the gamble is usually not worth it even if you safe on a bang- bang play.

4. Get As Far Off As You Can Tip
Runners on first and second base often hear coaches say, "Half way on a fly ball."
The real baseball tip should be, "To get as far off as possible where you have to really hustle back." That could be as far as one step past the bag on a deep fly ball to as little as a few steps on a sinking liner to right field.
Each play dictates how far off—so there is not a set ahead fundamental rule to always go half way.
Or you hear, "One tag-all tag." Not always true either.
Never tag up on second base on a deep ball in the outfield unless you are 100% sure the ball is going to be caught. Stay about a quarter of the way off.If the ball lands for a base hit the runner should be able to score. If the ball is caught there is still time to scramble back to the bag, tag up and advance to third.
5. Don't Get Pudge Rodriguez-ed
I want my runners to get a really good sized secondary lead. I also do not want any one picked off by the catcher on a back pick.
So, I practice often with base runners taking a 'quick step back' immediately when the pitch is caught by the catcher.
If you take a quick step back you will never get picked off from the catcher. If you stay out there in no mans land and hesitate for a moment a good catcher will do a Pudge Rodriguez or Yadier Molina back pick on you.
For my practice drill, I put the team on first base with three groups deep. Three players at a time shuffle off on the pitch home and I make sure all three take a 'quick step back' if the ball reaches the catcher.
6. Contact Play: One of the Best Baseball Plays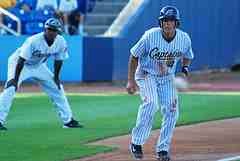 In higher baseball especially at the professional baseball level teams will practice and use the 'contact play' with one out and infield playing in and a runner on third base.
That means that we are going to send the runner on third as soon as the runner sees contact off the hitters bat even with the infield playing in. The baserunner on third takes a controlled slow deliberate walking lead with continuous momentum toward home as the batter swings.
If the ball is hit downward the runner continuous into a full run toward home. If the ball is swung and missed or is batted in the air then the runner stops and scrambles back as quick a possible.
Performed correctly runners will be difficult to throw out at home. If the runner does get caught off by a large amount then stay in a rundown until the batter runner reaches secondbase (scoring position). Nothing really lost in the gamble.
8. Check the Outs, Check the
Signs & Check the Outfield
After base runners have checked the outs and given them back to the base coach, checked the baseball signs and just before they take their lead off the base they need to check one more baseball strategy item.
Take a quick glance around the outfielders to see where they are standing. This gives a base running player a mental picture of where the outfielders are playing. When certain balls are hit in certain areas a runner may get a step or two quicker reaction around the bases.
9. Breaking Up Two Baseball Strategy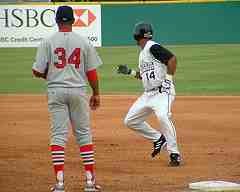 One of the biggest reasons a good base runner works really hard to get a good secondary lead is to get down to second base quicker in order to make it difficult for the pivot player to turn a double play.
Within the baseball rules naturally the runner should slide hard into the second base bag to either beat the force play or bother the infielder enough to avoid completing the double play and keep the baseball inning going and alive.
My baseball signs are a gentle 'chop' with my hand down by my ankle to remind the runner to go in to second hard and aggressive but not malicious.

10. Ball Hit in Front of You on 2B
Baseball strategy situation: Runner on second base with less than two outs and firstbase is empty. "Make sure the ball goes through in front of you."
The runner on second base must wait until the ball goes past the shortstop and thirdbaseman before advancing to third.
The baseball strategy rule is, "At you or behind you—come on over to third. In front of you then make the ball go through."
Exceptions: Ball back to the pitcher try to hold up. Chopper in front of third base and the third baseman vacates the area then you might come on over.
I practice this several times a year. Put runners on secondbase with their leads. Fungo the ball mixing up situations in front of, right at them, behind them so they can learn to react correctly in the ball games.
Thank you for visiting coachandplaybaseball.com and spending time with baseball strategy. Please bookmark baseball strategy and visit again along with sharing our site with other baseball friends.
Back to Youth Baseball Home from Baseball Strategy
---
---

Baseball Impossible: Player Development Make-Over



Build Your Own Culture of Player Development


&
Increase Your Players FUN Level

6-DVD Video Set Building Your Complete Player Development System

Click to Order

Audio CD Format Click Here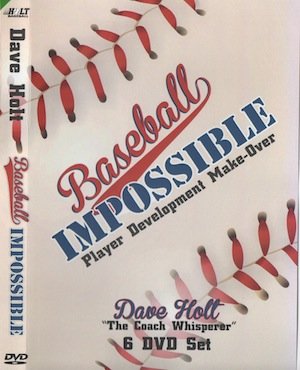 Coaching 6-DVD Box Set
Yes Dave, I Want to Help My Players Enjoy the GAME

Coaching little league baseball & youth baseball can be a blast or could be a  Tough Gig.

Who in their right mind would come back year after year and have teasing baseball practice and never improve their baseball skills? and get welled at by adults?
Baseball Coaching Videos:  Watch over 6 hours of tips on coaching approach, style, philosophy, and my unique player development system. 
Youth baseball carers are short-lived so lets make it count for our players. What do players really want out of playing baseball?
I want to find out more about the 6 DVD Player Development System

---
---