Hey Friends ... sign up for my newsletter and get my
FREE Practice Checklist
---
Incredible Coaching Baseball Tips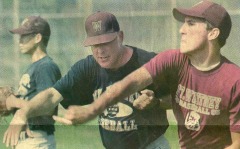 This section on coaching baseball tips is written for for high school baseball coaches.
This is a how to coach high school baseball kids reference area. I break down and address almost all areas of running a high school baseball team at least from my perspective.
Everyone is welcome. The baseball coaching philosophies and principles apply to any level of baseball coaching. The youth coaching tips discussed here reach further into a coaches real purpose.
What is your driving reason for coaching?
Why do you want to coach baseball?
What kind of legacy will you leave for kids?
---
Coaching Tips
Developing Your Baseball Coaching Philosophy
Teach Players How to Respect the Game
Angry & Mad Coaching Has to Go
Inside Secrets to Coaching Baseball
Vital Notes for Successful Coaches
Coaching Junior Varsity & Freshman Teams
Vital Varsity Baseball Coaching Strategies
Be An Inspirational Baseball Coach Not an Expert
---
What Is Your Coaching Philosophy?
My baseball coaching philosophy always comes back to this_________.
If you don't get this you may be in the wrong environment.
This is what I base my outlook and approach on. This is what directs my view on working with baseball players.
if you do not get this and understand this and empathize what your players are going through it is highly unlikely you are going to be a very good coach.
Find Out What I Base My Philosophy On
---
Adding Character to Your Coaching
Most successful baseball players often have the 'whole package'. If you can depend on a good performance off the ball field chances are you can depend on them in the foxholes of a tough baseball game.
Building character and virtues into your kids is more important than anything else. "Flaws' in ones character and behaviors off the field will show their ugly side usually at a really clutch situation during the season.
My Player Expectation Chart for building boys into Men.
---
How to Do It the Right Way
More on my player expectation chart includes teaching ball players about respect. How to point out and teach kids about respecting the game, teammates, opponents, umpires and equipment.
The best baseball coaching comes from teachers who teach way more than the baseball fundamentals.
Show Your Players How to Play & Respect
---
Invaluable Tips From the Experts
This baseball article is based on notes from long time high school baseball coach John Herbold.
The notes are close to 50 years old but the principles have not changed. Enjoy the wisdom from expert coaches with my own touches added as coaching baseball tips for all age level coaching.
---
More Coaching Tips from the Best
I could not get all the baseball coaching tips on one page so I added another baseball article from my own baseball experience and from the notes from the legendary John Herbold.
Invaluable advice for novice entry level coaches to the most seasoned. Everyone can grow from these vital points and suggestions.
Incredible coaching baseball tips for all age levels!
More Vital Expert Advice for Baseball Teaching
---
Vital Baseball Coaching Strategies
I have one really simple strategy as my main focus in the local baseball leagues. Put it in place and watch your baseball players shoot for the Big Leagues.
How many players will reach the high school baseball level in your local neighborhoods? That is the question...see my simple
---
Use Baseball to Teach
More than the Game
If you do not get it by now here is another excellent read on what our purpose really is in baseball. I resort to sharing some poetry submitted to me that really explains why we do what we do.
We have the priviledge and platform to teach more than the game so take advantage of every opportunity. The best coaching baseball tips tell us this is our duty!
Baseball is Our Vehicle to Teach More than the Game
Back Home from Coaching Baseball Tips
---
Ethics in Coaching Award
See the Top 10 vital Coaching tips that just might give you the ABCA 'Ethics in Coaching Award and be the classiest team of the season.
---
Dynamic Spring Training System
Baseball drills coaching tips for pre-season practice and spring training. Get the pitchers and catchers out early for a vitally important aspect of the game. My spring training system for high school and youth baseball.
Back Home from Coaching Baseball Tips
---
---
---

Baseball Impossible: Player Development Make-Over



Build Your Own Culture of Player Development


&
Increase Your Players FUN Level

6-DVD Video Set Building Your Complete Player Development System

Click to Order

Audio CD Format Click Here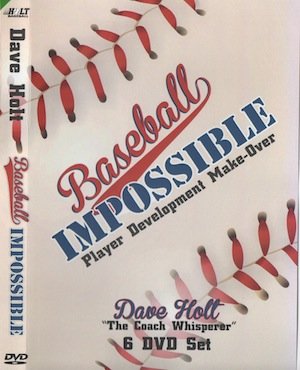 Coaching 6-DVD Box Set
Yes Dave, I Want to Help My Players Enjoy the GAME

Coaching little league baseball & youth baseball can be a blast or could be a  Tough Gig.

Who in their right mind would come back year after year and have teasing baseball practice and never improve their baseball skills? and get welled at by adults?
Baseball Coaching Videos:  Watch over 6 hours of tips on coaching approach, style, philosophy, and my unique player development system. 
Youth baseball carers are short-lived so lets make it count for our players. What do players really want out of playing baseball?
I want to find out more about the 6 DVD Player Development System

---
---