Hey Friends ... sign up for my newsletter and get my
FREE Practice Checklist
---
How to Coach a Baseball Team

& Stay in a Positive Frame of Mind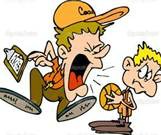 Many coaches search for answers on How to coach a baseball team.
I am amazed at the number of baseball coaches who are in a state of anger most of the time while on the baseball field. Some coaches today appear to coach in an angry condition state of mind all the time.
From the moment a coach steps foot on the ballfield there is a sense of perpetual state of having to coach mad.
It is as though many baseball coaches have a free license to be angry with their players and treat them as they were dealing with a prison inmate, criminal or someone that was in trouble all the time.
---
---
Coaching Angry & Mad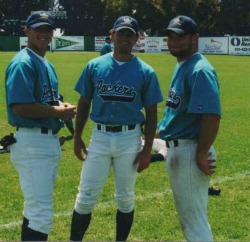 I have personally witnessed coaches getting into the face of nine-year-old kids. Not a technique I would advise those wondering how to coach a baseball team.
I was umpiring the bases recently and was over near thirdbase when I heard and watched a coach basically threaten a young ballplayer for not stealing home when the catcher tossed the ball back to the pitcher.
The youth baseball coach used the meanest, harshest tone of voice that no parent would allow his or her child to be treated like. The adult coach hid the situation from the bleachers by turning away to face the outfield while verbally attacking the tiny young ball player.
License to Yell at Kids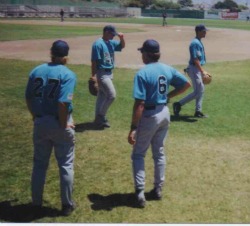 Another time while umpiring the bases I witnessed another coach cornering a kid outside the brick dugout on the outfield side.
The head baseball coach was in the face of a thirteen-year-old ball player absolutely all over the kid threatening the kid in an extremely harsh angry tone.
Meanwhile, the baseball parents were sitting unaware and oblivious to the coaches anger only several feet away in the bleachers on the homeplate side of the dugout.  The boy of one of the parents on the ball team was being literally reamed out by the ball coach—not in a teaching style but a real temper filled chewing out.
Not how I would tell one how to coach a baseball team!
Kids Never Measure Up to the
'Always Mad' Baseball Coach
Often baseball coaches search for answers on how to coach a baseball team but can find nothing to say positively to ball players.
The only voice tone used is a negative, angry tone. 
The only commentary from the 'always mad' coach is critical and demeaning to their ballplayers. 
Constant criticizing on every possible situation tells the ball team that you will never 'measure up'.
Who really enjoys being in a situation where the coaches never find anything positive about any situation?
Do you really think ball players from age 5-18 enjoy being hammered on for practically every situation in baseball?
Do you really understand as a coach or baseball parent how difficult of a game baseball is to play?
Coaches who coach with consistent anger fail to realize how hard baseball is to play well.
You Really Don't Have to be Miserable

How to Coach a Baseball Team
There are some baseball coaches that think you have to be in a miserable mood all the time to be successful.
You have to be pissing and moaning and 'getting on to your players' for every little thing' to be able to be a good coach. You have to be angry all the time to be effective.  
Often baseball parents go right along with this baseball coaching philosophy thinking that coaching angry is the right way to coach. In my mind I think this is a miserable way to coach and play baseball.
I think this angry coaching style chases children from the game of baseball prematurely. I think you can classify angry coaching style as a form of child abuse.
"Yes, the classic idea is you have to be miserable to fight your way and coach to success. It's just not true." Pete Carroll.
There is Another Way Than Being a Jerk
There really is another way to coach baseball.  You can be very successful coaching baseball and still be in a good mood.
Did you ever have a teacher that seemed happy most all the time? You know the ones that really enjoy teaching students using a positive teaching philosophy and approach.
Little League and Youth Coaches do have a real choice to choose a negative or positive style of coaching.
Why choose a positive coaching style?
Nobody wants to be put down over and over again.
Coaches should never embarrass a ball player on the ball field in front of their peers.
Baseball is extremely difficult to play well. You better look for the good things.
There is plenty of failure in baseball--Except it. Don't dwell on it.
Nobody signs up to play baseball and enjoys getting yelled out all game long.
Coaching baseball is not a license to yell at kids and put them down.
Every game is not the World Series—find something other than wins and loses to find value and purpose in coaching the game.
What is your legacy going to look like? 
What type of footprint do want to leave? 
You want to be a jerk to young kids or a real positive coaching role model?
You can be a successful baseball coach and be in a good mood. If you want to know how to coach a baseball team then start by being a positive baseball coach.
Back Home from How to Coach a Baseball Team

Baseball Impossible: Player Development Make-Over



Build Your Own Culture of Player Development


&
Increase Your Players FUN Level

6-DVD Video Set Building Your Complete Player Development System

Click to Order

Audio CD Format Click Here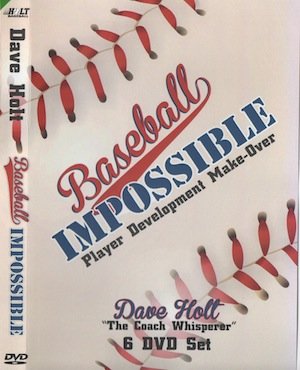 Coaching 6-DVD Box Set
Yes Dave, I Want to Help My Players Enjoy the GAME

Coaching little league baseball & youth baseball can be a blast or could be a  Tough Gig.

Who in their right mind would come back year after year and have teasing baseball practice and never improve their baseball skills? and get welled at by adults?
Baseball Coaching Videos:  Watch over 6 hours of tips on coaching approach, style, philosophy, and my unique player development system. 
Youth baseball carers are short-lived so lets make it count for our players. What do players really want out of playing baseball?
I want to find out more about the 6 DVD Player Development System

---
---