Hey Friends ... sign up for my newsletter and get my
FREE Practice Checklist
---

For Effective Communication Skills
How to Use Your Tongue Wisely
Having the right communication skills can make or break us when we deal with people. Some call it people skills. 
Your ability to use your communication skills will come in very handy in youth baseball coaching. Our tongues can be razors or can be effective tools to make coaching a success.
Some folks are more gifted at effectively communicating than others. Regardless, everyone of us has room to improve. 
Not Expected to Know Everything

Vital Communication Skills
In coaching youth baseball we can get away with not being a baseball expert. No one expects amateur baseball coaches to be experts at the game.
We do expect coaches to be able to communicate in a civil manor. A large part of your communication skill and abilities will come from having a solid coaching foundation and philosophy.
If you have a consistent coaching approach you can usually communicate your beliefs easier and be able to handle the stressful situations better when stuff happens. 
 Bas

eball Coaching Communication Tips




How Does That Tone Sound?
My wife lets me know right away when my voice carries a certain tone. She can detect that I am upset or 'a little snarky' and instantly know that I'm in a mood or have something on my mind thats bugging me.
I'm thinking to myself, "No way did I sound like that!" But, I take her word and trust that she doesn't miss too much so I take the hit and fix it. 
We often do not realize that our voices change during situations, but those around us do notice. 
Have you ever detected a baseball coaches tone to positive or negative just by the sound and the way it comes out?
Do you think the level of loudness equates to good coaching?
Have you ever seen or heard of a baseball coach that was able to communicate with players without a really loud voice?
Does your voice project in a way that you are having fun and enjoying things or kind of miserable?
Have you ever watched baseball coaches body language especially when bad stuff happens on the ball field?
What does the post-game analysis sound like on your baseball teams? Is the mood and voice dependent on the outcome of the game?
Can you find ways to use humor in your communication?
Ever engaged in the ride home post game analysis and the discussion turns completely ugly for everyone?
Have you ever been around a youth baseball coach that was able to give correction without causing resentment?
Coaching youth baseball gives us tremendous power and opportunity to shape those we are fortunate to play for us.
Your communication skills might be the biggest contribution you have to offer your players. Your knowledge of the game, teaching baseball skills like hitting and throwing might be limited. 
Having good communication techniques often is our best card we have to play. Take advantage of the way I help baseball coaches build their coaching approach.
For a complete and deeper insight into all the coaching qualities and checklists to be the best player development coach look at these resources.
Youth Baseball Coaching Tips

Without Resentment
John Wooden is the one quoted as saying, "A good coach can give correction without causing resentment." I think one of the greatest coaches of all time knows a bit about communication with athletes.
This is an art and communcation skills to be able to communicate without causing resentment. You have to work on it. Get better at it. Put your feet in someone else's shoes.
What if you had an expert baseball coach that was really knowledgeable about the game? But the coach had terrible communication skills.
Maybe people tolerated them because they were baseball smart but couldn't wait to get away from them. 
In medicine its called 'bad bed-side manors' by an rude doctor. 
Come and look at the complete baseball player development system and experience all the coaching qualities needed and available in the resources here.
Return from Communication Skills to Coaching tips
---
FREE Coaching Mini-Course


Take a sneak peek under the hood and see how PRO baseball coaches approach youth baseball coaching.
Free Mini-Coaching Course
* It only takes an hour or so of your time.
---

Baseball Impossible: Player Development Make-Over



Build Your Own Culture of Player Development


&
Increase Your Players FUN-Level

6-DVD Video Set Building Your Complete Player Development System

Click to Order

Audio CD Format Click Here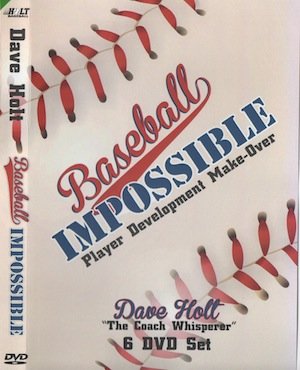 Coaching 6-DVD Box Set
Yes Dave,  I Want to Help My Players Enjoy the GAME

Coaching little league baseball & youth baseball can be a blast or could be a  Tough Gig.

Who in their right mind would come back year after year and have boring baseball practice and never improve their baseball skills? and get yelled at by adults?
Baseball Coaching Videos:  Watch over 6 hours of tips on coaching approach, style, philosophy, and my unique player development system. 
Youth baseball careers are short-lived so lets make it count for our players. What do players really want out of playing baseball?
I want to find out more about the 6 DVD Player Development System

---
---