Hey Friends ... sign up for my newsletter and get my
FREE Practice Checklist
---

Youth Baseball "Must-Have" Coaching Books

Quick List of Resources for
All Coaching Levels & Ages



By Dave Holt
Here are my Baseball Coaching books list of resources for you to access:
'Time to Shine' My Baseball Coaches Practice System- 7 year Plan to Help Kids Get to High School Baseball
Running the Gauntlet: Surviving Baseball Past Age 12
'Let Them Fish': Transforming Your Youth Baseball Coaching System
Build Your Ultimate Culture of Hitting: The Keys to Unlock Your Kids to Hit the Ball Hard, Far and Often
NOTE: Currently Out of Stock
How to Build Your Unstoppable Hitting System: 50 Items to Create Your Instant Culture of Hitting
Note: Currently Out of Stock
Hitting Culture Cheatsheet: 38 
---

My Youth Baseball Coaching Courses

Your "Must Have" Coaches Tools



These are some of my "Must Have" training products.
High Tempo Baseball Development: Brand New Playing Template System to Supercharge Player Development
5 Steps to Ultimate Youth Baseball Coaching Excellence Training System that is a "Must Have" for Developing Players
Building Your Culture of Hitting eBooks
---
---
Your second block of text...

Baseball Impossible: Player Development Make-Over



Build Your Own Culture of Player Development


&
Increase Your Players FUN Level

6-DVD Video Set Building Your Complete Player Development System

Click to Order

Audio CD Format Click Here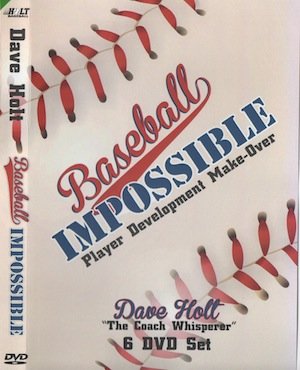 Coaching 6-DVD Box Set
Yes Dave, I Want to Help My Players Enjoy the GAME

Coaching little league baseball & youth baseball can be a blast or could be a  Tough Gig.

Who in their right mind would come back year after year and have teasing baseball practice and never improve their baseball skills? and get welled at by adults?
Baseball Coaching Videos:  Watch over 6 hours of tips on coaching approach, style, philosophy, and my unique player development system. 
Youth baseball carers are short-lived so lets make it count for our players. What do players really want out of playing baseball?
I want to find out more about the 6 DVD Player Development System

---
---