How to Build an 'UNSTOPPABLE' Hitting System
Best Hitters Have the Most FUN
& 
Play the Longest



Congratulations! You are now ready to take the next step to help build a culture of hitting on your teams.
Over time the current system conditions hitters to be hesitant, cautious and careful.
Kids slowly evolve into hitters that are just a bit scared to make a mistake when they bat.
Without realizing it, the adults (coaches and parents) in the efforts to help--often do harm hitters.
This is a 54-page eBook that is filled with tips and pictures to illustrate and show you just how to start building your own powerful culture of hitting.
---

50 Items to Build Your
'Culture of Hitting'

Professional baseball hitters have a certain 'mindset' when they go to the plate.
Unfortunately the coaches and parents today do not understand how to help youth baseball hitters 'think' like the pro's.
Take the next step to help build a culture of hitting in your teams/organizations.
This is going to be totally different stuff than you thought you knew was right.
What you thought was the right way is ruining young hitters.
Check Out the eBooks Order Page
Want to Increase Your Level of FUN?

The Top Hitters Have the Most Fun
Is hitting important?
Yes, very, very, very important...
Your fun_factor depends on it.
Your baseball career depends on it.
Your playing time depends on it.
Hitters that hit the ball hard, far and often have the most FUN!
PLUS: I added an extra summary of my letter to parents which was crafted after the famous Matheny Manifesto.
Ready to Get Started?
You Cannot Find this Info Anywhere Else



You probably already have my 38 Point Quiz to see what level of hitting culture you are currently playing in.
This is the next step in the series to put your own Culture of Hitting in gear.

You can become an instant hitting 'Rock Star' coach. No one else is going to have this knowledge.

Add to your cart, finish the purchase and the eBook will be sent to your email inbox to download your own PDF copy right on your computer or device.
For the cost of a couple of morning coffees or a lunch you can spend $9 for all this knowledge.
---

Do You Know the 5 Legs of the Hitting Stool?

Information No One Else Has
I introduce you the 5 elements to needed to build your culture of hitting.
Mechanics...debunking all the MYTHS in the youth baseball world

Professional mindset...what hitters should be thinking at the plate.

Timing...you better know where to 'meet' the ball or it could be game-over
The adult factor...the adults have really messed this up!
Ability...your genetic athletic skills (I can't help you here)
Take a Look at All my Coaching Products
Become the Best 'Hitting Coach'
Too Many Coaches Teach Hitting the Wrong Way
Sabotaging Hitter's Success


It' only $9
One lunch out. Look how much you can help kids hit better.
When you hit...you have FUN
No one wants to be the one who can't hit the ball hard or can't hit the ball into the outfield.
Always guaranteed. I never have returns but in case you need to my books have a 90 day money back policy.

---
eBook $9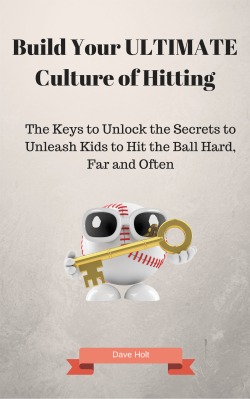 Game-Changer $9
---

This is a Game-Changer

Will Completely Change the Way You Coach Youth Hitters


The adults (coaches and parents) without knowing it are ruining our hitters ability to hit the ball hard, far and often.
Kids who cannot hit the ball hard, far and often will not enjoy the game as much as those who can really hit it.
More times than not it is the 'big people' (adults) that are messing up our hitters.
Yes, I am ready to change the way I coach my youth baseball hitters.
Yes Dave, I want theBoth of your 2 Hitting eBooks... for $18
Yes Dave, I only want the eBook "Build Your ULTIMATE Culture of Hitting'...$9
Dave, I think I am going to start slow with "How to Build Your Unstoppable Hitting System"...$9 (You can always add the other book later on)
Click Here to Go to 'Build Your Unstoppable Culture of Hitting'
Look at All the Baseball Coach Training Items
---
Never Ordered eBooks?

It's Easy


Frequently Asked Questions
Q: How do I download my eBooks?
 I have never ordered online...


A: After you click the 'Buy Now' button and your payment is processed you will be able to immediately open a link to download the eBooks. You have plenty of time to download the eBooks to your computer or device.

Just save the file to your PC or Mac or any device. You will need 'Adobe Reader' installed so if you need the link I have it on the info pages and it is FREE.

Keep an eye out in your email box. If you have Gmail then you might want to look in your 'Promotions' Box. 



Q: What is Your Guarantee on your products?


I offer a one year money back guarantee on the products. I have not had any returns yet but all you have to do is contact me by my website email or call me and we will make it right for you.


Q: Can I purchase your eBooks in another format besides the download?

A: If you are not comfortable with online ordering (PayPal is very good though and very secure) just email me and you can send a check by regular mail and I will email the eBook files to you. Its pretty easy.


Q: I have never downloaded eBooks. Is it safe? I'm skeptical...



A: Really safe. eBooks are becoming more and more acceptable and popular. 'Adobe Reader' is very easy to use and is widely popular as a software package (and it is free) which most newer computers have installed.

Adobe Reader keeps the words locked in place so you do not get a jumbled up book. It is like the pages are photographed so everything stays in place when the books download.


Q: What should I do right after I purchase?


A: Follow the download instructions. Its very easy. Just remember to save the eBook files to your computer. No worries if you forget--just email me and I will send you the eBook again.

Q: Do you have a Hard Copy of your books?
A: At this time the book is in electronic eBook format. I will let you know if I can get the book copied in hard copy.
Click Here for More of Dave's Coaching Products

See What Other Coaches Say

Does This Stuff Work?
Testimonials....

"Dave: Came across your books & videos 2 years ago at the end of the season.

I implemented your techniques the next season and can't thank you enough. The kids love practice, we accomplish a lot, and most importantly they all develop throughout the season. I don't worry much if we win or lose just as long as we try and they get better.

My pitchers only throw fastballs and a change up and we do just fine. If the other team hits the ball, great it gives the defense an opportunity to make a play.

I never coach from the box, I just encourage them to hit. And they all know the have the green light on 3-0. The best thing I can do for them is make them better hitters and the only way is to hit! By the way my kids are Junior Little league ages 13-14". Zach, Stockton, CA.