Hey Friends ... sign up for my newsletter and get my
FREE Practice Checklist
---
How Do You Make Baseball Practice Interesting, Useful, Fun, Instructional?
Want to have dynamic baseball practice ideas? Do you want to give your players the best instruction, drills and training?
We have much to offer baseball coaches at all levels that will help make your players game ready. We want to maximize repetitions under game like scenarios.
---
How to Get the Most From Pre-Game Practice
Youth baseball teams do not practice enough. Why not turn your hour pre-game warmup routine into a full blown baseball practice plan?
Maximize the touches your players get with the baseball. Throw it, catch it, field it, and swing it all befroe every game.
Essential Pre Game Practice Plans & Drills
---
Baseball Practice Drills
With Mini-Competition
This practice drill format offers players mini competitions all during practice instruction. So they complete their baseball drills. Yet, they are not even aware it is a drill because they are always playing a game within the drill.
And, you are a genius! For making practice a blast.
---
Baseball Practice Plans Old School Style
Use Sandlot Style Scrimmages in your Practices. Players cannot wait to get to practice and will never want to leave if you utilize our practice plan template for your baseball lesson plans.
Drills kill skills. Drop the broken system and step aside coaches. Let the players do what they enjoy and play baseball.
Look at this baseball article on Sandlot Style Practices
---
How to Organize Baseball Practice Plans
Our unique practice plan template lets you do what players like to do—Play Baseball every day at practice.
Use our practice template to constantly Scrimmage within your practice no matter how many players you have.
Go to Three Team It page for my baseball practice plan template.
---
Simple 90 Minute Baseball Practice Plan Template
Check out this baseball practice plan template to form the foundation for a fast paced developmental approach. Maximize practice repetitions, take batting practice and play a scrimmage game all in 90 minutes.
Baseball Lesson Plan to teach baseball.
How to Plan Your Practice Time
---
Another Baseball Practice
Goes 'Down the Drain'
A recent baseball practice I witnessed was a disaster. How do we expect players to improve their baseball skills when there is zero instruction, no practice organization, and continous standing around?
How can we expect baseball coaches to coach youth baseball with zero training? At least watch a youth baseball training video or coaching DVD. 
Another Practice Down the Drain
---
How to Teach Baseball Basics:
Catching and Throwing Drills
Want your players to catch and throw consistently well? Follow our coaching tips that teaches pro style drills to make players smooth and polished in their throwing skills.
Start with our first throwing drill and find out how to shoot a bow and arrow. Go to the Exclusive Bow & Arrow Throwing drills to help Throw the ball hard, get rid of the quick and throw on target.
Have you tried the fantastic fast catch baseball throwing drill? How can you not be using this drill any time and any place? Check out the Fast Catch Throwing Drill

---
Free Youth Baseball Drills:
Called 'Fun on the Run'
Do you want a non stop action, baseball conditioning, fun practice drill for any age group?
You have to have this fun baseball drill in your practice or pre-game warm-ups. It is simple, fast paced, easy to organize and takes up little practice space.
Come and see how to run our fun free practice drills. It works for infield drills, outfield drills and the entire team regardless of playing position or skill level.
Read about the Free 'Fun on the Run' baseball fielding drills.
---
Best Team Baseball Drills


Energetic Youth Baseball Drills: One Drill Everyone Should Have.
Quality experienced youth baseball coaches have a few vibrant favorite youth baseball drills at their disposal. These practice drills are amazingly energetic for any age level.
There are some youth baseball drills that everyone should have. This total team practice drill is a fantastic way to polish off a real good practice.
It is competitive, practical and useful from beginning age levels, all youth leagues, rec leagues, amateur leagues, travel ball, high school baseball and college baseball. Check out the dynamic team youth practice drills here on the
Around-the-Horn Youth Baseball Drill

---
If You Do Not Have This Drill
You Need to Add It Now!
Baseball is a game of making the routine plays most of the time. Check out the most essential baseball practice drill for any amateur baseball, youth baseball, little league baseball, travel baseball, high school or college team.
The fantastic 15 Minute practice drill will add a powerful defensive training tool to your team practice plans and strategy. Go to the Essential 15 Minute
Rapid Fire Defensive Infield Drill Part 2
---
Fun Youth Practice Drills Made Simple
Catching and throwing practice drills that involve the entire team, are fun and fast paced and practical for improving defensive skills are what we are looking for.
Bring mini-competition to your infield drills while you teach baseball basics. Check out this defensive throwing drill that simulates a live game situation over and over again. Click here of the fantastic defensive fielding drill.
Live Game Infield Drills: "Throw 'em' Out Drill"

---
More Awesome Infield Drills for
Fun Practice Games
Use your baseball lesson plans to plan practice with incredible, fun, instructional and competitive fielding drills. No more boring defensive drills.
Players practice catching and throwing skills under the disguise of mini-competition.
How do I make practice fun? Click here to read about the
Infielder Goalie Drill for the entire baseball team.

---
Fun Infield Drills for the Entire Team
Take a look at this defensive baseball infield drill that includes the entire team. Using a simulated game mini competition this fielding drill is a must for every youth baseball team.
This is fast paced and highly energetic with many game like fielding and throwing skill repetitions. Click here for the essential
"Last Man Standing' Fun baseball drills.
Return from Top Baseball Practice Tips to Youth Baseball Home Page

Contact me
---
---
---

Baseball Impossible: Player Development Make-Over



Build Your Own Culture of Player Development


&
Increase Your Players FUN Level

6-DVD Video Set Building Your Complete Player Development System

Click to Order

Audio CD Format Click Here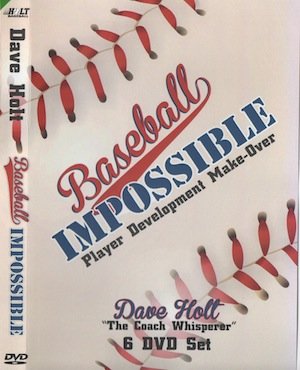 Coaching 6-DVD Box Set
Yes Dave, I Want to Help My Players Enjoy the GAME

Coaching little league baseball & youth baseball can be a blast or could be a  Tough Gig.

Who in their right mind would come back year after year and have teasing baseball practice and never improve their baseball skills? and get welled at by adults?
Baseball Coaching Videos:  Watch over 6 hours of tips on coaching approach, style, philosophy, and my unique player development system. 
Youth baseball carers are short-lived so lets make it count for our players. What do players really want out of playing baseball?
I want to find out more about the 6 DVD Player Development System

---
---