Hey Friends ... sign up for my newsletter and get my
FREE Practice Checklist
---
Coaching Baseball Practice:
What Should We Work on Today?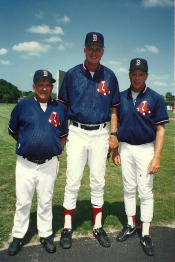 When I am coaching baseball practice I always follow the advice of the legendary great baseball coach Eddie 'Pops' Popowski. Anyone around 'Pops' heard him emphasize the term'plain vanilla'.
We all knew that plain vanilla was code words for 'keep the game simple'.
When you are organizing baseball practice you do not have to venture too far. Avoid spending too much time on 'plays' that do not happen often.
Focus on baseball fundamentals and baseball skills that occur most often.
Brush Then Up with Routine Fielding Drills & Batting Practice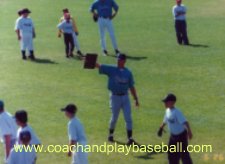 In my professional baseball days of managing minor league playerswe would get a new crop of players every June after the Major League Baseball Amateur Draft.
We would have 25-35 new high school and college players signed to professional contracts, and most would report to Florida for our mini-camp before being assigned a team for the summer season.
Pops would say, "We have to brush them up and professionalize them."He meant we had to eliminate all the trick plays and fancy pick-offs and only emphasize baseball basics. Just do like the smart Pavlov and just go over the routine plays over and over again.
Eliminate Team Baseball Drills
that Rarely Happen
Avoid the urge to get caught up in spending excessive baseball practice time on trick plays. 
You will find that players will end up more times than not messing up excessive trick plays and often botch plays by throwing balls away and making sloppy errors.
Focusing on elaborate bunt defenses, unusual pitcher pick-offs, pitchers throwing little-used trick pitches are ill-advised and waste valuable baseball practice time.
The truth is that baseball players need to spend time on the routine plays and hitting skills that happen the most.
Stay With Bread & Butter
Baseball Practice Drills
Think about which baseball plays and skills are used most often. I think throwing mechanics is important because every player including pitchers will need to throw accurately, get rid of the ball quickly and hopefully with a little velocity.
Next, hitting must be on the list. Hitting a baseball squarely is one of the toughest skills to master in all of sports. We need to hit.
Fielding is another vital aspect. Outfielders shagging and infielders fielding and throwing is pretty important. Then, there are cut-offs and relays, baserunning, and bunting to add to the baseball practice plan.
If all these vital baseball skills are on top of the list that happen the most, then when do you have time to practice rarely used trick plays? PLAIN VANILLA
Four Parts of an Incredible
Baseball Practice Plan
"Coaching is 85% attitude and approach, and 15% technique." You really don't have to be an expert baseball coach. But, you can be very effective in training baseball players with the right baseball practice plans and teaching approach.
I like to break the quality baseball practice into four equal timed parts.
1. 25% of practice goes to pre and post practice quick team meeting. Also your warm-ups, agilities, and catch and throws fit into the first of four parts.
2. 25% goes to infield drills and outfield drills. We have several baseball practice drills here in our baseball articles to get you up to speed on some awesome fielding drills for baseball.
3. 25% to batting practice: Break into the 3-Team format and take this time to get your hitting stations going and give your hitting tips on how to hit a baseball. Goal: 30 to 50 swings per hitter. Outfield group shags live batted balls off the bat.
4. 25% to Baseball Practice Games: Using my 3-Team Format to conduct a fast moving coach pitch live practice game. Sandlot style baseball scrimmage will give you coaching baseball practice on baserunning, cut-offs and relays, infield plays, outfield practice, baseball conditioning and tons of fun baseball practice.

How to Run a Quality Baseball Practice
If you keep the transitions between each of the four sections moving quickly you can have a really fun practice in no more than 90 minutes. Some say you can do a 59-minute baseball practice but that may be a stretch.
Players, coaches and parents need to get in and get out and 90 minutes is plenty of time for little league practice and higher levels up. Get your coaching baseball practice workout in quickly with this 25% x 4 coaching baseball practice plan.
You have spent all your time on fielding fundamentals, outfield drills, rapid fire fungo drill, baseball stations with at least 30 swings each, throwing skills and mechanics, baserunning, cut-offs and relays, double plays and a live baseball scrimmage which baseball players like the most—Playing Baseball.
All baseball fundamentals which happens every game! And you didn't have to be a baseball expert either.
When you finish with Coaching Baseball Practice go back to top Practice Tips
Back to Youth Baseball Home page from Coaching Baseball Practice

---
---

Baseball Impossible: Player Development Make-Over



Build Your Own Culture of Player Development


&
Increase Your Players FUN Level

6-DVD Video Set Building Your Complete Player Development System

Click to Order

Audio CD Format Click Here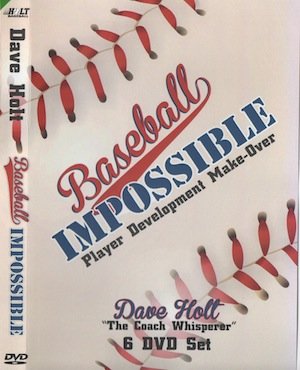 Coaching 6-DVD Box Set
Yes Dave, I Want to Help My Players Enjoy the GAME

Coaching little league baseball & youth baseball can be a blast or could be a  Tough Gig.

Who in their right mind would come back year after year and have teasing baseball practice and never improve their baseball skills? and get welled at by adults?
Baseball Coaching Videos:  Watch over 6 hours of tips on coaching approach, style, philosophy, and my unique player development system. 
Youth baseball carers are short-lived so lets make it count for our players. What do players really want out of playing baseball?
I want to find out more about the 6 DVD Player Development System

---
---