Hey Friends ... sign up for my newsletter and get my
FREE Practice Checklist
---
Incredible Baseball Practice Plan: The Only Template
You Will Ever Need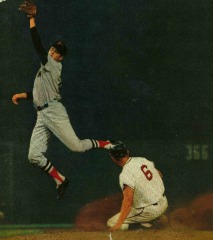 The simple baseball practice plan answers the big question for baseball coaching.
How to run a dynamic baseball practice every time?
Planning baseball practices can be quite a difficult challenge even for seasoned youth baseball coaches.
Baseball is one of the hardest games to create a quick moving--fast paced practice plan that is motivational to the youth players.
Because baseball practice is so difficult to operate often coaches will avoid conducting practice altogether or hold practice that is totally boring and slow paced without enough skill development.
---
"A coach is someone who can give correction without causing resentment." John Wooden.
---
Baseball Workout: High Energy
Baseball Practice
I know running a baseball practice is not very easy. With my youth baseball practice plan you should not shy away from practice. 
The top baseball coaches see themselves as teachers first. Teaching baseball basics is what we do.
You don't have to know everything about baseball to organize a good baseball lesson. You just need a good practice template to follow.
Once you have my template you can virtually teach any baseball drill and skill you want in your baseball workouts. Never be afraid—fear of trying baseball things is not at all acceptable.
Youth sports parents expect youth coaches to work with their kids to improve their baseball skills. So, lets give them what they want!

Why Use The 3-Team
Baseball Practice Plan?
When you do not have enough players for two complete baseball teams then the 3-Team Format is what I use.
The practice plan is awesome with 12-15 players, but is versatile enough with almost any number of baseball players at any age level from little league sports all the way to the pros.
I first used the 3-Team practice plan format when I was coaching in the minor leagues with the Boston Red Sox.
How to Run Baseball Practice Using
the 3-Team Template Format
First, divide your team into three evenly skilled groups as possible.
You will use these three evenly talented groups to flow through your infield and outfield drills, batting practice schedules and the scrimmage at the end of youth league practice or high school baseball practice.
This gives you the flexibility to keep practice fast moving, competitive and with little standing around. That equals lots of action, multiple repetitions, numerous batting swings, mini-competition and live game scrimmages. A recipe for success!
Youth Baseball Coaching Tips
Now you are ready to fill in the practice planner with fielding drills.
I have several infield drills to practice groundball fielding and throwing drills using the 3-Team practice plan format.
Read my baseball articles especially in the practice tips section. Using 3-team practice plan format eliminates standing in line, maximizes repetitions and really develops youth baseball players.
Baseball Batting Practice Schedule
Also, you can set up your batting practice drills with the 3-Team Format. You can have three baseball stations during your batting practice schedule. The hitting stations can be
1. Live hitting on the field with a coach pitch or machine pitch.
2. Second group shagging: Playing the ball off the bat outfield drills. Use a reward system of 100 points for a fly ball and 50 points for a groundball. Awesome game like practice catching batted balls off the bat.
3. Third group following tips for batting in hitting stations off the field like playing pepper, whiffle balls, soft-toss, bunting, sliding, hitting in the tunnel cage, playing pickle, pitchers throwing in the bullpen practicing pitching drills and baseball throwing drills, etc.
Rotate groups every 10 minutes or so until all three groups have finished the practice cycle.
Always Include Baseball Practice Games
Finally, we get to the youth baseball players' favorite part of baseball practice drills.
The 3-Team Scrimmage: One of the three teams will be up to bat. The other two groups combine to blend into a defensive fielding group.
Have a baseball coach pitch that can throw strikes or a pitching machine on the pitching mound.
I have found it is best to take your available time and divide it by three. Give each group 1/3 of the time available. So, if you have 30 minutes than each team will get 9 minutes with one minute for transition from the field to hitting and getting a drink, etc.
Keep score for each group to encourage fun competition. You can have some type of reward for the top group.
With only 4 or 5 players on each team your players will do some serious baseball conditioning while running the bases during these fun baseball drills.
To speed up the tempo use a 2-pitch limit—Have to put the ball in play with 2 pitches (foul balls get a do-over of course).
This is one awesome baseball practice plan you should learn to use! No more boring, stand around and wait slow pace baseball practice.
---
"Much can be accomplished by teamwork when no one is concerned about who gets credit." John Wooden.
Back to Practice tips from Baseball Practice Plan
---
---
---

Baseball Impossible: Player Development Make-Over



Build Your Own Culture of Player Development


&
Increase Your Players FUN Level

6-DVD Video Set Building Your Complete Player Development System

Click to Order

Audio CD Format Click Here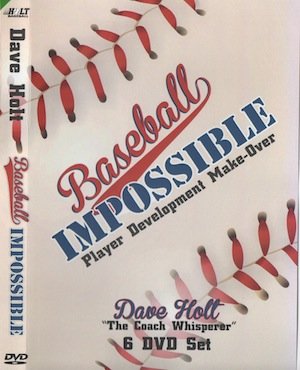 Coaching 6-DVD Box Set
Yes Dave, I Want to Help My Players Enjoy the GAME

Coaching little league baseball & youth baseball can be a blast or could be a  Tough Gig.

Who in their right mind would come back year after year and have teasing baseball practice and never improve their baseball skills? and get welled at by adults?
Baseball Coaching Videos:  Watch over 6 hours of tips on coaching approach, style, philosophy, and my unique player development system. 
Youth baseball carers are short-lived so lets make it count for our players. What do players really want out of playing baseball?
I want to find out more about the 6 DVD Player Development System

---
---