Hey Friends ... sign up for my newsletter and get my
FREE Practice Checklist
---
Are You a Maybe Guy?
Baseball Hitting:
Your Career Depends on It

We have a saying in professional baseball hitting that says you cannot get off the island unless you swing the bat.
Simply we are referring to the Latin American players standing out by aggressively swinging the bat but it applies to all players everywhere.
Players will never get noticed unless they swing the bat. You will just blend in and fade away.
---
Superb Hitting Topics
50 Point Checklist for Professional Hitters
How to Hit the Ball for Power
YES, YES, YES Hitting Mindset
What College Recruiters and Pro Scouts Look For
15 Minute Team Batting Practice Drills
"Swing-It!" "Let it Fly!"
Hit the Ball in the Air
Stuff Good Hitters Do
How to Avoid Batting Slumps
Post Swing 'Oohs & Aaahhs' Analysis
You Go As Far As Your Bat Takes You
How to Use the Hit & Run Play & Give Up Bunting
Keep the Eyes Close to the Action
Fastballs and 'Hangers'
More Sensational Hitting Tips
Avoid the Batting Average Trap

---
Incredible Top 50 Tips
To Be a Better Hitter
Use my 50 point hitting checklist to teach and learn how to hit better. Professional hitters have a hitting mindset.
Baseball coaches must be able to teach hitters correctly so we do not end up hurting batters more than helping them. Hitters 50 point checklist.
---
How to Play Baseball & Add
Max Power Hitting Tips
If you are not aggressive with the bat your playing days are going to be limited. You have to 'Swing-it' to hit it. Are you looking for a walk? You may be walking away from baseball pretty soon.
Top baseball hitters know how to maximize their power hitting swings. To hit the ball further you have to teach hitting with the pro baseball hitting mindset. Take a look at the Secret to Coaching Power Hitters
---
  Key to Hitting
Youth Coaches and Parent Coaches: Are you helping your players walk the plank to end their careers?
You may very well be practicing the wrong practice drills. The one baseball hitting tip that is essential to show your players how to play baseball and maximize each hitters unrivaled power.
This one lesson on teaching and instruction in your batting cage will outshine the rest of the coaching books.
The unparalleled , exclusive batting tip to teach your youth players in camps, practices, games, and clinics.
Players will go as far as their bat takes them. Are you a Maybe Guy? If you can help your team produce offense then you will likely get more playing time.
Go to Best Hitting Mindset. YES, YES, YES hitting tip! It will boil down at some point in your career where you will have to prove you can Flat Out Hit.
You have to square up on the ball. You have to know where to meet the ball in order to consistently hit the ball hard.
Professional style hitting requires a very unique mindset. We know what works.
Many youth coaches and parents cause players to end their careers prematurely because they do not understand how to instruct hitters with the pro approach.
---
How to Become a Baseball Player: College Coaches and Pro Scouts are Looking for You
Do you want to get high school coaches, college recruiters or professional scouts to look at you? Then read this article on starting out early on increasing your chances of a college scholarship or profession career.
Batting coaches are on the look out for lefty hitters. Review this story for teaching batting tips for youth ballplayers and know the plan to get the look!

---
Incredible Team Batting Practice
In 15 Minutes
How do you add action to your practice plans? How do you increase batting practice swings?
Teaching kids how to hit takes time. How do you find practice time to increase batting practice swings? Do you want to have every player on your team get 15 batting practice cuts in just 15 minutes?
All live practice swings on the field. Check out these amazing team baseball 15 minute hitting drills for any youth team that will make your youth baseball training and practice drills sensational.
---
Baseball Hitter: Teaching Kids
Hitting the Right Way
When baseball coaches, hitting instructors and parents are teaching kids how to hit there is one hitting tip that trumps all batting tips.
Without this hitting mindset a batting coach will short change and maybe do more harm than good for youth league players.
There are no baseball hitting drills that will replace or make-up for this hitting technique. Unfortunately, very, very few amateur baseball coaches use this instruction league baseball training teachnique to show players how to play baseball.
Be one of the few top baseball batting coaches and read our baseball article on the ONE baseball how to hit batting tip every player needs to know.

---
Hitting Drills: It Is All in the Wrists

The Sweet Spot on the bat. Teaching kids how to hit is vital to their career, enjoyment and satisfaction in the game. Hitting coaches and batting instructors know how to teach hitting and the importance of the wrists in the batting swing.
Want more game saving, career changing baseball hitting drills? Read the article on the absoulute hitting drills for every ballplayer and youth coach.

---
Unbeatable Hitting Tips and Swing Technique
More Sensational Tips to Teach Fundamentals.Basic swing hitting techniques are essential for players and coaches. To hit a baseball it drastically helps if you know basic bat tips and hitting fundamentals.
Teaching batting can be difficult especially without knowledge of simple batting coach tips.
Announcing 3 Remarkable baseball batting tips that are guaranteed to help you build a complete professional baseball swing.
---
Avoiding the Hitting Slump:
Tips on Hitting

All batters will end up in a slump someday. The key is to try to avoid the duration and get back on track as soon as possible
Hitting a ball squarely can be quite enjoyable yet extremely frustrating.
A slump could be from several reasons. Over thinking too much, having the wrong hitting mindset, just unlucky by the law of batting averages, mechanical fundamental problem, poor coaching form hitting coaches, and facing quality pitchers can all be factors that put a batter in a slump. Click here for batting tips to our Hitting Slump Busters
---
The Post Swing Autopsy

Listen closely at your youth league games immediately after each pitch. There will be an immediate reaction from the coaches, the little league parents and spectators reacting to the the batters results.
Pro ball hitting coaches know what hitting tips work and what batting tips do not work to help improve swing techniques.
A must read article on how to improve batting and the developing self confidence in your players. For top hitting tips Go to The Post Baseball Swing "Ooos and Ahh's

---
A Hitter Will Go As Far as Their Bat Takes Them
Youth coaches have a way of getting their best top hitters in the lineup. Good hitters do not sit the bench for too long.
As you move along in youth leagues having proper batting swing and hitting the ball well becomes more important to the ball team. The more production a player can provide their team with the bat the more likely they will be able to stay in the game.
Once the batting swing is non-productive then the player starts to sit the bench and is closer to leaving the game for good.
Look at our article on the importance of teaching kids how to hit. Their career depends on their hitting skills. Go to Baseball Hitting Life Span


---
Hit and Run: Teaching Kids How to Hit
Why should baseball hitting coaches add the baseball hit and run play? Baseball hitters like to swing the bat. Let your hitters show their stuff by playing the game aggressively.
Do not consistently take the bat out of the players hands by sacrifice bunting too much. To be a better hitter hitting coaches know that teaching batting has to take place during game situations.
Read our instructional league article on the hit and run baseball hitting tips to help players play baseball and properly learn the skills of baseball utilizing the tips on hitting and using the hit and run play.


---
Bat Hitting Ball: Tips for Batting Eyes


Bring Some Fun-ness to the Game



Hitting instructors, batting coaches and parents constantly coach hitting techniques telling hitters to 'keep your eyes on the ball.' How important is it to watch the ball?
How to we position our body to help us watch the ball. How do lean our body posture to improve our ability to track the ball? Read our article on the importance of keeping hitters eyes on the ball.
Building confidence in hitters by avoiding the batting average trap. How to bring some fun-ness to the ballpark.

What Top Baseball Hitters Do

---
Top baseball hitters collectively perform many batting techniques in a similar fashion. What do top baseball hitters do?
Each hitter has a unique batting style yet they know the tips to be a better hitter.
Batting gadgets? Hitting tools and gadgets are ok but first you must know the vital hitting tips that the top hitters use to train for baseball hitting games.
Look at this baseball article on some professional hitting tips to raise your coaching and playing knowledge.
Return from Baseball Hitting to Home
More Hitting Tips
Awesome Offensive Baseball Guidebooks
---
---
---

Baseball Impossible: Player Development Make-Over



Build Your Own Culture of Player Development


&
Increase Your Players FUN Level

6-DVD Video Set Building Your Complete Player Development System

Click to Order

Audio CD Format Click Here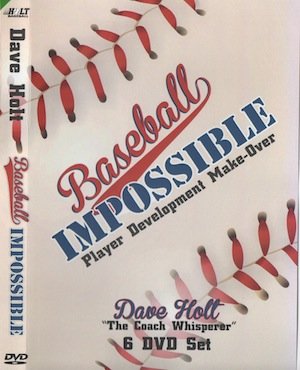 Coaching 6-DVD Box Set
Yes Dave, I Want to Help My Players Enjoy the GAME

Coaching little league baseball & youth baseball can be a blast or could be a  Tough Gig.

Who in their right mind would come back year after year and have teasing baseball practice and never improve their baseball skills? and get welled at by adults?
Baseball Coaching Videos:  Watch over 6 hours of tips on coaching approach, style, philosophy, and my unique player development system. 
Youth baseball carers are short-lived so lets make it count for our players. What do players really want out of playing baseball?
I want to find out more about the 6 DVD Player Development System

---
---