Hey Friends ... sign up for my newsletter and get my
FREE Practice Checklist
---
Top Baseball Hitters Do...
The top baseball hitters can just flat out hit. So much of the hitting skills come from natural ability.
Top hitters are born with baseball skills that many of us will never have.
The best hitters may have a unique hitting technique but many characteristics are similar.
The best may have their own style and look but there are many hitting absolutes common with the top baseball batters. Let us see a couple of simple hitting tips that pro hitters use.
Baseball How to Hit Like Pros
Sometimes we try to over complicate the game with all these hitting gimmicks, toys and batting gadgets. We try to find short cuts to become a better hitter.
We try to reinvent the wheel or think of another way to skin the cat. We use colored baseballs dropping them from all kinds of places.
We buy a glorified batting tee and contraptions hoping that will show a player how to improve batting.
The truth is most of these gadgets do not hurt anyone from little league baseball on up. But, to play baseball you have to have certain hitting mindset.
Unless you know these vital hitting tips all the hitting drill, baseball drill and commercial batting machines will not be of much value.Gimmicks, and toys
The Best Hitting Tips
The top baseball hitters are able to follow some basic tips on hitting. Many may have been taught these batting tips from baseball coaches with knowledge of the right baseball skills.
The best tips for batting have little to do with batting techniques and style. A batter can have baseball basics of a good hitting swing but still not be a very good hitter without these tips on hitting.
Tips on Batting: Hit the Fastball
Out in Front
The top baseball hitters know how to hit the fastball. They can get their bat around no matter how fast the pitcher throws their fastball grips pitches.
The best batter hits baseball out in front of home plate on time, on the sweet spot, with the batting grip in the ax chopping position.
When professional baseball players begin playing in a pro league they get tested right away. The first time around the league all the opposing pitchers challenge hitters to see if they can hit a fastball.
If the hitter proves they can hit a four seam fastball then the pitchers mix in different baseball pitches. If the hitters prove they cannot get around on the 4 seam fastball then that is all they will get.
To survive in baseball and know how to play baseball a batter has to hit the fastball. You have to get some good wood bat consistently on the pitchers fastball or your baseball hitting games may be short lived.

Hit the Hangers
Years ago I played with Danny Schaeffer in Class A ball in the Florida State League. He went on to play several years in the Major Leagues as a backup catcher and utility player.
Schaaf hit like .290 in AAA Pawtucket a year or so after we were teammates, which is a really good year in the International League. I asked him next spring training what he did different to jump from average Class A player to a bonafide major league prospect so quickly.
He said, "Holty, I stopped swinging at the tough curveballs on the corners and low and just started swinging at good fastballs over the plate and hangers.
I was like wow; it cannot be that easy when looking at how to be a better hitter.
Tip your hat to the pitcher when they make a good corner pitch with curveball pitch grip. Even if you swing at it the chances of hitting the ball square are very low even for a really good top hitter.
Swing at the hangers, which is a breaking pitch, or off speed pitch up in the strike zone. A hanging curve is the pitch to swing at if you want to know how to hit a baseball further.
Happy fastball Hitting everyone!
Return to Hitting 101 from Top Baseball Hitters
Return to Youth Baseball Home Page from Top Baseball Hitters

---
---

Baseball Impossible: Player Development Make-Over



Build Your Own Culture of Player Development


&
Increase Your Players FUN Level

6-DVD Video Set Building Your Complete Player Development System

Click to Order

Audio CD Format Click Here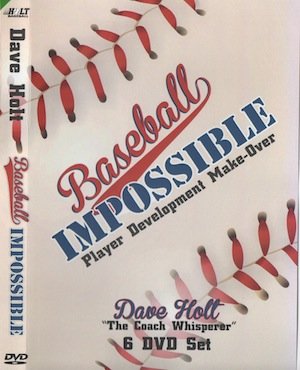 Coaching 6-DVD Box Set
Yes Dave, I Want to Help My Players Enjoy the GAME

Coaching little league baseball & youth baseball can be a blast or could be a  Tough Gig.

Who in their right mind would come back year after year and have teasing baseball practice and never improve their baseball skills? and get welled at by adults?
Baseball Coaching Videos:  Watch over 6 hours of tips on coaching approach, style, philosophy, and my unique player development system. 
Youth baseball carers are short-lived so lets make it count for our players. What do players really want out of playing baseball?
I want to find out more about the 6 DVD Player Development System

---
---