---
FREE Report: The ONE Tool Every Coach Needs

You can run your entire organization with this ONE Tool.
---
The Four Seam Fastball: Top Baseball Pitch Grip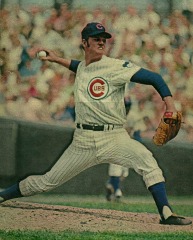 The four seam fastball throwing grip is the foundation of how to throw a baseball. Every pitcher has to know the pitching grip for the 4 seam fastball. The four seam fastball grip is the base pitch to work from.
The four seamer is the center of the action.
The go-to pitch. The fastball pitch grip that is the most consistent for pitchers to master. From little league baseball, youth league baseball, and all the way to the major leagues, the ability to know how to pitch a fastball is the basic corner stone of consistent throwing baseball pitches.
How to Throw a Fastball: Start With the Basic Fastball Pitch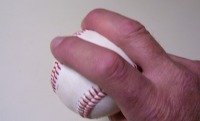 All the position players try their best to throw 4 seam fastballs when they throw the ball defensively. Why? The throw will 'carry' longer.
In other words the ball has a better chance of reaching its intended target in the air. The two seam fastball grip will cause the ball to sink and likely bounce before reaching the target causing a fielder difficulty in handling the throw.
Catchers, pitchers infielders and outfielders try their best to grip the ball with the four seam pitching grip when they make throws. This gives a truer, straighter throw that often reaches the target in the air.

 How to Pitch a Fastball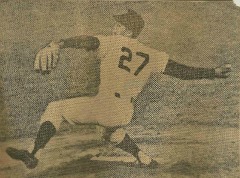 Since the fastball baseball pitch grip allows the ball to travel straighter and stay in the air longer it makes sense that we should be able to control the pitch better.
The 4 seam pitch in most cases will be the best pitch a pitcher can throw for strikes. A high percentage of four seam fastballs should go over the plate.

The Name of the Game:
How to Throw Strikes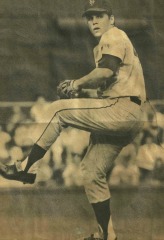 We cannot play the game without throwing strikes. The best pitchers throw fastballs for strikes. They want the hitter to swing the bat. They want to force hitters to swing at the ball.
Not much of game can be played if the pitcher does not throw strikes. Therefore, when teaching players how to throw different pitches make sure the four seam fastball is the first pitch grip to learn.
Master this pitching grip first. Do not go any further with #content_3871324 until command is proven with the fastball way.

Throw a Fastball: Use
Different Baseball Pitches
The fastball pitch itself can be thrown in all parts of the strikezone. When teaching players how to throw baseball pitches young pitchers can easily use the fastball exclusively.
Once they learn pretty good command (6 out 10 or more for strikes) beginner pitchers can begin introducing additional pitching grips. Beginner level pitchers may want to experiment with the two seam fastball for additional sinker movement.
All pitchers must begin learning how to throw a changeup. They can also use the 'hump-up' fastball pitch grip. This is when they add a mile or two mph on the fastball when they get into a jamb and need an out really bad.
When they reach well into puberty you may begin introducing how to throw a breaking ball, how to throw a curveball and how to grip a curveball.
Avoid trick pitching grips like knuckleballs at all costs. These baseball pitching grips take valuable time away from developing command and control of how to pitch a fastball.
Back to Baseball Pitching Page
Return to Youth Baseball Home from four seam fastball
---
FREE Coaching Course

Start building your own 'Culture of Player Development'
I will send you a 4 Part Coaching Course right to your email box.

Baseball Impossible: Player Development Make-Over



Build Your Own Culture of Player Development


&
Increase Your Players FUN-Level

6-DVD Video Set Building Your Complete Player Development System

Click to Order

Audio CD Format Click Here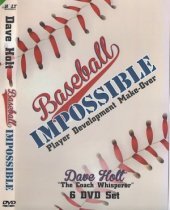 Coaching 6-DVD Box Set
Yes Dave,  I Want to Help My Players Enjoy the GAME

Coaching little league baseball & youth baseball can be a blast or could be a  Tough Gig.

Who in their right mind would come back year after year and have boring baseball practice and never improve their baseball skills? and get yelled at by adults?
Baseball Coaching Videos: Watch over 6 hours of tips on coaching approach, style, philosophy, and my unique player development system. 
Youth baseball careers are short-lived so lets make it count for our players. What do players really want out of playing baseball?
I want to Find Out More about the 6 DVD Player Development System

---
---