Hey Friends ... sign up for my newsletter and get my
FREE Practice Checklist
---
Pitching Risk Factors You
Should Know About
All of us in baseball should be aware of the pitching risk factors for our players. If we know the factors then it is much easier to usepreventative measures.

According to Dr. James Andrews, MD, orthopedic surgeon and founding member of the Alabama Sports Medicine Institute, there are five top major risk factors to focus on.
Common sense tells us the throwing arm needs to be protected and at the same time utilized. Baseball pitchers need to throw. We just need to use our heads and make sure we think through what we are really doing to our ballplayers.
The 5 Top Pitching Risk Factors
1. Year-Around Baseball   
Sorry, playing competitively constantly without some breaks puts baseball players at-risk. Some are now playing up to 100 games per year at age 8-14 years old.
Playing a spring schedule, summer time and fall ball is surely a lot of baseball. I am not saying not to play a lot of baseball. Just make sure you stop and take a break.
A good twoto three months off from competition in the winter is a wise practice according to Dr. Andrews. Taking off November, December and January from competitive games can be rejuvinating to a ball players arm.
Now, playing catch, long toss and pre-season light throwing is certainly within reason but not always necessary. Playing multiple sports like basketball in the off-season is perfectly acceptable and highly recommended. 
Use It---Don't Abuse It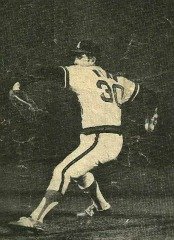 2. Playing Multiple Positions: 
I am talking about pitching risk factors and playing a prime throwing position like shortstop, catcher and thirdbase. Often the kids that pitch have good arms and are valuable for any team to be able to play prime throwing positions.
How often do we take a pitcher out of the game and send them right to shortstop? or catcher? Way too often. Can these strong armed pitchers help our team by playing shortstop? You betcha!
Is it the best practice to put a pitcher in this kind of high demand throwing position? Probably not. Although it is tempting and I am guilty myself at times--we should have the pitcher sit out a couple of innings, or play 1b, or 2b or right field where high velocity long throws may be fewer.
Avoid the win-at-all-costs approach by putting pitchers in compromising positions after they pitch. Know the top pitching risks factors.
That is another reason you should try to develop all infielders to be able to play shortstop and thirdbase so several players can fill in these positions in a pinch and do an adequate fielding job.
Now, I would certainly not want my pitchers to be one-dimensional pitcher only players. I would highly recommend pitchers sit out for awhile or play a non-taxing arm position for awhile before returning to high demand throwing positions on the left side of the infield and catcher.
Radar Guns Must Be Used Correctly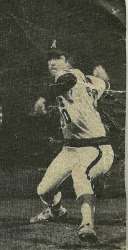 3. Radar Guns
Baseball Radar guns can be a really good tool in baseball if used correctly. Oh yes, everyone wants to know how fast they can throw the ball. Every professional baseball park has a radar gun monitor on their scoreboard to follow the pitchers' speeds.
Using the radar gun for measuring the highest velocity in only a small part of the beauty of the device. The most valuable advantage of using the radar gun is to measure the variation of speeds between pitches.
For example, the straight change up should be about 10-15 miles per hour slower than the fastball. The curveball could be typically 8-15 mph slower than the fastball.
The slider could be about 3-8 miles an hour slower than the 4-seam fastball. Young pitchers may try to exced their throwing abilities when they see a radar gun and over-throw.
The temptation to push the arm to over throw ones natural ability could put the pitchers arm at-risk. Especially at so called 'Showcase' baseball events where pitchers have just a few throws to see 'how hard' I can throw in front of all the scouts.
Take extreme caution sending your child to 'showcase' events to pitch. These are pitching risk factors you want to avoid.
Curveballs, Sliders & Breaking Balls
4. Throwing Curveballs before Puberty
Dr. Andrews has a rule for throwing curveballs. "Do not throw curve balls until you can shave."
I don't know how many pitchers in little league shave yet but they sure throw plenty of curveballs.
Why? Because the adults use the win-at-all costs approach which encourage and allow pitchers pre-puberty to throw curveballs. This is highly risky but you think the adult baseball coaches care? It does not look like it.
I think the pitchers should use the fastball-family of pitches until age 13 and 14. Develop the fastball speed and control. Master command of the two seamer, the four seamer and the change-up.
If these pitches are polished nicely then in the teenage years pitchers can begin to implement the curveball breaking pitches. their arms are well developed, healthy and able to control pitches. The young arms have not been put in compromising risky use with high levels of wear and tear. 
Poor Pitching Mechanics
5. Improper Pitching Mechanics
Proper pitching mechanics can lower the risk of wear and tear on pitching arms. Every pitcher will certainly have their own unique pitching style.
But, the pitching motion should be mechanically sound in order to reduce the chance of arm injuries and to be able to pitch with control. Certainly a good pitching instructor might be worth a look once a kid takes an interest in pitching.
The pro scouts like to see a pitching motion that generates high throwing velocity without looking like it is taking a lot of effort. These are the top pitching risk factors to keep in mind.
If we do a good job monitoring these five pitching risk factors and reasons we should be able to keep our pitchers arms healthy and lively. Don't forget to develop an endless supply of pitching.
Return to Baseball Pitching from Pitching Risk Factors
---
---

Baseball Impossible: Player Development Make-Over



Build Your Own Culture of Player Development


&
Increase Your Players FUN Level

6-DVD Video Set Building Your Complete Player Development System

Click to Order

Audio CD Format Click Here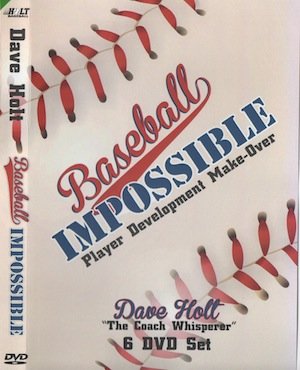 Coaching 6-DVD Box Set
Yes Dave, I Want to Help My Players Enjoy the GAME

Coaching little league baseball & youth baseball can be a blast or could be a  Tough Gig.

Who in their right mind would come back year after year and have teasing baseball practice and never improve their baseball skills? and get welled at by adults?
Baseball Coaching Videos:  Watch over 6 hours of tips on coaching approach, style, philosophy, and my unique player development system. 
Youth baseball carers are short-lived so lets make it count for our players. What do players really want out of playing baseball?
I want to find out more about the 6 DVD Player Development System

---
---