Hey Friends ... sign up for my newsletter and get my
FREE Practice Checklist
---
'Spahn & Sain and Pray for Rain' How to Develop a Deep
Pipeline of Baseball Pitching

Baseball Pitching is the backbone of your ballclub. Pitching is the foundation to build around.
No matter what age group from entry level all the way through college and pros, we have to have effective pitchers. Effective youth baseball coaches, instructors and trainers will benfit their teams by mentoring and teaching fundamentals of pitching instruction.
Keep the game simple. Look at our top 3 pitching tips that all players and youth league coaches should know.
Some of you may of heard of the poem by Gerald Hearn in 1948. He took the words of Boston Braves Manager Billy Southworth and crafted these words about his pitchers Warren Spahn and Johnny Sain.

First we'll use Spahn, then we'll use Sain
Then an off day followed by rain
Back will come Spahn followed by Sain
And followed we hope by two days of rain.
Complete Pitcher's Checklist for Success
---
How to Develop & Coach Pitchers
The moral and purpose of the story is for us as baseball coaches to develop as many pitchers as possible every year. It is not rocket science but you do need a plan and system.
Take a look at our system of developing practice plans for bringing along an ongoing supply of players who can take the ball to the pitching mound and do a good job.
Here is my system of the Johnny Wholestaff Plan for for Developing Multiple Pitchers
Pitching Topics
Common Sense Prevention of Arm Injuries
Basic Tips Everyone Should Know
Bring the Heat...The Four Seamer
Pitch Counts & Managing Pitchers
---
Youth Baseball Pitch Count for Pitchers
The American Sports Medicine Institute has published pitch counts for various age group pitchers. Preventing arm injuries in youth pitchers is much easier when you are aware of the risk factors that cause pitching arm injuries.
One of the injury risk factors is over use and throwing too many pitches. Two innings per game is enough for most levels of pitching. Read more on our baseball article on Pitching Injuries in youth sports.
---
Pitching Risk Factors:
How to Avoid Pitching Arm Injuries
Preventing baseball arm injuries becomes pretty simple when you find out the causes and the reasons that lead to injuries in baseball.
Throwing arm injuries can be largely avoided with quality coaching. Regulation of pitch counts, the type of baseball pitches radar guns, baseball showcase events and playing year around travel baseball are all part of at-risk baseball basics all baseball coaches should be very aware of.
So many baseball injuries and injuries in baseball can be avoided with a little reading. Pitching injuries and arm injuries mainly evolve from the top five risk factors. I will show you the five warning signs causing pitcher inuries.Baseball coaches, Pitching instructors, baseball players, and baseball parents should keep in mind arm injuries in baseball can be minimized with common knowledge pitching tips.
---
Do Yout Have the Pitcher Mindset?
Handling Game Situations
Teaching baseball is a big task. Their are many facets of the game and it is difficult to master any of them much less all of them.
Here are some simple pitching tips to share with pitchers to give them a framework to compete from. Learning how to pitch can take time.
Pitch mechanics are important to have, but acting like a pitcher and behaving like a pitcher will keep you competitive in many more ballgames.
Pitching composure is a main ingredient for a quality pitcher. Look at this baseball article on how to be a better pitcher. Take a look at some simple mindset tips for all hurlers.

---
Top 3 Pitching Tips
Coaching baseball can be overwhelming at times. Especially if you are not a pitching expert or pitching guru. When all else fails try to keep the game simple.
Players are likely to perform better anyway by keeping the game simple to understand.
With these pitching tips any little league coach, pony league coach, Cal Ripken coach, middle school coach and high school coach will seem really smart when armed with these simple rules for pitchers.
When all else fails teach these baseball tips when teaching youth baseball how to be better pitcher. Here is The Big Three tips for any pitcher.

---
Baseball Pitches: How to Throw
Pitches & Pitch Grips
Baseball players, coaches, instructors and trainers are always messing around with an assortment of pitches.
Coaching strategy practice plans includes baseball instruction and fundamentals that encourage pitchers to practice drills on too many pitches. Pitchers should throw baseball pitches with simple grips for pitching.
Look for ways to keep youth baseball pitching strategy simple and easywith the top 3 grips for all pitchers.
Spend all of your pitching practice time on the basic pitch grips. Do not waste time on over the hill specialty trick pitches like knuckeballs and stuff. Develop command and control of the bread and butter pitches;

Two Seam Fastball Pitch Grip
---
The baseball pitch grip that is known as the two seamer, sinker and the sinking fastball.
When learning how throw baseball pitches this pitch is one every pitcher must have. One of the all time great base ball pitches.
This is the one of the basic types of baseball pitches and pitching grips all baseball coaches should expose to their pitchers early on. Get some more info into baseball skills reading about the 2 Seam Fastball: One of the Best Grips

---
The 4 Seam Fastball Pitch Grip
Of all the pitch grips for baseball and different types of pitches the four seam fastball is the king of pitches. Everthing pitching starts and works off the four seamer.
When any pitcher is learning how to throw different baseball pitches you always begin with how to pitch a four seam fastball. Forget all the different baseball pitches until you have mastered the pitching grip for the fastball pitch.
Read the baseball article about the The Four Seam Fastball: The Best Baseball Pitch
How to Throw a Slider: Different Grips
The Straight Changeup Pitch: The Grip Pitch For Everyone
The Curveball Pitch: Beginner Curveball Grips
Want to learn about arm health. Use it but Don't Abuse it. Most pitchers play Multiple Positions and pitch, so added planning is essential.
More and more youth league baseball players are playing year around. Is this sports specialization good or bad?
Look at our baseball coaching tips on training pitchers and teaching youth pitching. Is year around baseball risky for youth players?

---
More on Preventing Baseball Arm Injuries
Baseball coaches clinics do not always give you all the pitching tips for coaching pitchers to keep their arms healthy.
I will talk about some knowledge that will allow you to keep your pitchers arms healthy during the season. When you know the leading risk factors that cause baseball injuries then all you have to do is avoid the risk. 
Baseball Arm Injuries: You can stop them.

Return from Baseball Pitching 101 to Youth Baseball Home.
Pitching Mechanics & Drills
Guide to Coach & Play Baseball
---
---
---

Baseball Impossible: Player Development Make-Over



Build Your Own Culture of Player Development


&
Increase Your Players FUN Level

6-DVD Video Set Building Your Complete Player Development System

Click to Order

Audio CD Format Click Here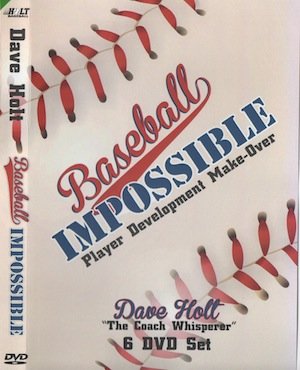 Coaching 6-DVD Box Set
Yes Dave, I Want to Help My Players Enjoy the GAME

Coaching little league baseball & youth baseball can be a blast or could be a  Tough Gig.

Who in their right mind would come back year after year and have teasing baseball practice and never improve their baseball skills? and get welled at by adults?
Baseball Coaching Videos:  Watch over 6 hours of tips on coaching approach, style, philosophy, and my unique player development system. 
Youth baseball carers are short-lived so lets make it count for our players. What do players really want out of playing baseball?
I want to find out more about the 6 DVD Player Development System

---
---