Hey Friends ... sign up for my newsletter and get my
FREE Practice Checklist
---
Year Around Baseball
At Your Own Risk
Playing year around baseball is growing more popular. Some youth baseball players are playing up to 100 games per year.
Not only the Sunbelt states are playing more, the entire baseball world is playing all year. Indoor facilities are now commonly available in colder climates to extend the baseball season in the northern states.
Specializing in one sport is increasing in popularity. Their are always pros and cons for everything. Baseball arm injuries are one of the risks of year around baseball.
Pitch Count Limits
Youth leagues are likely to have pitch limits for their pitchers. But, many players are playing on multiple teams. Year around baseball teams may not closely monitor pitching limits and pitch counts.
When they reach their weekly pitch quota for one team they turn around and pitch again on a weekend year around travel ball tournament team.
Especially if the coaching on the year around team is a win-at-all-costs philosophy. Player development should be the number one priority in youth baseball.
Unfortunatley many coaches only want to win the travel tournaments and often disregard the health and pitching risks or their baseball players.
The American Journal of Sports Medicine's 2002 study on 476 pitchers aged 9-14 came out with several recommendations.
Recommended pitch counts for each age group were released. They have stated per game pitches, pitches per week, pitches per season, and total pitcher for a year.
Further Recommendations
From USA Baseball
Pitchers should develop proper mechanics as early as possible. The better a pitchers fundamentals, pitching mechanics and proper pitching technique the less likely the throwing arm care will be at risk.
Teaching baseball players sound pitching mechanics helps lessen the chances of arm injuries.
A knowledgeable pitching instructor will know pitching drills, pitch counts, know how to throw curve balls and baseball pitching tips that will lower the risks of arm problems.
Pitchers should avoid throwing breaking pitches (curveballs and sliders) competitively until positive proof of puberty —usually around age 13 or 14 years old.
Until then, training and coaching emphasis should be on good mechanics, using your fastball, a change-up, and good control.
Baseball pitchers are discouraged from participating in showcases (Sorry showcase guys) due to the high risk of injury (most pitchers over-throw to impress someone).
Baseball pitchers are discouraged from pitching for more than one team in a given season. It is too hard to monitor effectively the amount of innings pitched, pitch counts and playing multiple postions while playing on more than one baseball team at a time.
Baseball pitchers should compete in baseball no more than 9 months per year. We do not know for sure but most baseball coaches, trainers and doctors are saying to take at least 3 months rest from pitching in competition are needed for arm recovery during the off-season.

Develop a Supply Surplus of Pitchers
One of the main responsibilities for youth league baseball coaches is to develop pitching. If we do not create depth in our pitching staffs we are not completing our jobs. Give every one of your players an opportunity to pitch.
Refrain from the temptation to use only one or two pitchers during the baseball season. Increase the number of pitchers on your staff to at least 4 pitchers per age year. 
Check out how to develop an endless supply of pitching. The game is hard to play well without pitchers who can throw strikes with at least a couple of pitches.
Take some wear and tear off your pitchers by distributing the innings to multiple pitchers. Giving all the pitching to a couple of kids taxes their pitching arms especially if the kids play multiple positions.
Return to Baseball Pitching from Year Around Baseball
---
---

Baseball Impossible: Player Development Make-Over



Build Your Own Culture of Player Development


&
Increase Your Players FUN Level

6-DVD Video Set Building Your Complete Player Development System

Click to Order

Audio CD Format Click Here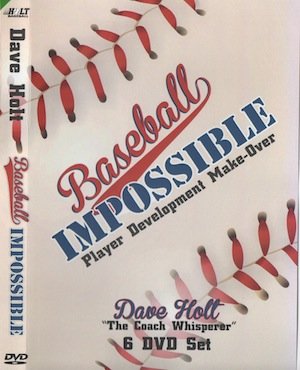 Coaching 6-DVD Box Set
Yes Dave, I Want to Help My Players Enjoy the GAME

Coaching little league baseball & youth baseball can be a blast or could be a  Tough Gig.

Who in their right mind would come back year after year and have teasing baseball practice and never improve their baseball skills? and get welled at by adults?
Baseball Coaching Videos:  Watch over 6 hours of tips on coaching approach, style, philosophy, and my unique player development system. 
Youth baseball carers are short-lived so lets make it count for our players. What do players really want out of playing baseball?
I want to find out more about the 6 DVD Player Development System

---
---