Hey Friends ... sign up for my newsletter and get my
FREE Practice Checklist
---
Travel Baseball vs. Rec Ball

What Do We Do?
The topic of travel baseball will come up in your youth baseball circle if it has not already. If you have been around youth baseball very long you will soon hear from other baseball parents and baseball coaches the topic of travel ball.
The rec ball crowd will hear little tidbits here and there and soon will want to ask questions and get some answers about this travel ball baseball.
You will hear baseball parents will say stuff like, "The sooner you switch over to travel ball from recreation baseball the better your kid will get. You cannot get any better playing with those rec ball kids and college coaches will never hear of you". "If you are ever going to 'make it big time' you better play travel baseball".
Don't believe all the chatter until you look deeper into travel team baseball.
How to Outwit the Travel Ball Devil
---
---
What Is Travel Ball?
Youth travel baseball falls under moneymaking organizations like USSSA baseball and others to provide weekend tournaments for teams.
Anyone can start a travel team and meet the requirements, pay the entry fees and sign up for the travel baseball tournaments usually play at least two travel tournaments per month.
Teams often travel up to a few hours for travel ball tournaments and some even travel across the country from state to state and play. Others will play in local metropolitan areas and not have to stay overnight.
Travel teams play at least four games over the weekend and even more on three-day weekends.
Baseball teams are formed by like-minded dads who end up coaching the teams so they can make sure their kid gets to play on the traveling teams. They get other baseball moms and baseball dads to buy into their team group, pay the fees, buy the baseball uniforms, and make up a name and presto-we have a travel baseball team.
Some groups are multi-layered and often have a series of up to 5 or 6 teams at all different age groups.

What Do I Think About Travel Ball?
Dave's opinion: I think baseball families should wait until the age 13 and over to consider playing travel baseball.
Why? Mostly, because 75% of the kids who play youth sports drop out of baseball by age 14. Most of the kids who play at 12 years old and younger will never reach high school baseball.
Therefore, I would not want to spend all this money traveling around the country, paying baseball tournament entry fees, large baseball gear costs and uniforms, food and hotel money and all the time that is invested into it until I was more sure the kids were going to take baseball seriously.
The rec baseball leagues are adequate for kids under 13 years old for baseball development. Plus you save a ton of money and time on the weekends doing family stuff.

But the Rec Ball Kids Are Not Very Good
Yes, most of kids who play travel ball are not the worst talented kids. Yes, there are probably less of the really poorly skilled players in travel ball.
But, the best players in rec ball usually pitch the most so you should face at least decent to above average pitching in youth rec baseball. And, if you are that good you should really dominate the rec ball leagues while developing your baseball skills.
You play about the same amount of innings:
Rec Ball is 2 games per week = 8 games a month.
Travel ball is 8 games per month: 4 games x 2 weekends = 8 games per month.
The number of innings played is a wash except you blow two whole weekends a month at some baseball complex.
You spend the most part of 4 days a month with other baseball parents that you may or may not like anyway, in some hot, dusty sports complex that charges entry fees in addition to your team entry fees, and will not let you bring your coolers.
SIDE NOTE: There are no college scouts or pro scouts at the games either until you reach 16 and over.

You Cannot Manufacture Baseball Players
Playing baseball well takes a lot of skill, athleticism, strength, and agility, desire to play and practice on their own, aptitude, a coachable spirit, and raw God given ability.
Just because you play a lot of travel baseball is no guarantee that these necessary ingredients are going to be there at age 14, 15 and 16 years old for any baseball player.
Therefore, since there is no guarantees of all these parameters being present then playing travel baseball is not the end all, be all.
It is not automatic that a kid is going to be able to play high school baseball.
Baseball parents and baseball coaches: please keep in mind you cannot manufacture baseball players by playing on travel baseball teams.

Travel Baseball: What to Look For When Choosing a Team
1. Who is coaching the team? What is their background working with kids? Are they a dad of a baseball player on the team?
2. How is playing time determined? Which positions do the kids play and do they have a choice?
3. How many of the players will pitch? Does the coach wait until the kids can shave to start throwing curve balls? (They all should take a turn pitching over a weekend travel tournament). (They all should take a turn pitching over a weekend travel tournament).
4. What is the baseball coaching approach? Are we trying to develop players to someday reach high school baseball or are they a win-at-all-costs right now approach?
5. How often do we practice? Most travel baseball teams rarely plan baseball practice.
6. Is the coach a teacher using positive reinforcement coaching techniques or are they rant, rave and negative constantly demeaning kids?
7. Does the coaching staff call out players while on the field embarrassing kids by yelling at them after mistakes or teach them between innings in the dugout out the limelight and at baseball practice like the pros do it?
8. Does the team play mid-week pick-up games vs. local teams?
9. Are the players allowed to play rec ball and travel ball simultaneously? If so how do the coaches monitor how many innings are pitched during the weekday recreation league games prior to weekend travel tournament games? How to Develop on Endless Supply of Pitchers.
10. Does the coach value and equate hitting success with how far the kids will go in a baseball career? (players will go as far as their bat takes them)
11. Do the coaches encourage hitter do be aggressive at the plate (good!) or do they vocally criticize and hammer on them for swinging at a high or low pitch? (Not good). Agressive Hitters Approach like the Pros
12. Does the coach have the hitters bunt and squeeze bunt every time you turn around or do they let the kids swing it and try to develop hitters? (You go as far as your bat takes you). Guidebook for developing Hitters
13. Does the coach share all the costs and fees up front? All the uniform costs, baseballs, entry fees should be pretty much set going into the season. (Rec ball is substantially cheaper than travel baseball).Save on baseball gear. 
14. Are the fellow peer baseball parents in alignment with your approach to support the kids, enjoy watching the ballgames, nice to the umpires or are they win-at-all-costs types, yelling at the umps, pacing up and down the sidelines, shaking the fence, bugging the kids in the dugout, overly coaching from the bleachers and highly emotional about the outcome of the ballgames score? Message to baseball parents.
15. Are you willing to give up two weekends a month toting around your kids to dusty, dirty, baseball facilities, port-a-potties, spending gas, fast-food, admission fees, lost family time, with other baseball parents that may not have the same sports motives that you have?
Look Before You Leap Into
Youth Travel Baseball
Baseball moms and dads naturally want to do what ever it takes within their means to help their kids become successful.
I just say don't put all your eggs in the youth baseball basket before kids become teenagers. Why spend thousands of dollars until you are more confident of the outcome?
Only .0.44% of high school players will play baseball professionally. About 5% of high school senior athletes will find a place on a collegiate sports roster.
This proves you cannot manufacture a baseball player. Only a few are chosen to play past high school baseball—and 75% if the youth baseball players never even play high school baseball age levels.
How to Outwit the Travel Ball Devil
Return Home from Travel Baseball
My Message to Baseball Parents
Vital Baseball Coaching & Playing Guidebooks

Baseball Impossible: Player Development Make-Over



Build Your Own Culture of Player Development


&
Increase Your Players FUN Level

6-DVD Video Set Building Your Complete Player Development System

Click to Order

Audio CD Format Click Here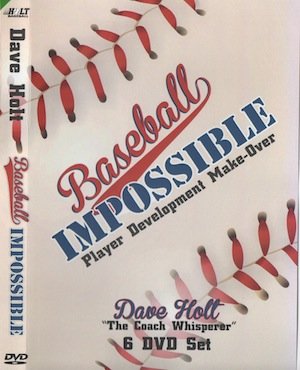 Coaching 6-DVD Box Set
Yes Dave, I Want to Help My Players Enjoy the GAME

Coaching little league baseball & youth baseball can be a blast or could be a  Tough Gig.

Who in their right mind would come back year after year and have teasing baseball practice and never improve their baseball skills? and get welled at by adults?
Baseball Coaching Videos:  Watch over 6 hours of tips on coaching approach, style, philosophy, and my unique player development system. 
Youth baseball carers are short-lived so lets make it count for our players. What do players really want out of playing baseball?
I want to find out more about the 6 DVD Player Development System

---
---