Hey Friends ... sign up for my newsletter and get my
FREE Practice Checklist
---
Save Money on Baseball Gear

While thinking about baseball gear I remembered a statement a friend of mine Jim said to me about the cost of baseball equipment a few years ago.
My friend Jim had a teenage boy that was a serious high school baseball player. He actually was a catcher so the boy had a lot of catchers gear among other baseball stuff in his very large equipment bag.
Jim said to me one day, "Holty, I bet there is over a $1000 dollars of baseball gear in that bag right there." Jim was referring to his boy's baseball equipment bag. I said, "What? No way. You've got to be kidding. There is no way the baseball stuff in that bag could cost that much."
Then Jim started naming all the baseball equipment item by item and the approximate cost of the sporting goods items. He started naming the price of the bats, the batting helmet, the catching gear, the catchers glove, the fielders glove, cleats, batting gloves, some baseball gear and the equipment bag itself.
I was astonished to say that he was right and he probably was a little low on the estimate.
---
---
Pay Full Price for Baseball Gear or Not?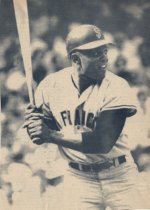 If you and your family have the means to buy top gear for sports and have a large budget for sporting goods then there is nothing wrong with buying all the baseball stuff you want.
Kids grow quickly and will outgrow their gear real soon. You probably don't need the high end gear until the players reach 13 and over age levels and are really serious about the game of baseball.
But, I am going to offer some other ideas and ways to play baseball without spending $1000 dollars. Here is some baseball help for baseball savings for your youth baseball family.

75% of Youth Baseball Players
Drop Out By Age 14
According to the NCAA about 75% of youth sports players drop out of sports by the age of 14. The bad news is that most kids stop playing youth sports by age 14.
The good news is that there is a large amount of good used baseball gear sitting idle in someone's garage, basement, and trunk of a car or bedroom closet.
Often folks will finally realize that the baseball gear is cluttering their house and their children have moved on to other activities. So, take advantage of garage sales, thrift stores, Play-It-Again Sports, Craig's list, eBay, flea markets and just word of mouth.
You can pick up plenty of quality equipment slightly used and in good condition for pennies on the dollar. Any baseball player under 14 years old is likely to drop out because the data says that three out of four players will drop out.
I would be very cautious in choosing to purchase high-end baseball equipment for any youth player under 14 years old. If after age 14 the baseball player takes to baseball seriously then this might be a good sign that adding some higher quality baseball bats, gloves and cleats might be worth the investment.
Until then go cheap. If a baseball player can play then they can play with just about any bat, catch with a decent glove and still be productive.
For bigger baseball toys, tools and aids try Just Baseball US!
Baseball Gloves Slightly Broken In
Ideally all baseball players would like to buy a brand new glove from a baseball store and take the glove home and begin the break-in process.
The facts are you can buy a really good slightly used glove on Craig's List in just about any area in our baseball city, USA.
Yes a stranger has used the glove. Hey, wipe the glove down with rubbing alcohol and Lysol if you have to. Bake the glove in the oven for a while. You can get rid of the germs and have a nice glove for $5 - $25 bucks.

Baseball Bats: It Is Not the Arrow...
it's the Shooter
Hitters that can hit, can hit. Good hitters can hit with aluminum bats and produce a linedrive with almost any bat.
You do not have to have the latest $250 new baseball bat right off the sporting goods manufactures assembly line. I have always said it is not the bat—it is the batter (it is not the arrows fault—it the one shooting the arrow).
There is certainly nothing wrong with going with slightly used aluminum bats. Very few youth league, little league baseball and amateur baseball players hit the ball any better with a $300 bat than a $25 to $50 dollar bat.
Save your bat money and take your family to a minor league baseball game or even better a special treat to a major league baseball game.

Batting Gloves...Really?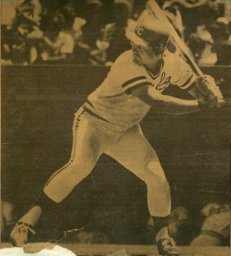 Try going without batting gloves.Good quality batting gloves are about $25 and up. If you have a couple of kids or have baseball and softball players in your family batting gloves can start to add up.
There have been many many Hall of Famers in the past that hit a lot of home runs and never even heard of a bat glove. I really do not think batting gloves make one ounce of difference in hitting skills.
It is like everyone thinks everyone has batting gloves so I guess we need to use batting gloves or we are not up to speed with best baseball brand. B-a-l-o-n-e-y.

Catchers Gear
It is easy to spend several hundred dollars on top end catching gear and a name brand catchers glove. Baseball gear like shin guards, chest protectors, catchers mask, knee-savers (makes the catcher lazy so do not buy them) and gloves.
I needed some umpiring gear a few years ago. I went to the umpire meeting and they gave me all these umpire equipment catalogs.
I had to buy some of the pants and shirts from the catalog but all the gear I got at Play-it-again Sports baseball store. Shin guards for $20, chest protector for $25 and a mask for another $25. Throw in a pocket broom and a clicker-counter, a black belt and hat and for $100 bucks I was good to go.
Oh yes, I got a real huge blessing when someone gave me a pair of used steel toe plate shoes. Ya, they were the old style heavy duty ones but two years later they are going strong.
Did I buy the top end umpire gear? No. I wanted to keep my overhead down and keep my profits so I started on the cheap side. If I am still in the game after age 14 then I will upgrade to new baseball umpire stuff. Ha!

Homemade Batting Cages
Batting cage kits are available all over the on line baseball sites. Plan ahead. If you think you might be adding a batting cage to your back yard start following your local Craig's list for baseball gear.
Cages and baseball stuff will come up for sale every year because they usually out grow the players. The netting might still have several years of use for a youth league baseball player.
One really important note: Unless the hitter is trained to hit correctly than all the batting in the world is not going to do a significant difference.
Consider getting professional hitting lessons if you are going to invest in a backyard batting cage.
Also, the hitter is not going to get better if the cage is not used regularly. Good hitters tend to hit a lot. Get a good L-screen or make your own to keep the pitchers safe in the batting cages.
Thanks so much for visiting coachandplaybaseball.com. I hope you get a chance to come back or bookmark my site. And tell other baseball folks about us.
Lastly, never carry the baseball players bag for them. Rule #1: Carry your own baseball gear.
Go back to Baseball Equipment from Baseball Gear
Youth Baseball Home


Baseball Impossible: Player Development Make-Over



Build Your Own Culture of Player Development


&
Increase Your Players FUN Level

6-DVD Video Set Building Your Complete Player Development System

Click to Order

Audio CD Format Click Here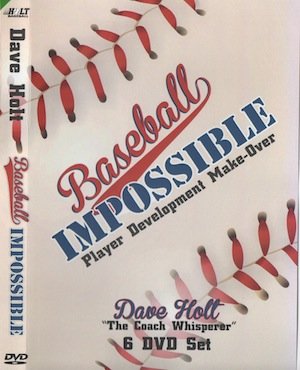 Coaching 6-DVD Box Set
Yes Dave, I Want to Help My Players Enjoy the GAME

Coaching little league baseball & youth baseball can be a blast or could be a  Tough Gig.

Who in their right mind would come back year after year and have teasing baseball practice and never improve their baseball skills? and get welled at by adults?
Baseball Coaching Videos:  Watch over 6 hours of tips on coaching approach, style, philosophy, and my unique player development system. 
Youth baseball carers are short-lived so lets make it count for our players. What do players really want out of playing baseball?
I want to find out more about the 6 DVD Player Development System

---
---