Hey Friends ... sign up for my newsletter and get my
FREE Practice Checklist
---
Baseball Gloves are Very Personal
Baseball gloves are probably the most unique pieces of sports equipment in the world of sport. To a baseball player, remembering your first glove is a big deal. You usually remember all the details.
You bring it home and it becomes very close and personal. Mark Teixeira said, "When you get a new glove, you spend pretty much every day with it for the next couple weeks. At least getting it broke in."

---
---
Ball Gloves Stay By Our Sides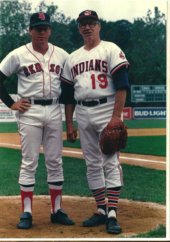 The late hall of fame pitcher Bob Feller tells the story of his father driving 20 miles to Des Moines to shop for his first glove.
At 9 years old he chose a Rogers Hornsby model by Rawlings. "That glove to me—I probably took it to bed with me," Feller said. "I loved that glove, just like you would love an animal—cat or dog. I took very good care of it keeping it oiled and clean."
A good old wooden bat by Louisville Slugger will become splinters and fire kindling. Old baseball cleats are handed down or worn out and discarded. But the baseball glove remains closely by a player's side for years.
The 'Creature'
The event of acquiring and caring for a good broken in glove usually has a story of ones experience during the that gloves span of use. Former Oakland A's and Atlanta Braves Shortstop Walt Weiss used the same glove his almost his entire 14 year professional career. The glove was so worn out and old that it had holes all over it. Walt would stitch it up mend it before each game.
One of Walt's teammates Mike Bordick once nicknamed the glove the 'Creature' for both its look and smell.
Many players do not want another player to use their baseball gloves. Cal Ripken was one of many players who did not want anyone putting their hand in his 'gamer'.
Evan Longoria put his baseball glove under his mattress when he was a boy. He kept a ball in it and tied it with a string to keep its shape. Disappointingly he left it at the ball field one day and for someone else to find. "I cried, Longoria said. " I cried not only because I lost the glove but because I was getting yelled at my parents for losing stuff."
Yogi Berra said, "There is nothing more personal than your baseball glove," he wrote in the forward to "Glove Affairs," a book by Noah Liberman.
Buying Guide: Baseball Glove Size
One of first items to decide is the glove size.Many gloves are marked with the length in inches. If not, using a flexible sewing measuring tape measure the tip of the index finger to the heal of the glove following the gloves shape along the pocket of the glove.
Age 5, 6, 7, 8, you want to look for 10, 10.5, 11, 11.5 inch baseball gloves. I would not waist money on a 9". They are too small and will quickly be outgrown.
From age 9-12 look for 11 to 11.5 inch gloves.
High School baseball through Adult likely an 11.5 or 12 inch model for infielders and 12 to 12.5 for outfielders.
Glove Price & Cost

Baseball parents think nothing today spending well over $100 for the most expensive gloves. This is probably foolish for players until they reach high school baseball.
Even then you can find good gloves under $75 that will be very serviceable for several seasons using proper baseball glove care.
There are plenty of good useful gloves in the $25-$50 range for players age 12 and under. The most expensive gloves do use a higher grade of leather and should last longer but mid range priced gloves should do the job.
Glove Quality
Softer pre-broken in gloves are likely to wear out quicker and tear at the lacing holes when used continuously. The leather is thinner and has a shorter life span.
Higher quality leather will be stiffer and take longer to break in the glove but will last quite a few seasons.
The best gloves come from the heart of the cow's hide, which is along the backbone. The majority of baseball gloves come from cowhide. This is the likely the best choice for players age10 and under.
There is premium steer hide that comes from bulls. This is high-grade leather but most glove manufacturers are going away form steer hide.
Top Grain leather is used in many gloves and has an average durability and break in period.
Full grain leather is usually reserved for high school and adult premium gloves. Rarely is full grain leather used in youth sizes but can be found in smaller adult sizes and still used for older little league ages. The full grain is stiffer but the gloves are able to best break in a glove and molded to a personal fit.
Other leathers include pigskin, kangaroo skin, buffalo hide, and vinyl. Avoid vinyl gloves as they are too hard to break in.

Closed vs. Open Web
The baseball web has mainly two styles. One is completely closed in. The closed in style web is the choice of pitchers so they can hide their pitch grips so no one can peak. Often corner infielders and outfielders use the open web that has portions of the web that can let you see through.
Middle infielders lean toward the closed web so they can get the ball out of the pocket quicker. Shortstop gloves and secondbaseman gloves tend to lean toward the closed web.

Closed Back vs. The Conventional Back
This is a personal preference. The older more traditional style is the strap that goes over the back of the hand. This can be adjusted to fit.
The closed back only has an opening for the index finger in case the player wants to keep the finger outside the glove.
Girls Softball Gloves
Female gloves for girls softball are made with smaller fingers and hand sizes. This accommodates hand sizes for a tighter, comfortable fit.
Softball gloves are usually as large as the rules permit to adapt to the need to catch a bigger sized ball.
Catchers Mitts & Firstbase Gloves
Catchers gloves have thicker padding around the thumb and a hinge or two to help break in the baseball glove at the heel. Softball catchers gloves have a little less padding than baseball and have a larger pocket.
Firstbase Mitts:The firstbase glove has a large pocket and web with little padding. The glove is built with a stiff portion around the perimeter of the glove and a soft pocket so the ball will close around the ball when caught. Sometimes called a 'trapper'.
---
Top Youth Glove Manufacturers
The top baseball glove brands:
Mizuno
Rawlings
Wilson
Easton, 
Nokona
Louisville Slugger

It is best to shop and buy your gloves in the store unless you know exactly the model glove you want to order.
You should always try on several gloves and different baseball glove sizes to see what feels best.
Return to Baseball Equipment from Baseball Gloves

Baseball Impossible: Player Development Make-Over



Build Your Own Culture of Player Development


&
Increase Your Players FUN Level

6-DVD Video Set Building Your Complete Player Development System

Click to Order

Audio CD Format Click Here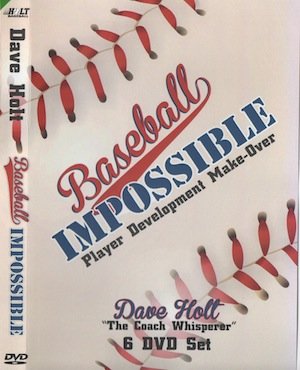 Coaching 6-DVD Box Set
Yes Dave, I Want to Help My Players Enjoy the GAME

Coaching little league baseball & youth baseball can be a blast or could be a  Tough Gig.

Who in their right mind would come back year after year and have teasing baseball practice and never improve their baseball skills? and get welled at by adults?
Baseball Coaching Videos:  Watch over 6 hours of tips on coaching approach, style, philosophy, and my unique player development system. 
Youth baseball carers are short-lived so lets make it count for our players. What do players really want out of playing baseball?
I want to find out more about the 6 DVD Player Development System

---
---