Hey Friends ... sign up for my newsletter and get my
FREE Practice Checklist
---

Open Letter to See Who Are Psycho Baseball Parents



To all baseball parents: I have asked Paul Reddick for his permission to let you read a baseball article about the psycho parents.
I am not saying that our moms and dads that come to Coach and Play Baseball are anything like this--but those who are must definitely be out there somewhere--because I have seen them.
Please contact me and I will send you a FREE copy of Open letter to the Psycho Baseball Parent. You don't want to miss it!
---
---

Why Do Baseball Parents
Make Kids Cry?
"For parents of a little leaguer or youth baseball player, a baseball game is simply a nervous breakdown into innings." Earl Wilson..
As a parent it sometimes becomes blurry to find a balance. There is a happy median between providing healthy encouragement and applying too muchpressure to succeed.
While umpiring a youth league game this year I heard a dad threatening his own 9 year old son who was coming up to bat. The dad told the boy very sternly, "You better get a hit boy. You owe us three runs from all those bad plays you made.
It was only an inning or so later that the boy hit the wall and was crying under his catchers mask. The poor kid was in misery. Wanting to do well for the dad--and sick that he was not able to deliver. Talk about stress and putting pressure on a 9 year old kid.
Chills went through my body. How could a father be that mean to his own child?
Can you imagine if the baseball dad was that cruel in public what he will do to the boy when he gets him home?
Watching Youth Baseball Should Not Be a Nervous Breakdown
As a youth league parent, we all experience anxiety and emotions when our child comes to bat, pitches, or has to make a play in the field.
By nature we want to protect our children, make sure nothing bad happens and control the environment.
Sports itself by nature is uncontrollable.
Fred Engh, author of Why Johnny Hates Sports says,
"It is ironic that the childish behavior at most athletic events is not on the field.
It's in the stands. That is where the normal, everyday moms and dads reside.
Once the game begins, these mature, sensible, clear-thinking adults are transformed into out-of-control fanatic folks.
Suddenly parents become loud, negative, degrading, and disruptive. Now most moms and dads don't intentionally set out to be malicious and overbearing.
It is just the hoopla surrounding youth sports can be intoxicating.
The Secret To Enjoying Watching Kids Play Baseball
How Grandparents hold the secret to watching Youth Baseball. 
Often the baseball grandparents have the right approach. Through experience and wisdom grandparents realize that they themselves cannot manipulate or control the outcomes on the ballfield.
They also realize that life is hard and a struggle. Kids need to struggle a little bit at times to toughen up their coping skills when life gets hard.
Baseball is a very humbling game and very difficult to play well. The tough difficult times of a players career will prepare kids for real life situations and help them learn to weather through the storms of life.
Observe the wise grandparents next time you are at the ball park. There are exceptions in all cases but for the most part the grandparents hold the secret to enjoying watching the kids play baseball.
Ask Kids What They Want from Parents?
If you went around and took a survey of youth baseball players and ask them, "What do want your baseball parents to do and say at the ballgames?" Most of the answers would be "NOTHING."
That is right--say Nothing! No coaching from the bleachers. You do not even have to say encouraging things like, "Be patient now" or "Don't help him out".
The more you say the more pressure and stress goes on to the young ballplayers. The coaches are the ones who should coach and even they often over-coach during the ballgames.
Now, you can certainly clap when a nice play happens but you don't have to say anything.
Just ask the kids after the game if they had fun and tell them that you really enjoyed watching them play.
Hey, I'm just trying to help you enjoy watching your kids play baseball. There is no need to get all tied up in knots every single pitch of the game.
Have you ever seen the 'Dugout Pacer' baseball parents? Usually a baseball dad will sit or stand right outside the dugout and pace up and down yelling to the kids to get 'fired-up' every inning.
Shut your pie hole guy! Sit back and be a baseball parent and enjoy watching the game. "10 Reasons Dad May Not Want to Coach a Youth Baseball Team"
The Baseball Mom 'Rally Scream'
Listen for the baseball parents that do the 'rally scream' next time you are at the youth league ballgames.
It seems that ages 12 and under requires the baseball moms to do this shrieking scream in team unison when their team scores.
It is like professional golf when someone holes a putt on TV on another hole and you hear this roar of the crowd in the distance. That is what the baseball moms do when their team scores a run or gets a big hit.
You hear the team moms all over the entire area or baseball complex. They turn into this group scream squad cheering section.
The younger the kids the louder the squeal scream is. At a 7 & 8 year old game you better get you ear plugs ready.
Is this baseball mom squeal scream really necessary? Chances are the runs scored on errors most of the time anyway.
All you are doing is feeding the frenzy. Adding to the ballplayers stress and pressure. A little clap here and there is all you need.
It is like the baseball parents relate their youth league teams success to their success as a parent. "Our team won big or had a big rally so I must be a really good parent".
SAY Nothing, 
show support, 
practice with your kids when you are away from the team,
get them their on time, 
do not yell at the umpires, 
and sit back and enjoy watching your kids and tell them you really enjoyed watching them play, too!
Return from Baseball Parents Tips to Youth Baseball Home
My Message to Parents
Incredible Coaching Guidebook



Baseball Impossible: Player Development Make-Over



Build Your Own Culture of Player Development


&
Increase Your Players FUN Level

6-DVD Video Set Building Your Complete Player Development System

Click to Order

Audio CD Format Click Here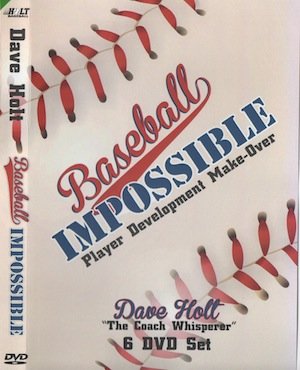 Coaching 6-DVD Box Set
Yes Dave, I Want to Help My Players Enjoy the GAME

Coaching little league baseball & youth baseball can be a blast or could be a  Tough Gig.

Who in their right mind would come back year after year and have teasing baseball practice and never improve their baseball skills? and get welled at by adults?
Baseball Coaching Videos:  Watch over 6 hours of tips on coaching approach, style, philosophy, and my unique player development system. 
Youth baseball carers are short-lived so lets make it count for our players. What do players really want out of playing baseball?
I want to find out more about the 6 DVD Player Development System

---
---