Hey Friends ... sign up for my newsletter and get my
FREE Practice Checklist
---
Avoiding Over Coaching Baseball:


Best Coaches Pick Their Spots

Ever notice over coaching baseball?  It can be confusing and hard to know how much is too much and too little.
I have had the blessed opportunity to play for and work with many famous baseball coaches. Every one of them skillfully avoided over coaching baseball.
Yes, they were over flowing with baseball knowledge, strategies and baseball tips. But, my expert mentors on the ballfield also know that a player can only digest a portion of basic baseball tip or correction at a time.
Giving a ballplayer multiple strategiessimultaneously:  Do you know the best practices for showing and telling players about corrective coaching? If you are not able to properly communicate correction to players you might be doing more harm than good.
---
---

We All Want to Help Our Kids


Easy to do the Over Coaching Baseball
Take hitting mechanics for instance. I can watch a youth league hitter take four or five swings and probably note several batting tips I could offer them. Plus I could quickly make sure that the young hitters had the correct mental approach to batting.
Now, I realize that I am supposed to be an expert in the field. I do not expect most of you to be able to pick apart a players swing points. 
I do have some strategies and techniques that you could easily share with you players and help them become better hitters. And part of coaching skill is knowing how much to give to players at once before there is over-load.
The pro baseball coaches know these tips very well that over coaching baseball is not a very smart baseball strategy and slows down player development.
Study the pros. They aren't always right, but baseball IS their business. Why ask a butcher how to roof your house?.
Classic Case of Over Coaching Baseball


How Are Communicating With Hitters?
I recently was umpiring a youth baseball little league game with 9 year olds in their league play-offs
SIDE NOTE: (Umpiring is my way of infiltrating youth baseball...i can work undercover)
First, one of the coaches was giving his best Knute Rockne and Vince Lombardi pre-game pep talk in the dugout. I thought well you would not hear that kind of raw-raw football prep talk from professional baseball coaches. (Another topic I will tackle later.)
During the game the catcher on one team got a foul tip in the arm and needed a bit of time to let the sting of the foul ball wear off. His youth league coach was checking on him near the backstop.
Meanwhile, all three of the batter's coaches were all huddled over the batter near home plate.
All three were feeding several hitting tips and swing techniques at the young batter. An absolute barrage of baseball tips and baseball strategies was piled on the batter right in the middle of his at-bat.
"Now, make sure you watch the ball, and keep your elbow up... and remember don't help em out and step into it."
Really? Are you kidding me?
Come and let me show you in detail what a professional baseball coach does in handling their hitters. I think you will be amazed at what really goes on during a professional ballgame when dealing with hitters.
"Baseball is the most over-coached and under-taught game there is." Al Campanis.
---
"A coach is someone who can give correction without causing resentment." John Wooden.
---
Go Back to Youth Baseball Today Page from Over Coaching Baseball
Stop by the Youth Baseball Home Page
Super Simple Guide to Coaching Youth Baseball


Baseball Impossible: Player Development Make-Over



Build Your Own Culture of Player Development


&
Increase Your Players FUN Level

6-DVD Video Set Building Your Complete Player Development System

Click to Order

Audio CD Format Click Here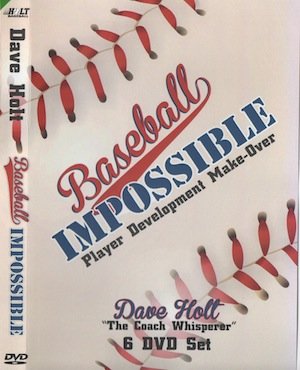 Coaching 6-DVD Box Set
Yes Dave, I Want to Help My Players Enjoy the GAME

Coaching little league baseball & youth baseball can be a blast or could be a  Tough Gig.

Who in their right mind would come back year after year and have teasing baseball practice and never improve their baseball skills? and get welled at by adults?
Baseball Coaching Videos:  Watch over 6 hours of tips on coaching approach, style, philosophy, and my unique player development system. 
Youth baseball carers are short-lived so lets make it count for our players. What do players really want out of playing baseball?
I want to find out more about the 6 DVD Player Development System

SHARE Your Youth Baseball Topics HERE!
The good, the bad, and the ugly. Your CHANCE to get it off your chest. Share with us what is on your mind.
We want to hear from you!
Allow for 12-24 hours for Questions and Comments to be posted after a review by our staff. (me)
---
---