Hey Friends ... sign up for my newsletter and get my
FREE Practice Checklist
---
The Need for a Professional Baseball Player
Development Model


Is Our Current System Working?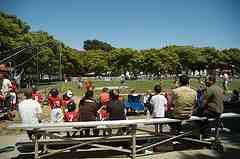 My baseball player development history ages back to the 1960's. The 60's were the years I began playing my youth baseball leagues. I grew up as baseball coaches' son so I was very attracted to youth sports especially baseball.
I knew early on that there was something not right with youth league baseball. My parents always brought lawn chairs to the ballgames and sat out beyond the outfield to watch our ballgames.
Mom and Dad avoided the fray that took place in the bleachers between the dugouts.
Although my folks did not share with me and my brother as to why they avoided the little league baseball bleachers at the time it became clear as to why very soon.
It didn't take kids long to realize the craziness around the bleachers, the dugouts, the treatment of the umpires and the whole highly intense nature from the coaches and spectators. More detail on the right approach for youth baseball. 
How Did I Get Here to the Right Baseball Player Development System?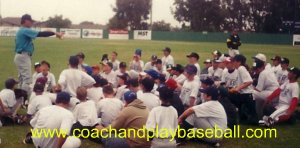 I was blessed to have grown up around baseball all my life with my dad coaching at the high school level and then at the college baseball level. I ate it up. I couldn't get enough baseball.
I had top baseball coaches in college at Fresno State with 'Hall of Fame Coach' Bob Bennett. I played for great professional baseball coaches and more 'Hall of Fame' players with the Boston Red Sox from the late 70's through the early 90's.
I know how the baseball professionals teach and train baseball players.
In the late 90's I wanted to stay at home more so I started Holt Baseball—a full service baseball-training center in Salinas, California. With the help of my family we soon started a summer collegiate wood bat baseball team in the California Coastal Collegiate Baseball League.
I got an up close look at all facets of youth baseball in our community. I got to see, hear, feel and breathe the local youth baseball scene. Some good, some bad and some really ugly.
This is when I started really looking into and researching what was actually going on in youth baseball in America. I constantly went back to my knowledge of the professional baseball player development system and wondered why the youth leagues did not follow the same system?
Why do the little leagues and youth baseball organizations focus on things that have little to do with developing baseball players? 

Mission & Purpose for My Baseball Player Development System


Why Do We Do What We Do?
With all the youth baseball going on why are we not developing an enormous amount of baseball talent coming out of youth baseball programs and organizations?
With all the USSSA travel ball and all the other travel baseball tournaments and teams one would think more baseball players should be evolving into high school baseball teams and college baseball teams.
Something is wrong with this picture. There must be a problem if we are playing so much more baseball but still not developing a significant amount of talented players.
My mission and purpose evolves from a statement that the former All-Star player and GM of the New York Yankees Bob 'the Bull' Watson made several years ago about his observations on the state of amateur baseball in America.
When asked by a reporter a probing question about what he thought was wrong with baseball Bob Watson made the following comments.
"The two things most wrong with baseball today is the
1. A strong emphasis on winning vs. the emphasis on development of strong players at the youth league baseball levels, and
2. The lack of quality coaching at the youth league baseball levels."
Now you can have access to my unique player development systems. and see how to best approach player development today.
---
Youth League Baseball Player
Development System
Where Does Winning Fit In the Process?
Here at coach and play baseball I am committed to provide coaches, players, parents and league officials with the tools to approach baseball with player development at the forefront of everything we do in baseball.
I tailor our baseball training system on the professional player development system. The minor leagues have a purpose and that is to provide baseball players to their major league team.
Training baseball players to play at the major league level is the whole purpose and function.
Winning is an important part of the system but has a special place in the player development process. Youth baseball must always stay competitive. Staying competitive, playing to win and developing players has to work together. My system intertwines these components and helps explain how to prioritize the proper emphasis to the players benefit. 
---
Measuring Success in Baseball
Player Development


Can We Offer Something Deeper?
How do we measure success in our youth baseball teams, leagues and high school baseball? Is it all about winning and losing? Is this the final measuring tool in a successful youth baseball system.
What is real success? 
Every one of us adults need to think about what is real success in youth baseball.
Why should we do what we do? Organizing leagues, raising money, involving kids in a great game? This is a lot of time, energy and work.
What do we want our ball players to get out playing baseball? How long do want them to be able to stay in the game? What do we want them to leave the game with?
The answers to these questions are explained in detail.
---
 Using Baseball as Our Vehicle


Vital Baseball Player Development
Okay, we know two things.
First,: We need to improve our quality of coaching so we can develop baseball skills to keep players in the game longer. We know that 75% of youth baseball players are out of baseball by age 14.
What do we need to do to help baseball players stay in the game longer?
Answer: A better baseball coaching approach using the professional baseball player development model system.
Second: Understand our role to teach more than the game.
Baseball is the vehicle to teach more than the game. Many ideas and opportunities to teach are explained here in addition to baseball.
For example, the Boy Scouts of America teaches their members the importance of character using the motto of being trustworthy, loyal, helpful, friendly, courteous, kind, obedient, cheerful, thrifty, brave, clean and reverent. The Boy Scouts is the teaching platform to share these vital values in their kids.
Few of our young baseball players will ever play baseball past 12 years old and even fewer will play high school baseball much less college baseball or pros. We better do the best we can in leaving a strong legacy with our young athletes during the time we are blessed to have them.
Developing a Baseball Coaching Approach


How to Leave a Legacy
John Wooden, maybe the greatest coach of all time used his 7 principles to mold and shape his coaching approach so he could help mold his players and prepare them for later in life.
Often his players never realized at the time what Coach Wooden was really doing. It was years later when his players would be able to look back on their time with coach Wooden and reflect on his message.
This is what leaving a legacy is all about. What kind of legacy are we going to leave the kids we have the privilege of coaching? Are you gong to be a win-at-all-cost Vince Lombardi type? 
What coaching approach do you want to be remembered for? It is time to reflect on the type of legacy we are going to leave and the impact on the children we have the opportunity to be a role model for.
Take a look at ways to leave a Legacy for your players you coach. and create your coaching approach.
Back to Home Page
Return to About Me from Baseball Player Development
---
---

Baseball Impossible: Player Development Make-Over



Build Your Own Culture of Player Development


&
Increase Your Players FUN Level

6-DVD Video Set Building Your Complete Player Development System

Click to Order

Audio CD Format Click Here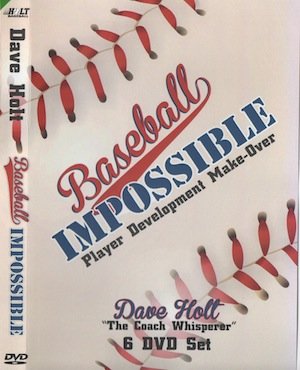 Coaching 6-DVD Box Set
Yes Dave, I Want to Help My Players Enjoy the GAME

Coaching little league baseball & youth baseball can be a blast or could be a  Tough Gig.

Who in their right mind would come back year after year and have teasing baseball practice and never improve their baseball skills? and get welled at by adults?
Baseball Coaching Videos:  Watch over 6 hours of tips on coaching approach, style, philosophy, and my unique player development system. 
Youth baseball carers are short-lived so lets make it count for our players. What do players really want out of playing baseball?
I want to find out more about the 6 DVD Player Development System

---
---