Hey Friends ... sign up for my newsletter and get my
FREE Practice Checklist
---
Little League Parent Syndrome


Is Alive & Well


The Worst Behavior Is Often in the Bleachers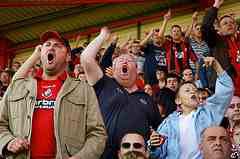 Little league parent syndrome: When I was in Little League I always wondered why my baseball dad and mom would sit beyond the outfield fence to watch our games.
Now I know becuase...Yes, we actually have a name for parents that attend youth baseball games and act unruly.
---
---
(LLPS) Sports psychologists have coined the condition for parents that do too much yelling and screaming, become verbally abusive to their children and other participants, and occasionally become violent in several articles on baseball.
Although this parent syndrome is usually isolated to a minority of parents but that number seems to grow yearly. Just a few little league parents can really make the youth baseball experience quite miserable for all.
Parents often have high expectations for their children's performance expecting perfection in their baseball skills and play. Baseball coaches and umpires are under the same perfection status. Winning is at the top of the list for this (LLPS) parent although playing time for their child is vitally important to them.
Parents Are Often Acting Like the Children


Do You Know the Magic Words to Say to a Post-Game Player?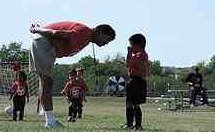 For youth league players, there are several reasons that make playing organized baseball attractive. Most just want to be with their friends or make new ones.
Winning the ball games is way down on the list. Actually winning was tenth on the list of importance to youth league kids in organized sport according to a survey of 10,000 students published by American Footwear Association.
Unfortunately, our youth baseball league parent did not agree or did not get the memo with these survey findings. Most of the baseball parents feel that winning is at the top and their siblings' playing time is crucial too.
Trying to win is certainly part of competition and is expected by the competitors. But, in the big scheme of the youth sports experience it really doesn't matter who wins or loses. Win or lose, you move on and look forward to playing again the next day.
Find the one sentence that makes everything okay win, lose or draw.
Youth Sports and Parents: Unreasonable Expectations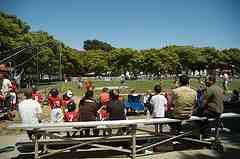 Baseball league parents and youth sports are often supportive with their role in doing good things for their children. Quite often though they add too much pressure on their children's performances, are overly critical, and at times act in ways that brings embarrassment to the kids.
Why do they act this way? There are many reasons. Baseball parents could be just mean to their offspring. They may be looking for a very remote possibility of a future college scholarship or even more remotely a pro contract.
They may be re-living their own childhood little league experience. They may think with all the uniforms and ball fields and coaches that this is mini professional baseball team and we have to get to the world series or make the all-star team.
They often judge the child's performance as an indication of how good of a parent they are. If Johnny hits a home run then "I must be a good parent." If Johnny strikes out, "Then I am embarrassed and I'm going to lay into him for embarrassing me."
Youth Baseball Leagues:


How to Help the Little League Parent




Here are a few baseball coaching tips to share with your youth league parents and league administrators to help put some perspective on parents and baseball in youth sports.
• Develop a baseball sports code of ethics training for the parents to attend and sign. Often the parents that need this most do not get this training.
• Baseball leagues, travel baseball, and youth league coaches:  Who is doing the role modeling? Here is how the coaches set the tone for parents and players. Coaches and administrators; you have the power to make it happen.
• Leagues: Are you closely supervising the parents behavior at the ball games? Does your pre-season education program show and teach parents about the expectations on behavior in the bleachers?  When overly abusive and critical situations occur do we have a process that deals with the consequences?
Additional Items:
• Suggest to your team's sports parents to visit with parents on the opposing team. Realize they are not the enemy.
Players play; umpires umpire; coaches coach; and parents watch.
• How to avoid the post game meltdowns:  Players know when they make a mistake. Use these strategies to avoid the post game analysis.
Lighten Up parents:   Parents must be a part of youth baseball. Are you taking the time to help them understand their vital role in the health of youth baseball and as a little league parent? because yourparents can kill Youth baseball League fun.
Return to Home from little league parent syndrome.
Return to Youth Baseball Today from little league parent syndrome.

Baseball Impossible: Player Development Make-Over



Build Your Own Culture of Player Development


&
Increase Your Players FUN Level

6-DVD Video Set Building Your Complete Player Development System

Click to Order

Audio CD Format Click Here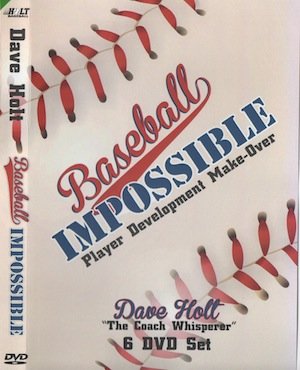 Coaching 6-DVD Box Set
Yes Dave, I Want to Help My Players Enjoy the GAME

Coaching little league baseball & youth baseball can be a blast or could be a  Tough Gig.

Who in their right mind would come back year after year and have teasing baseball practice and never improve their baseball skills? and get welled at by adults?
Baseball Coaching Videos:  Watch over 6 hours of tips on coaching approach, style, philosophy, and my unique player development system. 
Youth baseball carers are short-lived so lets make it count for our players. What do players really want out of playing baseball?
I want to find out more about the 6 DVD Player Development System

---
---