Baseball Coaching
'The Good, the Bad, & the Ugly'
---
Baseball Coaching: Coaches don't wake up one morning and say, "Margaret, I'm going to sign up to coach youth baseball today so I can make 12 kids and their parents so miserable that they will all go sign up for soccer next year."
No, they just do not know how to manage players, teach fundamentals, and run the games because they have not been trained to do so.
All of us involved in youth baseball coaching have the final say on the good, the bad, and the ugly with the way they conduct their baseball coaching business.
The potential for good is enormous in what their players will take with them after their youth baseball playing days.
---
We will showcase how to successfully instruct youth players for the long haul. We will help you develop players like the pros train their players.
Baseball Coaching Topics
How to Outwit the Travel Ball Devil
What Does Pre-Puberty Baseball Look Like?
You Got the 'Jack'? Pay to Play Baseball
The Need for the Professional Baseball Player Development System
Why 75% of Youth Players Drop Out by age 14.
Little League Parent Syndrome is alive and well.
College Athletic Scholarships & Plan B
How to Avoid Over Coaching in youth baseball today.
How to form your baseball coaching approach.
Working with todays youth baseball parents.
You Better Plan a Parent-Coaches meeting
The incredible secret for your tee ball players to reach the highest levels of baseball.
Are We Football or Baseball Coaches?
'Playing Time' Issues & How to Work it Out
Building Your Local Minor League System
What is the Ideal Baseball League?
Chilling Story You Have to Read

Want to 'Outwit' the Travel Ball Baseball Devil?


Current player development system vs. My Baseball Development Model. 
Look at the pro's and con's and you decide.
Can you do more in less time and save money too?
Can you create an awesome practice with maximum 'touches' and develop players more efficiently?
Find out how....
How to Outwit the Travel Ball Baseball Devil
Don't Let Pre-Puberty Success Trick Us
There is not much evidence of predicting the probabilty of baseball success on pre-teen age years. It is highly likely that the boat may slow down and might even head toward the port once we reach teen age baseball.
The winds are harder to get into the sails--baseball will pass most of us by when we reach post-puberty baseball age. Don't be tricked by pre-puberty baseball success.
---
Player Development Model
'This is the Future'
My theory on how to look at and change our youth baseball player development model. Our system now does not devlop players. It is a parent driven win-at-all-costs system.
---
Why Do Youth Sports Players
Drop Out at Such a High Rate?
We know that 75% of players drop out of youth sports by age. We will see why they drop out and model our baseball training, instruction and mentoring to keep our kids in the game.
Often the adults end up messing everything up for the kids. Combinations of poor youth baseball coaching, nagging youth coaches, unsupportive little league parents and a win-at-all-costs approach all add to the exit of youth players out the door.
Read our baseball article on the reasons why players drop out and quit playing baseball.
Why 75% of Youth Players Drop Out by age 14.
---
Little League Parent Syndrome
'Oh Yes It Does Exist'
Yes, there really is such a thing in youth sports. Certainly not every parent catches this disease but a significant number get it and it is hard to get rid of.
The adults bring a destructive behavior to youth baseball fields to the point that it makes what should be a great experience, nothing but stress and turmoil.
The intensity of parents and coaches is way to high of level. The win-at-all-costs approach eats up the joy of youth baseball.
This is a really bad problem and needs to be fixed. The youth baseball coaching system is upside down.
What started as something positive for kids has been overtaken and destroying the spirit of generations of young ballplayers. Read more on how to prevent Little League Parent Syndrome.
---
Visions of Scholarships
Dance in Their Heads
There certainly is nothing wrong with a youth league baseball player working toward a college baseball scholarship. Or even going on to sign a professional contract someday.
In even the best case scenarios you should take up the advice of the NCAA and be ready to go 'pro' in something besides a sport.
The NCAA states that only 5% of high school athletes will go on to play at the college level. Those that do may get a partial athletic scholarship for playing.
A player would have a much better chance to pursue an academic schalarship than an athletic scholarship.
So, before you shell out thousands of dollars on your baseball equipment, travel teams, showcases and private lessons read more on planning for College Athletic Scholarships
---
Be Part of the Solution:
Not Part of the Problem


When do we teach and mentor and how much is over-coaching? Are we really helping kids or doing more harm than good?
Are we part of the problem, or part of the solution? Are we doing our part to keep youth league players in the game?
I see way too much adult volunteer coaches doing way too much negative coaching and hammering players to death with embarrassing reprimands and constant scolding.
The professional baseball model does not teach baseball this way. If you do not have anything good to say then it should not be said. And if something corrective is said, it is out of the line of fire--not right in front of everyone. Read more baseball articles on Over Coaching in youth baseball today.
---
Choose Your Coaching Style:
Positive or Negative?
As a youth baseball coach you are going to have to decide on your coaching approach. Are you going to go positive or negative? Read my baseball article to help you decide.
I give you 5 key communication tips to help form your approach including the world famous compliment sandwich recipe. Take a look at choosing your baseball coaching approach.
---
Youth Baseball Parents:
How to Make it Work
Many in youth sports believe the little league parents have gone too far. The youth sports world is supposed to be a good experience for the kids.
All too often kid after kid is tormented and drained having to endure tearful, stress filled, win-at-all-costs atmoshere brought on by the adults. Parents take so much ownership in the outcome of games often judging thier parenting skills on the merits of how good little Johnny is and did they make all-stars this year.
For more on best ways to work with youth baseball parents click here.
---
Parents & Coaches Meeting:
Start the Baseball Season Right
Sports parents want to know who is going to be in charge of their children the next couple of months when they drop them off at baseball practice drills.
Parents want to know the coaches philosophy and approach to playing time, practice plans, player development and procedures, etc. Its is the right thing to do to get together and go over everything to answer everyones questions.
This should be a big help as you go through the baseball season. If you fail to schedule and conduct this meeting it will likely come back to haunt you down the road. For more on Parent/Coaches meetings click here.
---
How to Coach T-Ball:


We Better Get This Right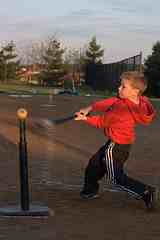 Coaching Tee-ball can lead any coach to run for the hills. The attention span for 5 & 6 year olds is really short.
Plus, baseball players at this age are not able to perform the fine motor skills needed to catch and throw the ball yet.
Read our baseball article to get some coaching t-ball tips to help you survive and even thrive in the entry level world of youth baseball.

Click here to get high level baseball tips to help your tee ball players reach the highest levels of baseball.
---
Is This a Baseball Field or
Football Field?
look at youth baseball today and often wonder if we playing baseball or football. More and more baseball is taking on characteristics of football teams.
We follow the professional baseball model and football is not included in the recipe.
Take a look here and see if you are following baseball basics and fundamental baseball teach for our kids. Baseball coaching tips and hints Are We Football or Baseball Coaches?
---
The 'Playing Time' Issue
Everyone Better Be Ready
Baseball coaching will bring you up close with playing time issues. Parents will get very emotional if their child is not playing enough, playing the 'right' position or batting 4th in the lineup.
Get some of my insight in dealing with the playing time issues that will emerge...I promise you. For baseball coaches, baseball parents, and players go to "Playing Time."
Youth Baseball League Template
What Does this Look Like?
How to build your own local minor league player development system. Check out the template for feeding players to your high school teams.
---
Do We Win or Develop?
The Answer Is...
How to we approach youth league baseball? Like the major leagues that use the win-at-all-costs approach or like the minor leagues that develop baseball players?
Coaching Kids Baseball
'Must Read Story' 
Former MLB star Larry Dierker from the Houston Astros tells a sad story about the state of baseball. Read about Mr. Mean
---
---

Baseball Impossible: Player Development Make-Over



Build Your Own Culture of Player Development


&
Increase Your Players FUN Level

6-DVD Video Set Building Your Complete Player Development System

Click to Order

Audio CD Format Click Here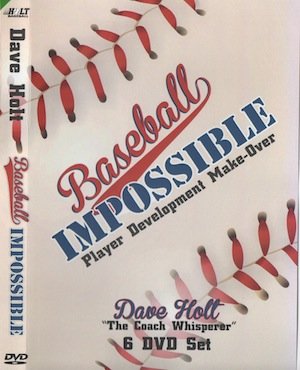 Coaching 6-DVD Box Set
Yes Dave, I Want to Help My Players Enjoy the GAME

Coaching little league baseball & youth baseball can be a blast or could be a  Tough Gig.

Who in their right mind would come back year after year and have teasing baseball practice and never improve their baseball skills? and get welled at by adults?
Baseball Coaching Videos:  Watch over 6 hours of tips on coaching approach, style, philosophy, and my unique player development system. 
Youth baseball carers are short-lived so lets make it count for our players. What do players really want out of playing baseball?
I want to find out more about the 6 DVD Player Development System

---
---