Hey Friends ... sign up for my newsletter and get my
FREE Practice Checklist
---
Playing Time Issues

It is Going to Come Up So Be Ready
The lack of playing time is one of toughest and hottest issues for coaches, players, parents and administrators to deal with. Friction often arises. 
No parent wants to go through the embarrasment and humiliation of having their child sit the bench. Most parents first instinct is to protect their child. The parent will usually want to speak to the coaches in order to persuade them to put their kid in the game more often.
Everyone Has a Part in the Game

Know Your Role
Coaches: It can be a struggle to keep the players and the parents happy. Players and parents can become frustrated, agitated and angry when sitting the bench.
Players: Not many players like to be a bench warmer. It can be embarrassing to some players among their peers. Also, it can become boring. Parents will usually stop most or all their athletic praise for their player.
Parents: Naturally, parents want to instinctively protect their own kids from their perceived injustice, unfairness or embarrassment. They want to step in and 'fix' the inequities.
Administrators: Often the parents will go over the coach's head and bring you into the picture. You will be asked to be the mediator to find some middle ground. Tough job but you better be ready because the majority of your parent issues will be around playing time.
Good Players Do Not Sit the Bench

You Need to Get Better
Bottom Line: Good players do not sit the bench too long. Coaches rarely sit good players. If you are sitting a lot then you are not one of the top players.
Suggestion: Coaches, try to find a spot to get your entire roster in the games. Sacrifice your win-at-all-cost ego. Look for opportunities to let your players show their stuff.
Below the high school varsity baseball level player development should always trump winning games. Try to work in as many players as possible.
The best players end up playing the most. The players that can handle the baseball the best will play the most. Players who can play the ball handling positions most consistently will find themselves in the lineup more often.
What Should Coaches Do?

Checklist to Get Players in the Games
Here are a few of my suggested tips to work out the playing issue. You are never going to keep everyone happy all the time. 
Find places and opportunities to get everyone in the games.
Start your extras or bench players occasionally instead of putting them in the back end of the games.
Encourage players to play multiple positions. Let everyone practice in the infield and pitching. When you put them in the games they should be at least a little familiar with the position.
For more vital tips on dealing with solutions for playing time you can look over my detailed products. There is likely something here that will help make the problems with keeping everyone happier in here. For example: dugout jobs, line-up styles, how to talk to parents and more.
What Should Players Do?

How to Increase Playing Time
What should a ballplayer do to help their cause? Besides being a good player their are many opportunities to contribute to a ballclub and better your chances of playing more often. I can't guarantee playing time amounts but chances are better if you follow my suggestions...
Keep a good attitude. There is no room for pouting in a team sport. You may not like the coaches decision at the time but you should strive to be a good teammate and be ready when you get your chance to play.
Try to become a pitcher. Pitchers are in big demand especially if you can throw strikes. 
To read about and hear more opportunities for playing time you can go to my resources and look at the complete list. 
Baseball Parents & Bench Time

Best Practices to Follow
I have a great list of suggested help tips for the baseball parents. Moms and dads get frustrated when little Charley sits the bench, rides the pine, or bats once and plays the field an inning. Parents, you can play a big role in helping your kids play more baseball. 
Here are a couple of examples of what I provide in the products I have produced. 
Be realistic. Your kid is not likely to be a professional, college or even high school player. Try to enjoy the playing time they get to play, make new friends and try to be a part of a fun group. Tell them how much you enjoyed watching them play.
Try to foster a love for the game with your kids. Take them to the local college baseball games, minor league professional games and the major leagues too if you can. Plan a trip to Cooperstown and put it on your bucket list.
For the #1 Best Tip for helping your kids get in the games more often you can do this one thing and totally increase the chances or your kids playing more.
For many more additional tips for baseball parents dealing with playing time please look at my more detailed items. 
Back to Youth Baseball Today from Playing Time
---
---

Baseball Impossible: Player Development Make-Over



Build Your Own Culture of Player Development


&
Increase Your Players FUN Level

6-DVD Video Set Building Your Complete Player Development System

Click to Order

Audio CD Format Click Here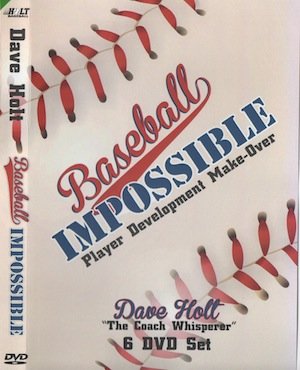 Coaching 6-DVD Box Set
Yes Dave, I Want to Help My Players Enjoy the GAME

Coaching little league baseball & youth baseball can be a blast or could be a  Tough Gig.

Who in their right mind would come back year after year and have teasing baseball practice and never improve their baseball skills? and get welled at by adults?
Baseball Coaching Videos:  Watch over 6 hours of tips on coaching approach, style, philosophy, and my unique player development system. 
Youth baseball carers are short-lived so lets make it count for our players. What do players really want out of playing baseball?
I want to find out more about the 6 DVD Player Development System

---
---