Hey Friends ... sign up for my newsletter and get my
FREE Practice Checklist
---
Teaching Baseball Coaches:
 League Training for Coaching
Teaching baseball coaches should be one of the top goals for any youth baseball league. Teaching baseball to kids can be overwhelming especially if you have never been exposed to higher levels of baseball skills.
Each league or baseball coaching association should provide their coaches with the tools to teach baseball skills. Do our public schools just hire teachers with no certification, training or schooling? Absolutely not. Teachers have to be knowledgeable in their subject matter and be able to manage a classroom full of thirty of our finest youth.
Look at our baseball America and ask why would we send volunteer baseball coaches out teaching youth how to hit a baseball, how to pitch, how to catch a baseball when they have little or no training.
Then we expect them to skillfully manage a group of twelve players of various skill levels, interests and sizes without offering baseball coaches clinics. We expect baseball teaching and sports coaching just to happen with out a system for youth baseball coaches to learn the fundamentals of baseball. 
---
---
Incredible Coaching Baseball Tips
We sign up our kids for youth baseball and assume that they have someone who can coach little league baseball, Babe Ruth coaching, Ripken baseball, or Dad coaches for the travel ball team.
We expect that all the coaches are well versed with the knowledge to teach kids baseball, handle all the players' parents, manage and execute baseball practice plans, get along with umpires, be a good role model, and respect their opponents.
We anticipate all this will happen without any baseball coaches clinics. And even if we do offer coaches baseball clinics that does not mean every coach will turn out to be able to teach baseball to kids and all the other aspects that it takes to develop baseball character and long-term benefits.
Baseball Coaches Clinics: Win-At-All-Costs vs. Player Development
Bob 'the Bull' Watson, the former MLB player and GM of the Yankees and Astros a few years ago, was once asked what he thought was wrong with baseball.
He said," The two things most wrong with baseball today was the strong emphasis on winning versus the emphasis on development of strong players at the youth level and the lack of coaching at the youth level".
Many amateur league baseball coaches get so caught up in the win-at-all-costs philosophy that little if any thought is given to the development and well being of the kids.

How to Coach Dynamic Baseball
Preparing baseball coaches like attending a baseball coaches clinic, offering baseball tips for youth baseball coaches, and preparing baseball coaches to handle conflict will guarantee a baseball coach will be successful.
The same goes for a classroom teacher—even after all their schooling and training they may not be able to successfully teach. Teaching baseball is not for everyone. Teaching baseball is not easy. But we still have to teach the teachers.
The good ones that are natural teachers with a good heart, will blossom and really positively affect our young ballplayers.
The win-at-all costs types that have no vision for player development and have a mean demeanor hopefully will stop coaching and move on to something they are better suited for.
Charleston Baseball Coaches Clinics
Keep Kids 'In the Game'
My baseball coaching clinics are about teaching baseball coaches how to teach baseball to kids. In addition we cover the proper mindset and philosophy youth baseball coaching should offer.
Developing ballplayers is the center of out focus. Winning is important but it is not our top goal. We give coaches the tools to maximize practice efficiency and make baseball practice a blast.
We offer tips on dealing with parents, playing time, umpires, and sportsmanship. Learn the best qualities of baseball coaches. Go over your preseason checklist. Listen to communication skills that show and get respect from your players, baseball parents and peers.
Have us come and visit your youth baseball league or baseball coaches association so we can help your staff in teaching baseball coaches.
Dave can be reached at 843 7 three 7-4458

Return to Baseball Lessons from Teaching Baseball Coaches
Return to Home

Baseball Impossible: Player Development Make-Over



Build Your Own Culture of Player Development


&
Increase Your Players FUN Level

6-DVD Video Set Building Your Complete Player Development System

Click to Order

Audio CD Format Click Here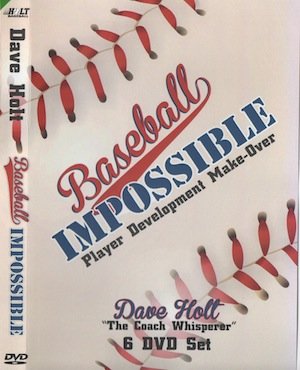 Coaching 6-DVD Box Set
Yes Dave, I Want to Help My Players Enjoy the GAME

Coaching little league baseball & youth baseball can be a blast or could be a  Tough Gig.

Who in their right mind would come back year after year and have teasing baseball practice and never improve their baseball skills? and get welled at by adults?
Baseball Coaching Videos:  Watch over 6 hours of tips on coaching approach, style, philosophy, and my unique player development system. 
Youth baseball carers are short-lived so lets make it count for our players. What do players really want out of playing baseball?
I want to find out more about the 6 DVD Player Development System

---
---