Charleston Baseball Lessons

Indoor Batting Cages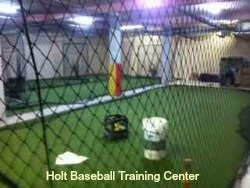 Indoor Batting Cages
Dave teaches the youth in Charleston baseball lessons in Charleston, West Ashley, Mt. Pleasant, Hanahan, Goose Creek, Moncks Corner,
Summerville, Georgetown and surrounding South Carolina Low Country areas.
Need some help to polish up your game? Butting heads working with your own kids?
You might need to consider private baseball instruction and lessons.
__________________________________________________________

Pitching, Throwing and Fielding Lessons
Pro style hitting instruction.
What Others Say
About Me
Contact Dave
Hi Coach Holt, Not sure if you're keeping up with local high school stats around the area (Charleston Post and Courier this past Friday) - but if so you would see Nick Bell leading in Batting Average (.511), hits, RBI. The work last fall with you is really paying off big and I wanted to give a big THANK YOU for your help. He is keeping with what you taught him and has made a world of difference. Hopefully we can see you soon - maybe check out a playoff game if you can! Best of luck - Barry Bell/a>.
---
FREE Coaching Course

Start building your own 'Culture of Player Development'
I will send you a 4 Part Coaching Course right to your email box.
Are Baseball Lessons for You?
Dave has over 25 years coaching experience. Nineteen years spent coaching and managing professional ball players.
Players need to know how to playbaseball. Equally or more important is to know the pro mindset required to really succeed at baseball.
You will only learn the professional mindset from coaches who know how the pros think and play.
Dave has worked with the best in the business.
Why should you get private baseball instruction? Professional instructors can give players the added polish that most youth league coaches do not have the teaching time or the fundamental knowledge to instruct the baseball fundamentals correctly.
The Dad coaches do an awesome job but they just cannot give players the fundamental techniques that are taught by professional baseball managers, teachers, trainers and coaches.
One-on-One and small group training is really beneficial developing players for youth baseball.
Why Do You Need Professional
Hitting Lessons?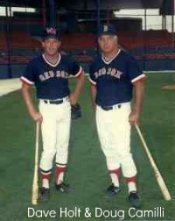 Is your well meaning, well intentioned youth baseball coach helping or hendering your player development? Few amateur baseball coaches have the proper high level background to teach and coach batting technique the correct way.
Often these ill informed coaches will prematurely cause you to leave baseball because they tell you more bad hitting habits and wrong advice.
Has any coach told you, "Get your back elbow up." Or, "Make it be right there." Or, "Now be patient--Don't help the pitcher out."
Or, "What are you doing? I just got through telling you not to swing at the one up here!"
That is code language that the coach does not know enough about hitting to help you make it the higher levels of baseball.
There is a huge difference in professional baseball hitting mindset and knowledge and those who coach our youth baseball leagues and travel teams.
Click Here to check out why you need batting instruction.
Click here for more info on our Hitting Lessons
Quality Professional Pitching Lessons and Private Instruction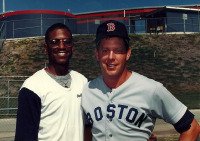 Quality Essential Pitching Lessons: Find out the five key risk factors that put pitchers at risk for pitching injuries, how to lower the risks, and learn the correct mechanics to make you successful.
Maximize throwing velocity, improve pitching control, develop the all important change-up and learn dynamic baseball drills.
Pro Hitting Drills, Techniques and Vital Mental Mind-set: Learn the professional way to hit. There are way too many myths and miss-teachings that mess us up.
The Dad coaches mean well, but often do not understand the professional baseball approach to powerful hitting techniques. Let the pros get your players to think and hit like pro ball players. Hitting keeps you in the game.
Fielding and Throwing: Good fielders know time and distance is what it is all about. Polish your fielding and throwing drills just like the pros.
High School coaches, college coaches and recruiters and pro scouts are looking for polished youth baseball players. That is why it is important to have professional baseball coaching, training, and instruction to work with your game.
Call Us me in the Charleston area 843 737-445eight
---
---
Team Coaching Services: Call 843 737-4458 in the Charleston area.
Need a professional coach to conduct your practices?
League Coaching Clinics: Learn How to coach baseball with the players first and winning second mindset. The professional baseball developmental model.
Why wait? Charleston baseball lessons. Click for Baseball Hitting Lesson Info

Return from Charleston baseball lessons to Home Page
---

Baseball Impossible: Player Development Make-Over



Build Your Own Culture of Player Development


&
Increase Your Players FUN-Level

6-DVD Video Set Building Your Complete Player Development System

Click to Order

Audio CD Format Click Here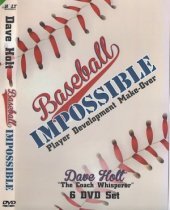 Coaching 6-DVD Box Set
Yes Dave,  I Want to Help My Players Enjoy the GAME

Coaching little league baseball & youth baseball can be a blast or could be a  Tough Gig.

Who in their right mind would come back year after year and have boring baseball practice and never improve their baseball skills? and get yelled at by adults?
Baseball Coaching Videos: Watch over 6 hours of tips on coaching approach, style, philosophy, and my unique player development system. 
Youth baseball careers are short-lived so lets make it count for our players. What do players really want out of playing baseball?
I want to Find Out More about the 6 DVD Player Development System

---
---