Make Money From Your Site
Link Your Customers to My
Books & Videos
Looking for ways to monetize your website by giving your visitors the opportunity to purchase my products? Its pretty easy to set up.
Good commissions (55%) for every referred sale. 
No fees or set up costs. It's FREE
Unique products that provide baseball coaches excellent training.
It's pretty simple if I can do it.
I use E-junkie as the host for my affiliate program. Follow the steps to join the program. After clicking the sign-up link below you will be able to set up a login with your own E-junkie affiliate Admin. This is where you will get your own HOP LINK Code to post to your web site. 
Buyers who click a HOP LINK on your site will be redirected to my sales landing page URL. E-junkie then sets a referral cookie in the buyer's browser that expires in 6 months.
Every product the buyer purchases from me during the lifespan of the cookie will earn you as the referral a commission according to the specified percentage. 
Sign-up here...
Join My Affiliate Program!
Have some more questions? E-junkie Help page
---
Terms & Conditions
1. Acceptance: You agree to the terms and conditions listed in this aggreement. By clicking on the Join My Affiliate Program you indicate your acceptance to this agreement.
2. Simple Statement of Relationship: Holt Baseball enters a relationship with you as an Affiliate, and to reward you with a commission each time as a result of clicking on a qualified link on your website. You and Holt Baseball are independent contractors, and nothing in this agreement will create a partnership, joint venture, agency, franchise, sales representative, or employment between parties. You have no authority to make or accept any offers or representations on your behalf. 
3. Qualified Link: This means a hyperlink to the Coach and Play Baseball.com website that is copied and pasted from your E-junkie Affiliate Admin page. We take no responsibility if the code is altered in any way for you recieving credit for any sale.
4. Chargeback: If the purchaser was to make a duplicate entry, later returns a product, makes an unauthorized payment, enters through a non-qualified link, or does not make full payment to Coach and Play Baseball.com, payment made to the Affiliate for that purchase shall be rescinded.
5. Payments: Affiliates are not eligible to earn commissions on their own original purchase of any Holt Baseball products. E-junkie keeps track of every sale for us and the referring website. At the end of every month I will tally up your commissions and send you a check during the first 15 days of the month. You will get an email from E-junkie after each of referral sales goes through, too. 
6. Changes to the Program: Coach and Play Baseball.com reserves the right to change, modify, add to, remove, suspend or discontinue any part of its Affiliate Program and may modify,change, add to, or remove portions of this agreement at anytime. At such time Coach and Play Baseball.com will notify Affiliates of such changes from the Affiliate Program. Your continued participation in the program will indicate your acceptance of any change.
7. Registration: To sign up as an Affiliate you must be at least 18 (eighteen years of age).
8. Termination: Coach and Play Baseball.com reserves the right to deem any site inappropriate and terminate sites as an Affiliate. Sites not allowed to participate as affiliates: Adult sites, sites that display adult banners, sites that promote violence, hatred or illegal activity.
9. Ownership and Licenses: Coach and Play Baseball.com grants a non-exclusive, revocable right to the Affiliate to use banners and cover art. All images and content provided by Coach and Play Baseball.com shall remain the sole property of Holt Baseball, and no part shall be deemed assigned or licensed to the Affiliate except as explicitly provide for in this document. 
---
Banners & Products
Feel free to use the product art-covers here to help your viewers click to the sales pages. You can 'right-click' the icon and do a 'save-as picture on your computer.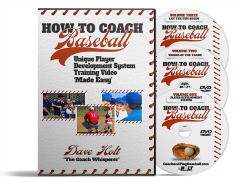 3 DVD Video set with 3 hours of Coaching clinic.
---
3 e-Book Combo Deal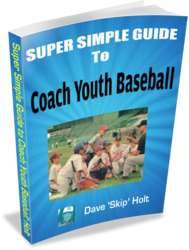 189 x 250 pixels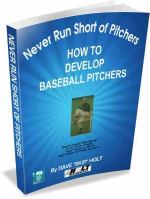 150 x 199 pixels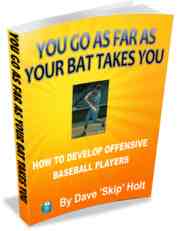 177 x 231 pixels
---
---
Hardcover Edition: 3-Ring Binder Workbook
with 3 Audio CD's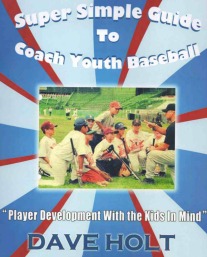 207 x 257 pixels
---
Sign up now and get your HOP LINK for you website.
Join My Affiliate Program!

Baseball Impossible: Player Development Make-Over



Build Your Own Culture of Player Development


&
Increase Your Players FUN Level

6-DVD Video Set Building Your Complete Player Development System

Click to Order

Audio CD Format Click Here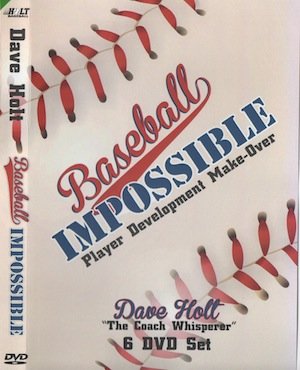 Coaching 6-DVD Box Set
Yes Dave, I Want to Help My Players Enjoy the GAME

Coaching little league baseball & youth baseball can be a blast or could be a  Tough Gig.

Who in their right mind would come back year after year and have teasing baseball practice and never improve their baseball skills? and get welled at by adults?
Baseball Coaching Videos:  Watch over 6 hours of tips on coaching approach, style, philosophy, and my unique player development system. 
Youth baseball carers are short-lived so lets make it count for our players. What do players really want out of playing baseball?
I want to find out more about the 6 DVD Player Development System

---
Still a little nervous? Have some questions? Please contact me so we can get to know each other. Contact Dave Holt or fill in the form and send to me.