Hey Friends ... sign up for my newsletter and get my
FREE Practice Checklist
---
Incredible Tips for High School
Baseball Coaches

Top high school baseball coaches often have a few common denominators.
Certainly no two high school coaches are going to do everything exactly the same way although we will notice the best coaches are able to consistently develop competitive baseball teams year in and year out.
Digging deeper we may see some similarities in the way the top high school baseball coaches go about coaching their teams. Let us look at some ideas and tips that I have used and probably many other good baseball coaches have implemented over the years.
"Coaching is the biggest single factor in winning teams. Shift a winning coach to a losing school, and he'll win there most of the time." CIF Commissioner Ken Fagans.
Teach Professional Baseball Style Baserunning
Top high school baseball teams run the bases well.
One of the best ways to know how to coach baseball is to pay attention to baserunning situations and continuously teach baseball baserunning strategies.
Use your team speed to your advantage when you have speed. Run and steal when the odds are in your favor. Try to avoid sacrifice bunting when you can steal and/or use the hit-and-run play.
I saw an American Legion team this past summer who had one of the fastest players in the league. Hitting behind him was a good bunter but also a good lefthanded hitter.
This fast base stealer never was thrown out stealing second base all summer. Invariably though the coach would call for the sacrifice bunt with this speedy runner on first and excellent lefthanded hitter right behind him.
This was poor baseball strategy for high school baseball coaches to give up an out with a sacrifice bunt when the player could have easily stolen second base sometime during the baseball inning.

50 Point Baserunning Checklist
Baseball Drills for High School Players: Practice the
Plays That Happen the Most
When it comes to baseball fielding one of the best baseball fielding tips I could recommend to high school baseball coaches it to practice the plays that happen the most over and over and over again.
Pavlov was a smart man. Ground balls happen several times in most every baseball game. I spend time fielding with my Rapid fire fungo drill almost every baseball practice.
Why? Because fielding grounders and getting rid of the ball with a strong, quick accurate throw and having another fielder catch the ball is not the easiest play in the world.
It takes a lot of baseball skill to perform routine plays consistently well. Don't expect your players to make the plays when they never get chances to practice the skills.
Spend time on high school baseball drills doing cut offs and relays, bunt defense, first and third situation, pitchers fielding practice (PFP's), pick-offs, catchers throwing to bases and pop up priorities and catchers blocking.
Pavlov system of doing it over and over and watch how consistent players will play in real game situations.
Coaching High School Baseball
If your team is not winning then look for making some changes. Winning baseball strategies call for adapting and improvising when the team is not clicking on all cylinders.
Sometimes changes must be made. Changes are not always easy but it can be done. High school baseball coaches may have change something or some ways you are doing things.
You may have to change your approach, move some players around, and try some lineup card changes or baseball practice strategies.
If you don't like the way things are going then do something to develop the behavior that matches your style. It is your classroom so make sure players know the rules and procedures that you want them to follow.
Be Consistent Most of the Time
Try to be consistent with your players and approach to the game. Set your routines and expectations early in the season.
Let your players know what you want from them. If you want everyone to pitch in after practice to fix the baseball field, store equipment and clean up then set the procedures and make the job duty assignments.
Change things when you need to but mostly keep everything consistent.
"A coach is someone who can give correction without causing resentment." John Wooden.
Baseball Workouts & Practice Strategy Using Index Cards
The best teachers use a baseball lesson plan. High School Baseball Coaches are professtional teachers. Often the lesson plan for the baseball workout is detailed down to the last second.
College baseball coaches plan every minute starting with early work, warm-ups, plyometrics, playing catch and throw drills, batting practice, fielding drills, pitchers bull pen sessions, inter squad simulated games and baseball conditioning.
I have been doing this awhile so I know the whole practice in my head. I visualize the whole baseball practice and what I want to do and who is going to do what skills before baseball practice starts.
I post the baseball practice plan template itinerary so all the players and assistant coaches know what the practice plans are.
I also use index cards with my schedule and notes to remind me not to forget any items, reviews or details that I need to go over with the players. I usually fold the index card up in the inner band liner in my baseball cap or have it handy in my back pocket.
In addition, top teachers know how to transition quickly from one part of the lesson to another. Avoid wasting time and get the next drill or practice skill organized and moving.
Baseball Strategy to Build a Continuous Supply of Players
You don't play baseball—you work it. As high school baseball coaches this means you that you watch and scout the youth teams feeding into your school.
Get an idea who the players are on the way up. Keep an eye on your JV and Frosh and middle school teams if you have them. Get to know these kids and work with their coaches.
Have some extra workouts just for the young players coming up. Get them started with the fundamentals that you want to establish so they are a little polished before they get to the Varsity baseball level.
Get the baseball players to play summer baseball. Work with your football, basketball and soccer coaches so you get some time with the players over the summer.
Start building your baseball strategies and system with your high school baseball drills and skills.
Begin molding your players' character, study habits, citizenship and work ethics the way you want it. Assist your players that have the baseball skills, desire and character to go on to post high school education and trade schools with ACT and SAT testing and college applications. Help the players that are capable to look at some college baseball opportunities and scholarships.
Separate the Sheep from the Goats Coaching Tips
Players have to want to play baseball. We have our players run a 6 minute mile before the season.
Why? The six minute mile is not hard but it is not easy. Players are going have to work a little bit to make the mile run.
Players have to want to play baseball and the serious players will get it done. We make an allowance for extra heavier kids (1/2 second a pound over 190). Some players take multiple times to make the timed run. Some coaches push the run to 6:15 so adapt for your own needs.
It Takes Four Years for
High School Baseball Coaches
These are some high school baseball coaching tips as you look at building a solid core foundation.
It takes four years to get the varsity baseball team molded completely to your liking. Build your players and system brick by brick.
Soon you will see your hard work rewarded with a solid group of dedicated baseball players with high character virtues on the field and off the field.
Thank you for visiting coachandplaybaseball.com. Please come back, bookmark, and share us with other baseball folks.
Youth Baseball Home from High School Baseball Coaches
Super Simple Guide to Coaching Youth Baseball
---
---

Baseball Impossible: Player Development Make-Over



Build Your Own Culture of Player Development


&
Increase Your Players FUN Level

6-DVD Video Set Building Your Complete Player Development System

Click to Order

Audio CD Format Click Here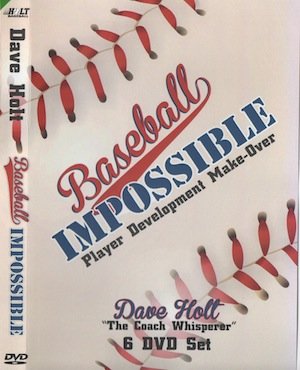 Coaching 6-DVD Box Set
Yes Dave, I Want to Help My Players Enjoy the GAME

Coaching little league baseball & youth baseball can be a blast or could be a  Tough Gig.

Who in their right mind would come back year after year and have teasing baseball practice and never improve their baseball skills? and get welled at by adults?
Baseball Coaching Videos:  Watch over 6 hours of tips on coaching approach, style, philosophy, and my unique player development system. 
Youth baseball carers are short-lived so lets make it count for our players. What do players really want out of playing baseball?
I want to find out more about the 6 DVD Player Development System

---
---