Hey Friends ... sign up for my newsletter and get my
FREE Practice Checklist
---
Baseball Lineup Major League Style
A baseball lineup card is very unique to all baseball teams. Since no two base ball teams are the same each ballclub has different variations of talents, skills and abilities.
Each baseball line up is it's own separate collection of baseball players. Each teams baseball line up cards has various strengths and weaknesses.
Building a starting line up and batting order is not rocket science. Although there are a few suggestions I will throw out to you for you to incorporate in your baseball lineups.
---
---
Every Baseball Lineup is Unique
I am writing this baseball article from a viewpoint that your league baseball teams have an all-star lineup. Of course every baseball team does not have an all star lineup or a major league lineup but we will look at a best-case scenario for your batting lineup.
Basically, we want to create baseball line ups that are capable of producing run production every baseball inning over a full baseball game. If you can build a league line up with your given baseball players that is a threat to score runs every inning then you should have plenty of fun while up at bat.
I have had some baseball teams where my players were limited in their talents and consequently struggled to score runs during any baseball inning. In fact, if the three, four or five hitters did not produce runs then we rarely were able to score any runs.
That is not an ideal baseball scorecard but, hey, life is not always easy. Right? So, here is hoping you have the perfect baseball lineup card with a strong batting order from top to bottom.

Batting Lead Off
Running speed is a helpful plus no matter what spot in the batting lineup so we will just figure that speed is a desired commodity anywhere on the baseball score card.
In addition to speed we would like the lead off batter to be good on base percentage player. We need some base runners aboard when the heart of the line up comes up to bat.
Also, it is often times valuable to have a pretty good hitter in the first slot in the order, as often the game will be on the line when the line up rolls over in the last inning. If you have a weak 'punchin Judy' hitter that cannot drive in runs then it may cost you.
The Two-Hole: Batting Second in the Baseball LineUp
Batting left handed is also a plus for batting order baseball lineup sheets so we will figure that left handed hitters are another desired commodity for an ideal balanced line up scorecards anywhere in the batting order.
Otherwise, we would like to have another pretty good hitter who is able to reach base a high percentage of the time.
If the lead off batter can steal bases then the two hole batter should be able to take some pitches in order for the runner to steal second base.

Third Hitter in the Three-Hole
The three hole is commonly the best most consistent hitter in the lineup. Could also be the hottest hitter at the time too.
Got to figure the good hitters are going to get their hits so you hope the runners get on base a few times in front of them so when the good batters do their thing they produce runs.
Often the three and four hitters will get pitched a little differently than the eight and ninth hitters. That means they often will see off speed pitches since the pitchers think they can hit their fastballs.
The three hole hitter should be able to lay off the tough pitches on the corners and in the dirt so to not help out the pitcher too often.

Batting Clean Up in the Four-Hole
For me the clean up hitter has always been the toughest spot in the order to fill on the lineup card. Mostly because I have rarely had a real pure power hitter to use in my baseball score sheet. Power hitters are hard to come across.
When a baseball player sees their name in the cleanup hitter spot they automatically think they have to be a home run hitter. They then try to swing bigger for more power, which they are not really capable of doing anyway.
I have had more success putting non home run power hitters in the four hole and tell them just do what they do—do not try to do anything extra.
Hey, it is only a spot in the batting score sheet so don't make it something more than that. Ideally, yes we would like a natural legitimate hitter who could hit the ball to the fences and over the fence a few times.
Batting in the Five-Hole
Just like running speed we will take power hitting anywhere we can find it in any spot in the batting scorecard sheet. Often the fifth hitter will have ample opportunity to drive in runs as usually the top four hitters on the team are hitting in front of them.
Sometimes you are better off putting the best power hitter here in the baseball lineup. If you put them in the clean up spot then their swing often gets too big and long because of the added anticipation of being the power hitter clean up spot.
Take the four hole out of their minds and pencil the good power hitter in the fifth spot if they mentally can't handle the clean up spot pressures.

Batting Sixth
Hopefully if your ball team is deep enough in talented hitters you have a productive batter even in the sixth position. The six hole batter will still have many run producing opportunities.
If you have a consistent offensive line up you will not lose too much in the sixth position. Often a really good hitter goes in a batting slump from time to time. Putting a top hitter who is a temporarily slumping batter in the 6th spot may take some heat off them while they try to work out of the slump.

Seventh in the Batting Order
If you have to choose the least productive hitter then you might think of putting them in the seven hole in the baseball lineup.
I like to have my eighth and ninth hitters somewhat capable of reaching base when the line up turns over. So I look at the seventh place in the baseball line up possibly a defensive specialist if you have that type of player.
Often a player might be a really good catcher, dependable shortstop or quality centerfielder but has a weak bat. I would try to sandwich them in the seven spot and hope their defense saved us some runs.

Double Clean Up the Eight-Hole
Players love it when you tell them they are batting double cleanup. You see them perk up and think they are something, which is what you want them to think.
This takes some the stigma away from them that they really are hitting eight because they may not be very good at baseball and statistics.
Of course if you really do have baseball players that are good clean up hitters in your eight spot then you might have a pretty strong offensive baseball lineup.
The Nine-Hole: Double Lead-Off
When the lead off holecomes back around and the line up turns over you would like to have the bases occupied at least a little bit.
That is why I like to have a pretty good hitter in the nine hole. I tell them they are double lead off so it takes a little embarrassing sting out batting ninth.
Hey, ninth is better than the next spot in the baseball lineup which is on the bench.
Thank you so much for visiting my site. I hope you stop by often and spread the word to your baseball friends. Take care.

Back to Youth Baseball Home from Baseball Lineup
Youth Baseball Today
More Hitting Tips
Guide to Coaching Youth Baseball

Baseball Impossible: Player Development Make-Over



Build Your Own Culture of Player Development


&
Increase Your Players FUN Level

6-DVD Video Set Building Your Complete Player Development System

Click to Order

Audio CD Format Click Here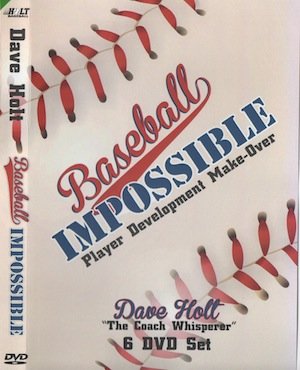 Coaching 6-DVD Box Set
Yes Dave, I Want to Help My Players Enjoy the GAME

Coaching little league baseball & youth baseball can be a blast or could be a  Tough Gig.

Who in their right mind would come back year after year and have teasing baseball practice and never improve their baseball skills? and get welled at by adults?
Baseball Coaching Videos:  Watch over 6 hours of tips on coaching approach, style, philosophy, and my unique player development system. 
Youth baseball carers are short-lived so lets make it count for our players. What do players really want out of playing baseball?
I want to find out more about the 6 DVD Player Development System

---
---