Hey Friends ... sign up for my newsletter and get my
FREE Practice Checklist
---
 Baseball Hitting Instruction
to Maximize Power
It is remarkable how little baseball hitting instruction goes on in our amateur leagues. At, least the right kind of training tips should be essential.
Most all of our youth sports coaching and teaching is doing more harm than good in most cases.
Unfortunately, the parent volunteers are not professionals and lack the proper teaching knowledge and skills to keep our players competitive.
Rarely, do you come across coaching that teach strategies and fundamentals that allows hitters to have power in their bat.
Weak hitting becomes the norm for hitters. Few player development minded hitting approaches ever reach the ball players.
Electrifying Secret to
Teaching Power Hitting

Simple: The key to hitting with power is well known to professional baseball people. This is not revolutionary.
Professional coaches know how to teach batters this technique.
It is time you started mentoring in your practices coaching skills to help your players develop power potential.
One thing's for sure. Professional baseball coaches and managers begin in spring training.
Coaching power hitting strategy, drills, and lessons are practiced in the batting cage from day one. Power Hitting: Get the inside tips to improving power hitting.
Don't Be a 'Punching Judy'

Hardly Can Reach the Outfield
Imagine a rolled up newspaper. A staggering amount of parent coaching is training hitters to hit the ball as if they had a rolled up newspaper instead of a youth baseball bat.
The ball is batted from the pitcher but has no 'pop' behind it---hence the name 'rolled up newspaper'.
The late former MLB pitcher, Jim Bibby used to come up to young players and mess with them after a bad batting practice.
He would ask the player teasingly, Hey, Is your name 'Punchin'? Player would say, What?
Jim would say, Your name must to 'Punchin' because the way you just hit that ball you looked like a 'Punchin' Judy.
'Punchin' Judy is code word for professionals that you were swinging weak and you have no power on the ball.
You had better hit the weight room or start hitting the ball in the correct place in the strikezone.  Power is practically eliminated.
Do You Hear What I Hear?

Baseball Hitting Instruction
In amateur baseball the coaching points sound a lot like this...
"Make It Be there"

"Wait for a good One"

"Don't Help Him Out"

"

Now lay off that High One"

"Be Patient"

"A Walk is as good as a Hit"

"Let the Ball Get Deep"..."let the ball travel" (BIG TROUBLE brewing here if you don't really know what you are talking about).
I wish you could sit in the dugout of a professional baseball game one time and listen to the coaching points and hitting suggestions. 
Yes, all these hitting points by coaches listed above may be correct in the right circumstances. In the meantime you may be doing some very harmful effects on the young batters on your ballclubs. 
These coaching points may be interpreted in a very different way and cause bad habits to evolve over time. 
See what professional baseball coaches use as their coaching points. It could help make or break most of your young hitting prospects.
Baseball Hitting Tip Second to None


Boost Hitting Performance Immediately
Your coaching skills dealing with hitters will be unsurpassed if you can get across this one baseball coaching tip.
Help your players to clearly understand where to hit the ball in relation to the plate. You be the judge when players start delivering like magic.
This is proven to dramatically boost batters reaching the outfield more often.
If practicing in the batting cage with a batting tee, always know where to set the tee in relation to the front of the plate. This is baseball hitting instruction the pros use.
Return to Hitting 101 from Secrets of Power Baseball Hitting Instruction
---
---

Baseball Impossible: Player Development Make-Over



Build Your Own Culture of Player Development


&
Increase Your Players FUN Level

6-DVD Video Set Building Your Complete Player Development System

Click to Order

Audio CD Format Click Here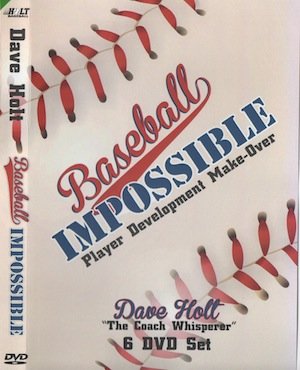 Coaching 6-DVD Box Set
Yes Dave, I Want to Help My Players Enjoy the GAME

Coaching little league baseball & youth baseball can be a blast or could be a  Tough Gig.

Who in their right mind would come back year after year and have teasing baseball practice and never improve their baseball skills? and get welled at by adults?
Baseball Coaching Videos:  Watch over 6 hours of tips on coaching approach, style, philosophy, and my unique player development system. 
Youth baseball carers are short-lived so lets make it count for our players. What do players really want out of playing baseball?
I want to find out more about the 6 DVD Player Development System

---
---