Hey Friends ... sign up for my newsletter and get my
FREE Practice Checklist
---
Powerful Way to Build
Confidence 


Empowering Ballplayers
Can you build confidence in your baseball team?
Do you know what it feels like to be embarrassed on the baseball field?
My first incredible coaching lesson of brilliant advice to build confidence came as soon as I got my first professional managing job.
After five mediocre seasons as a catcher in the minors at age 26 I began managing. My first season of experience was with the Winter Haven Red Sox in the Class A Florida State League.
I will never forget, Bill Slack, a long time minor league coach with the Red Sox pulled me aside at spring training with some dynamic advice.
Slackie said, Holty…If you are going to coach and manage you better have a lot of patience. And, as soon as you can you better learn to say something good about a player after you have had to get on to them.
Patience is Essential: Baseball
One of Most Frustrating Yet
Exhilarating Games to Play
There have been many folks that have offered me helpful hints and masterful tips. But, Slackie's way to build confidence really became indispensable.
Having played baseball for a few years I already knew how incredibly hard of game baseball is to play well. And, fortunately I was naturally pretty patient. So, I never was a real overpowering Yell and Holler guy.
To build confidence, one of the best baseball coaching tips for me has been to use a patient coaching approach. In my books on coaching baseball I continue to write about ways to use patience in your positive baseball coaching style.
Bob Uecker Understands Coaching Kids Baseball


Baseball is a Tough Game
Former major league catcher and now famous legendary broadcaster Bob Uecker comments on the awesome difficulty of playing baseball in a recent interview.
He says, I don't ever make fun of players. I don't care how bad a team is going, I don't do that. I don't make fun of other players because I know how hard it is to play…Baseball is really a tough game.
It sure is hard. Therefore, players are going to make mistakes, even on routine plays.

Baseball Coaching Strategies

Prepare For Anything
Stuff is going to happen. You are going to wonder what in the world the player was thinking or doing. How could he throw the ball to that base? What was he doing not tagging up?
Believe me… I have not seen it all but I have seen plenty. The game looks very easy to play from the dugout, the bleachers, and on TV.
If you want free baseball coaching tips then assume anything and everything is going to happen and be ready for teachable moments--you will have plenty of them.
Patience is A Must if Coaching Baseball


Are Your Able to Build Confidence?




It is stunningly sad to say, but I cannot tell you how many youth league coaches slam their hats down to the ground in total tantalizing anger after a bad play.
Let's go over a few scenarios and check out where you are your thinking.
Have you ever yelled at a player from the dugout while they were on the baseball field?
Have you ever seen a baseball coach come out of the bench area onto the field and yell instructions or get onto players on the field?
Do you know of coaches that reprimand the batters during or after their at-bat?
Have you witnessed baseball coaches that chew out the team after games at the post game meeting?
Heard of any baseball parents that bring up all the negative items that happened during the game on the ride home? 
Does your league allow the baseball parents to coach from the bleachers?
Are you aware of body language that could be positive or negative?
For more detail on the qualities needed for coaching you are invited to look at my player development systems in more depth. I discuss and answer questions like these and much more.
(Side Note: Remember, amazingly, major leaguers admit baseball is incredibly difficult to play).
How to Make a Recipe For a
Complement Sandwich


Top 3 Unbeatable Ingredients to Build Confidence
Coaches will have plenty to get on players about. There are going to be a lot of boo-boos in baseball. The best baseball coaching comes from coaches who understand and have a compassion for players, always respecting the kids for the difficulty the game presents.
Should youth baseball coaches ever embarrass players on the ballfield?
What is the best way to approach a player and go over the mistakes that were made?
Can you teach and coach giving corrections without causing resentment?
Is it best to just bring up the negative stuff?
Have you ever used the complement sandwich?
Building confidence in your baseball coaching approach and style is vital for maximizing player development.
For the key ingredients for the complement sandwich Check out more discussion and answers to implementing my player development system in your local baseball leagues and organization. 
Back to Baseball Coach Tips from Build Confidence
---
---

Baseball Impossible: Player Development Make-Over



Build Your Own Culture of Player Development


&
Increase Your Players FUN Level

6-DVD Video Set Building Your Complete Player Development System

Click to Order

Audio CD Format Click Here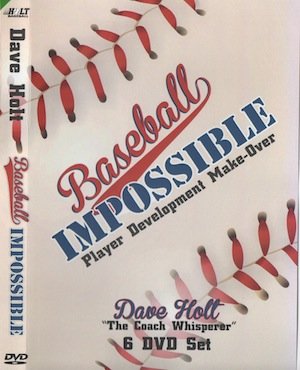 Coaching 6-DVD Box Set
Yes Dave, I Want to Help My Players Enjoy the GAME

Coaching little league baseball & youth baseball can be a blast or could be a  Tough Gig.

Who in their right mind would come back year after year and have teasing baseball practice and never improve their baseball skills? and get welled at by adults?
Baseball Coaching Videos:  Watch over 6 hours of tips on coaching approach, style, philosophy, and my unique player development system. 
Youth baseball carers are short-lived so lets make it count for our players. What do players really want out of playing baseball?
I want to find out more about the 6 DVD Player Development System

---
---