Hey Friends ... sign up for my newsletter and get my
FREE Practice Checklist
---
From JV Baseball to Movie Star
Kevin Costner played JV baseball at my high school when I was on the Frosh team. He moved away from Mt. Whitney HS and never played on our Varsity team.
Baseball must have stayed with him though as he went on and made a few impact baseball movies like 'Bull Durham, Field of Dreams, Chasing Dreams, The Upside of Anger and For Love of the Game.
Frosh & JV Baseball Supply
the HS Varsity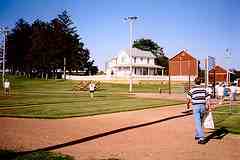 JV Baseball teams are the feeder system for the high school varsity baseball teams. I like to use the professional baseball model. The major leagues teams have a minor league system consisting of five or more minor league ballclubs.
The AA and AAA teams have players ready to move on to the major league ballclub when needed. That is exactly how the Frosh and the JV baseball team function for the high school varsity team.
A solid minor league system that is deep in talent and develops players is a huge asset for a major league baseball team. The pros spend millions of dollars developing, instructing, teaching and coaching their minor league prospects. We cannot match the money the pros spend but we can use the same mindset for our junior varsity and freshman teams to train and prepare players for the high school varsity baseball team.
Feeder Team for High School Baseball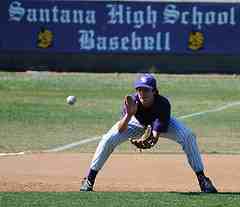 I would always tell my freshman team and JV baseball coaches not to worry too much about winning. If we were playing around .500 ball I was fine with that.
It is not because I don't like to win. I do like to win like anybody else. Winning is just secondary in my book. Developing several pitchers, catchers, infielders and hitters is more important than winning at this level.
Getting a lot of players and pitchers in the games is more appropriate. I want to use 3 or 4 pitchers per game rather than using only one pitcher to go seven innings, which is not developing enough pitchers in my mind. I don't want to put all my eggs in one or two pitchers basket.
Will that cost us some games? It might but, I don't care. I would rather get several fishing lines in the water, which gives me a better chance of catching more big ones (good pitchers). This helps create depth in your roster. Depth in your roster is a big part of keeping your major league team (high school varsity team) competitive year after year.
Plus, the baseball parents are happier too, if their kids are getting some playing time.
Professional Baseball
Development System
When I managed for the Boston Red Sox minor leagues I knew the phone was going to ring at anytime from the front office. My boss, Eddie Kenney, would call and say do you have a pitcher ready to go to AA or AAA? Or an outfielder or catcher, etc. I had to have an answer ready before he called because I never knew when he would call.
Often it was a no brainer. When you have a Brady Anderson, Ellis Burks, Jeff Bagwell and Curt Schilling tearing up the league it is time for them to move on.
The same goes for the high school baseball teams. The lower level JV baseball teams want to get a couple guys on a hot streak so when the varsity coach needs a guy immediately you want to have someone ready to go. Will it hurt the JV ballclub's chance to win? Yes, but that is not the main purpose to win the pennant at the JV baseball level.
Everybody Practices Together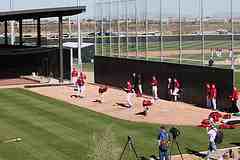 I like to have the entire high school baseball players practice together early in the season--at least for a week or two. I just wanted to create a work ethic and a way we do things around here atmosphere so my younger kids could experience it.
My established varsity players would be my role models for the younger players. I couldn't do practice together with JV players every day because is a little harder to get enough reps and swings in with too many players on one field. Plus some of freshman can be pretty intimidated and embarrassed at their level of play compared to a polished high school varsity player.
Pitchers and Catchers Report 3 Days Early
I also liked to have all the pitchers and catchers out 3 days early. That way I could teach pitching mechanics, fielding practice, go over signs, strategies, pitch selection and get their arms in shape, too.
This was a huge factor in setting the stage for developing a pitching staff the way I wanted it. You know my pitching system that develops an endless supply of pitching for youth baseball teams. You know that I have at least four pitchers per age year all the way up the ladder.
When I get to high school I want 6 to 8 pitchers on the freshman team. Then from 10th grade on I want at least four pitchers per school age class in the regular pipeline. I want 12 pitchers from grade 10 through 12. Add the six to eight on the 9th grade team and you could have up to 20 pitchers in a four year high school baseball system.
Now, all twenty are certainly not going to be all leaguers. But you should have three or four that can compete against the good HS varsity teams on a consistent basis.
Job well done! And someone might make a movie about it. Ha.
---
---

Baseball Impossible: Player Development Make-Over



Build Your Own Culture of Player Development


&
Increase Your Players FUN Level

6-DVD Video Set Building Your Complete Player Development System

Click to Order

Audio CD Format Click Here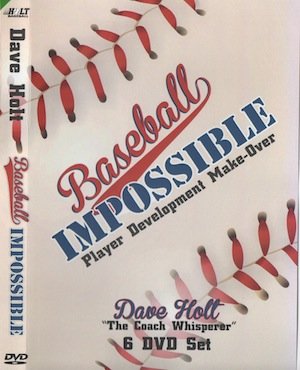 Coaching 6-DVD Box Set
Yes Dave, I Want to Help My Players Enjoy the GAME

Coaching little league baseball & youth baseball can be a blast or could be a  Tough Gig.

Who in their right mind would come back year after year and have teasing baseball practice and never improve their baseball skills? and get welled at by adults?
Baseball Coaching Videos:  Watch over 6 hours of tips on coaching approach, style, philosophy, and my unique player development system. 
Youth baseball carers are short-lived so lets make it count for our players. What do players really want out of playing baseball?
I want to find out more about the 6 DVD Player Development System

---
---