Hey Friends ... sign up for my newsletter and get my
FREE Practice Checklist
---
High School Baseball
Coaching Style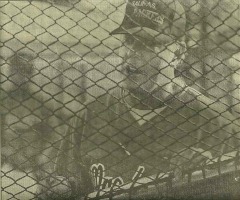 A Poem for High School Baseball Coaching I recieved from our reader Ron that I wanted to share with you all:
Here it is and my reply.
I wrote a poem for my son-in-law Troy Davis who is the head baseball coach at a Utah High School. Feel free to share it if you like. Poetry by Ron Tranmer©
---
Boys to Men
He has a love for baseball
And he knows well the game.
He loves the young boys on his team
and they love him the same.

He teaches them the rules
all about good sportsmanship.
How to hold a baseball bat
and where they need to grip.

How to stop a grounder
and to make a double play.
When to run to second
and when you need to stay.

What this coach is teaching
Isn't just about baseball.
He's teaching them to do their best
and rise each time they fall.

The boys that he is coaching
learn what isn't taught in schools.
The importance of good teamwork
and of playing by the rules.

They learn to do their very best;
To play hard and to win.
A good coach teaches all his boys
How to grow up into men.
High School Baseball Coaching Shows Boys How to be Men
Dear Ron, I love the last line, "A good coach teaches all his boys how to grow up into men".
Inspiring and awesome poem and very special I'm sure for your son-in-law, as I can feel the spirit between you all.
I heard a baseball coach once say, "Baseball is the just the vehicle that we use to teach our life lessons from." We all share the love and passion for baseball but the reality is the game is just a tool or the platform we use to share our positive impact on kids we get to coach.
We should look for and use any and all opportunities to teach more than the game. The best baseball coaches look for incidents to highlight examples of good teamwork and sportsmanship.
"Teamwork is not parents yelling and screaming at their kids when the kids don't excel in Little League--that's just destructive to the child's social and physical development. Teamwork occurs when a child is encouraged to be friends with his teammates and come to teammate's rescue in a tough spot". Bob Feller HOF from Bob Feller' Little Blue Book 2009..
Classiest & Most Respectful Team
I recently read a baseball article that Mike Matheny wrote to his youth league baseball parents while he was coaching his own kids prior to managing the St. Louis Cardinals this year.
He stated in the letter several noteworthy items but he did say that his teams would be the classiest most respectful team they will see all season.
That is a high bar to set but I thought that was impressive coming from a former MLB player. He didn't boast about how they were going to win the pennant and win all the tournaments. No, he wanted his teams to play with class and play to respect the game of baseball.
High School Baseball Coaching: Losing Brings Us Opportunities
Winning is really enjoyable and brings us pleasure and satisfaction as a player and a ball team. Losing is equally important because of all the teachable moments and real life lessons that we get to experience.
When we compete but come up short we have to regroup, patch up our mistakes and try to get better next time. It is good to have set backs from time to time. Failure forces us to adjust and overcome.
Winning also can bring us teachable moments too. Winning should be done with humbleness and appreciation. So many times a team will beat up another team and sure enough think they have it made next time they play and think this will be an automatic win.
Then the ball does not bounce their way that day and a 'sure victory' turns into an overly confident defeat by taking an opponent too lightly.

You Cannot Hide in Baseball: The Ball Will Find You
As a high school baseball coach we all know very well that baseball is full of failure. Baseball is one of the most difficult games to play well. You have to able to grind it out day after day.
Everyone is going to make a bad throw, drop a ball, kick a grounder, and strike out from time to time.
And you do not get lost in the pile like soccer or football—no, you are right out in the open in the spotlight. You cannot hide from your boo-boos in baseball.
You have to be able to shake off mistakes and get ready for the next chance. This is where it is absolutely vital for teammates to pick each other up.
There is so much disappointment and frustration in baseball that coaches and players have to be resilient and have each others backs. Staying together as a team is one of the best lessons that can come out of baseball.

Thank You High School Baseball Coaches
I am thankful for your son-in-law and all the great men in high school baseball coaching in our great country.
It is a real privilege to be a part of high school baseball coaching and have the chance to leave a positive impact on young men.
Most of the kids you coach will never play baseball after high school but you hope they all develop a love for the game and pass it on to someone else down the road.
I enjoy seeing my players go on to college and play baseball. But, I enjoy even more when I get an email from a former player of mine that he is in the Marines and is stationed in our embassy in Kenya.
That is where we make our biggest impact. Where we can help mold young people to have strong moral traits and values that will help them be really good future husbands, dads, employees, entrepreneurs, and men of faith, in their communities. Keep teaching our boys how to be men.
God Bless you and your son-in-law!
Dave 'skip Holt

Back to Home from High School Baseball Coaching
Vital Guidebooks
---
---

Baseball Impossible: Player Development Make-Over



Build Your Own Culture of Player Development


&
Increase Your Players FUN Level

6-DVD Video Set Building Your Complete Player Development System

Click to Order

Audio CD Format Click Here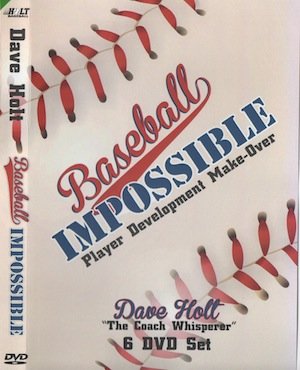 Coaching 6-DVD Box Set
Yes Dave, I Want to Help My Players Enjoy the GAME

Coaching little league baseball & youth baseball can be a blast or could be a  Tough Gig.

Who in their right mind would come back year after year and have teasing baseball practice and never improve their baseball skills? and get welled at by adults?
Baseball Coaching Videos:  Watch over 6 hours of tips on coaching approach, style, philosophy, and my unique player development system. 
Youth baseball carers are short-lived so lets make it count for our players. What do players really want out of playing baseball?
I want to find out more about the 6 DVD Player Development System

---
---