Hey Friends ... sign up for my newsletter and get my
FREE Practice Checklist
---
Essential Baseball Practice Drills: A Must Have for
Terrific Youth Coaching



Baseball practice drills have to focus on teaching baseball fundamentals. Basic fielding fundamentals include practicing the routine plays over and over.
Coaching youth baseball successfully involves implementing baseball drills that repeat fielding and throwing in every day strategies. Since making the routine play is so important it makes common sense in running practice to spend the majority of time practicing the plays that happen the most.
The professionals use baseball practice drills for the routine defense plays in spring training every season. Forget wasting time and energy on trick plays and pick-offs that you rarely need or are high risk for making mistakes on.
Typically the youth sports coach will have a player in each position in the outfield and infield. The amateur coaches will fungo to each player randomly one at time. The ball is returned to the coach and the strategy is repeated.
Problem: Too slow and practice time is wasted. Players are not getting enough practice turns.
Part 2 of Rapid Fire Fungo Drills
15 Minute Rapid Fire Fungo Drill: Defensive Training for the Routine Play
Begin with the infielders all at the second baseman position. Have at least one or two players playing first base.
Equipment List: a large empty five gallon bucket at 1B and a five gallon bucket full of baseballs at homeplate area (Preferably three dozen or more baseballs).
Put the bucket on a chair  or upsidedown milk crate so you don't have to bend over several hundred times or have someone under-handing the ball to the fungo hitter.
Start your coaching skills by beginning to hit routine groundballs to the player first in line playing second base. Immediately after the player throws to 1B hit another routine groundball to the next player in line who is in his 'ready position'.
Repeat this procedure until everyone in line has gone through at least four or five times, depending on how much time you allot for the drill. 
As the youth ball players get warmed up and their abilities allow, stretch their range by hitting the balls further away from them. Alternate hitting the groundballs to each player's side so they don't run into each other.
Tips on the Essential Rapid-Fire
Drill for Infielders
First baseman puts the ball in the bucket right behind 1B and immediately gets ready for the next throw.
After the fifth groundball or so have the players jog over to line up at shortstop. When the last player takes his practice turn at 2B begin hitting routine groundballs to the first player in line at shortstop.
Take five or so turns fielding the ball alternating from the players' left and right and moving them around. After each player takes his fifth turn fielding a groundball and throwing to 1B, have the players start lining up at third base.
Repeat the drill while players are at thirdbase. Teaching and coaching strategies should be minimal. Do not stop the players to give them coaching tips and hold up the whole drill for too long.
Skills and action are most important. Instruction and teaching is continuous but does not stop the drill. Remember the complement sandwich, too!
More Unbeatable Infielder Drill Tips
This is a pretty fast paced defensive baseball practice drill. If a player bobbles the ball give them instruction by telling them they can pick the ball up quickly and still have a chance to throw out the runner then let him finish the play.
If the ball gets by them,, they miss it, or kicks it too far away have the player roll the ball back to the shagger and get back in line. It is important to keep the rapid fire pace going so the players get lots of repetitions yet look out for the players' safety.
Coaching Side NOTES: Put the lefty players at 1B. If the right-handed players also play other infield positions then rotate them in and out of 1B so they all get groundball fielding practice. The lefty players will get a defensive turn fielding and throwing to 2B after the doubleplay round.
PART 2 Rapid-Fire Fungo Drill for Infielders (All Players)
For Part II and learn more baseball practice drills, strategies and coaching fundamental options using the 15 minute Rapid Fire Defensive Drill. Go to Part II of Baseball Practice Drills Rapid Fire
Return to Top Practice Tips from Baseball Practice Drills
---
---

Baseball Impossible: Player Development Make-Over



Build Your Own Culture of Player Development


&
Increase Your Players FUN Level

6-DVD Video Set Building Your Complete Player Development System

Click to Order

Audio CD Format Click Here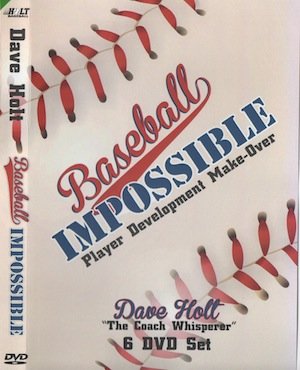 Coaching 6-DVD Box Set
Yes Dave, I Want to Help My Players Enjoy the GAME

Coaching little league baseball & youth baseball can be a blast or could be a  Tough Gig.

Who in their right mind would come back year after year and have teasing baseball practice and never improve their baseball skills? and get welled at by adults?
Baseball Coaching Videos:  Watch over 6 hours of tips on coaching approach, style, philosophy, and my unique player development system. 
Youth baseball carers are short-lived so lets make it count for our players. What do players really want out of playing baseball?
I want to find out more about the 6 DVD Player Development System

---
---