Hey Friends ... sign up for my newsletter and get my
FREE Practice Checklist
---
How to Play Baseball


Coaching & Playing Middle Infield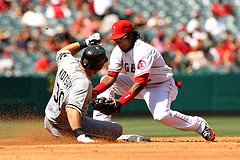 Ever been stumped with how to play baseball especially with positioning middle infielders?
It can be difficult for youth baseball coaches to know how to play baseball when they have not spent any significant time around higher levels of baseball.
Often to teach kids baseball it is really nice to have been exposed to college baseball or professional baseball. Unfortunely, very few volunteer baseball coaches have been blessed with playing baseball at the college or pro levels.
We are left with observing our peers, copying other coaches in youth leagues and pure ignorance. I may have a better way to know how to play baseball.
How to Teach Baseball


Baseball Mental Tips
It takes only an inning or two of observation to know if the baseball coaches know how to coach baseball. Just watching the dugout and how it operates is usually a pretty good clue.
Also, watching the positioning of the infielders often tells if a knowledgable coach is in the vicinity.
Ever had trouble keeping the players on the bench engaged in the game?
Are you confused at times on knowing when, where, why and how to position your corner infielders? When to play in, back, off the line, guard the line?
Do you struggle with helping teach your middle infielders about positioning? double play depth, holding runners on secondbase, cut-off and relay position?
Are your infielders taking full advantage of their between inning warm-ups? How many steps are the infielders taking on the groundball warmups?
These are common questions and concerns that most youth baseball coaches experience. Without being around higher levels of baseball it would be almost impossible to know much of this.
Try looking deeper into my player development system. There are numerous tips on teaching and coaching on how to play baseball. 
Best Baseball Tips
Teaching Baseball to Middle Infielders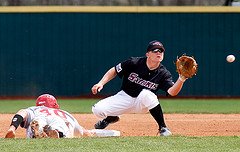 To teach kids how to play baseball playing middle infield you have to use a little common sense.
Why would a baseball coach or a baseball player want to have their pitcher throw a pitch when the shortstop or secondbaseman are standing on secondbase?
That should never happen. Why would a baseball team give that much room for the hitter to hit the ball through the infield?
You just do not teach baseball infielders to play that way. Your baseball team is at quite a disadvantage giving up that much ground to the batter.
Baseball Skills: Defensive Middle Infield

Strategies Holding Runners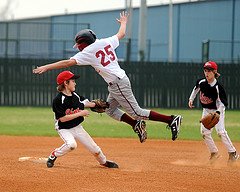 Eliminate your middle infielders standing on second base when the pitch is thrown. Pitchers should either step off the pitching rubber or attempt a pick-off if the shortstop or second baseman are on second base or are out of fielding position.
The simplest baseball technique is to have your middle infielders jockey back and forth alternating between the two. If the runner wanders off the bag too far unattended then the infielders begin jockeying in and out.
If that does not keep the base runner honest then keep going to the bag. The pitcher can step off or proceed with a pick-off play.
Middle Infield Baseball Techniques


How to Play Baseball
• Hold the baserunner close if they are a base stealing threat and the game situation calls for a steal.
• If a hitter has a tendency to pull the ball or hit to a certain field you may want only one infielder to 'kick around' the base runner.
• Know the speed of the base runner: If the runner is not real fast then leave them alone and cover more defensive ground.
• With two outs: There is not that much advantage to hold a runner close to second base with two outs because stealing third base with two outs is not that much of an advantage. It is better to play back and take away the base hit.
• The lower leagues like little league do not allow for a baserunner to lead off the base. Leave the runner alone. The players will have to learn to hold runners on when they reach 13-year-old baseball leagues.
• Watch college and pro baseball games. Look at the middle infielders and the corner infielders and where they play in various situations.
• Encourage catchers to throw back pick-offs to second base if the runners are getting to far off base on their secondary leads. (First base too).
Do not get caught with your infielders standing on secondbase during the pitch if you want to know how to play baseball like the pros.
In depth explanations of my player development system is available by clicking here. Explore many, many tips for coaches and players.
Return to Coaching Tips from How to Play Baseball
---
---

Baseball Impossible: Player Development Make-Over



Build Your Own Culture of Player Development


&
Increase Your Players FUN Level

6-DVD Video Set Building Your Complete Player Development System

Click to Order

Audio CD Format Click Here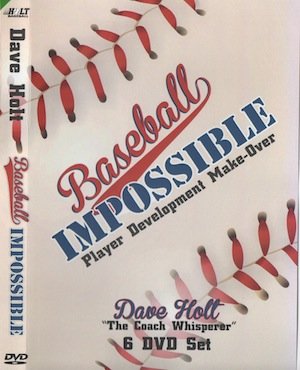 Coaching 6-DVD Box Set
Yes Dave, I Want to Help My Players Enjoy the GAME

Coaching little league baseball & youth baseball can be a blast or could be a  Tough Gig.

Who in their right mind would come back year after year and have teasing baseball practice and never improve their baseball skills? and get welled at by adults?
Baseball Coaching Videos:  Watch over 6 hours of tips on coaching approach, style, philosophy, and my unique player development system. 
Youth baseball carers are short-lived so lets make it count for our players. What do players really want out of playing baseball?
I want to find out more about the 6 DVD Player Development System

---
---