Hey Friends ... sign up for my newsletter and get my
FREE Practice Checklist
---

Coaching Kids Baseball
'First Things First'
Coaching kids baseball is an opportunity to do much good and a large amount of harm.
Unfortunately we don't have to look too far to find the harm. Have you ever seen a youth league coach of a player who gave up a home run or missed a tackle scream at him as if he had committed an unpardonable sin?
Who would do that? Spend an afternoon or evening at a Little League or youth baseball field and you'll find out. We have all seen the raving maniac coach acting like they have a license to yell and scream at children while they are on the ballfield.
---
---

Let Kids Learn & Have
Fun With Baseball
This is the Message
I read an article recently written by Larry Dierker on MLB.com.  Larry Dieker played in the Major Leagues for 14 seasons and guided the Astros to four National League Central titles in five seasons as manager from 1997-2001.
You must read this story...
Many years ago, we stayed at the Chase Park Hotel in St. Louis, across from Forest Park. I took a walk there one day and stopped to watch a ballgame.

I would guess the kids were 10 years old. The youngster who was batting when I walked up was a lot smaller than the rest of the players and the pitcher was a lot bigger.

The little kid was scared to death. He bailed out almost before the pitch left the pitcher's hand. The dad coaching third was enraged. "You bailed out!" he screamed. "How many times do I have to tell you?"

After the next pitch, he yelled an expletive. The kid started crying, but that didn't stop Mr. Mean: "If you want to cry, just get off the my team. Go cry to mama, you little baby."

I walked away, but the image has stayed with me all these years. It's not that I hadn't heard similar things before and haven't seen them since. It was just the most outrageous.

Last spring, I formed an organization called Dieker's Champs, as part of a community program to help kids in our school district. We had two goals: To help kids optimize their ability to play baseball and make sure they had fun.

At our first clinic, I insisted upon talking to the parents. "These kids are out here to have a good time. Please let them. It is unlikely that any of them will make it to the Major Leagues. So, please don't yell at them. And please don't yell at the other team either.

Finally, the umpires are here to help your kids. They're not getting rich and they're sure to miss some calls. When they do, try to remember that we can't play the game without them. If you want to scream at umpires, go to an Astros game." by Larry Dierker MLB.com

The Cart Before the Horse
What's the Important Part of Coaching
Kids Baseball?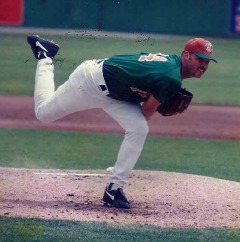 I get so frustrated at our coaches coaching kids baseball today. Most of them only want to win the pennant or the travel ball tournaments.
Rarely if ever do coaches attend a baseball coach's clinic. If they do all they want to hear about is the baseball part. A former player of mine Steve Renko told me a story recently about a youth baseball coaches clinic he was speaking at in the Kansas City area.
Steve started talking about stuff like building a positive coaching approach, the importance of developing a players playing abilities and making sure the kids have fun…stuff that is really important.
Two guys raised their hands and asked Steve when he was going to get to the baseball part? Steve said, "We are going to get to the baseball part in a bit, but this is important and I wanted to share some ways to build a quality coaching style for coaching and developing kids." The two guys said they wanted no part of hearing this and got up and left.
Gotcha!
I Don't Want to Hear Another Way
That is the truth, too. Most of our volunteer baseball coaches want no part of hearing how to treat kids and how to make baseball fun while coaching kids baseball.
Why? Because; these are the type that are the yellers, holler and screamers. They don't want to hear anybody that might shed light on their win-at-all-costs style.
They don't want to hear anyone that shows them there is a better way than yelling and embarrassing kids on the ballfield. They don't want to be exposed for what they are: Mr. Mean.
Just Got a Real Bad Review
on Amazon
Unfortunately, the baseball parents today go right along and feed the frenzy. For some reason baseball moms and dads don't think baseball coaches are coaching unless they are yelling and screaming, embarrassing kids.
I want to help youth baseball coaches with the baseball part, too. But first, the other part and the most important part are understating the approach to take when developing baseball players.
I just got a bad review on Amazon.com that someone wrote after buying one of my baseball coaching DVD videos.
The fellow said how disappointed he was and felt like he got ripped off because this guy (me) just stood in front of the video camera and talked.
I wrote him back and said that his mindset is what is wrong with youth baseball today. 
Everyone wants to learn the baseball part—no one wants to take the time to hear the message; the same message Larry Dieker wrote about…it's not about you, it's about getting better and having fun coaching kids baseball.
Back to Baseball Today from Coaching Kids Baseball

Baseball Impossible: Player Development Make-Over



Build Your Own Culture of Player Development


&
Increase Your Players FUN Level

6-DVD Video Set Building Your Complete Player Development System

Click to Order

Audio CD Format Click Here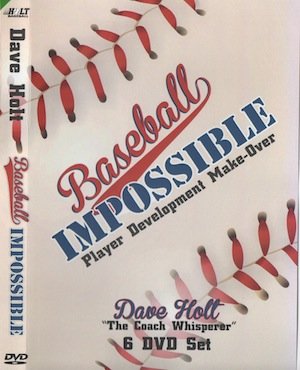 Coaching 6-DVD Box Set
Yes Dave, I Want to Help My Players Enjoy the GAME

Coaching little league baseball & youth baseball can be a blast or could be a  Tough Gig.

Who in their right mind would come back year after year and have teasing baseball practice and never improve their baseball skills? and get welled at by adults?
Baseball Coaching Videos:  Watch over 6 hours of tips on coaching approach, style, philosophy, and my unique player development system. 
Youth baseball carers are short-lived so lets make it count for our players. What do players really want out of playing baseball?
I want to find out more about the 6 DVD Player Development System

---
---