Hey Friends ... sign up for my newsletter and get my
FREE Practice Checklist
---
Travel Teams Baseball
vs. Rec Leagues
'A Closer Look'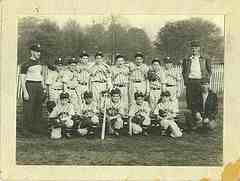 Travel teams baseball has grown steadily in popularity over the last twenty years. What does this mean?
It means parents as coaches have taken baseball into their own hands and started their own baseball travel teams.
But why start up your own baseball team? Why break away from the local Rec. baseball leagues and go independent with traveling baseball teams?
Let's look into this youth sports phenomenon a little deeper.
---
---
---
Inside Traveling Baseball
Good, Bad & Ugly
First, we have to know a couple of big pieces of the of the puzzle picture. When we look at problems in youth baseball we have to look at parents and kids sports.
The baseball parents and volunteer dad coaches have mostly ruined youth league hitting in baseball. Young hitters begin to be beat down soon after leaving the friendly confines of T-ball.
My books and videos explain the problems pertaining to adults hindering the development of baseball hitters in much detail. Starting at about age 7 the hitters are slowly conditioned on how not to hit. Players begin a downhill snowball dropping off the baseball train at various birthdays until age 14. 
Starting at about age 7 and up the hitters take a barrage of criticism in the batters box and on the ride home. When the baseball is pitched by a peer pitcher, a coach pitch or machine pitch it is now open season for youth sports and parents to start grinding the batters down. (How to avoid the hitting grind down).
For the next seven years the coaches and parents artfully wear down the hitters to the point where few can hit enough to gain any enjoyment from the game. Frustration takes over and under the guise of 'Burn-out' ball players will leave the game for something else to do. Building professional style hitters. 
Secondly, we know the data says that 75% of youth sports kids (including baseball kids) are out of sports by age 14.
Now, there are a myriad of reasons why kids drop out of sports. 
For example, in baseball a kid leaves little league and might have been an average player or even an all-star. Now, as a 13 year old the kid ballplayer is playing on much bigger ballfields. They soon realize that the game got much harder to play almost overnight. 
Suddenly the youngster is experiencing frustration and failure so much they want to run and hide from the game. How can players make it through this difficult transition? More details are found in my books and video products.
Who wants to be embarrassed playing in front of their peers and families? Anyone in their right mind will look for other things to do than be embarrassed sitting on the pine. Coaches, players and parents need help to survive baseball Post 12& Over.
My Youth Travel Teams Baseball Theory
What does this mean? Well, this is my (Dave Holt's) theory on traveling baseball team and why youth travel teams baseball have evolved and grown.
Take the fact that a large majority of youth ballplayers cannot hit the ball real well (especially facing the average and batter than average pitchers). Players need help hitting with the right mind-set. This one tip alone could make or break a kids baseball career.
Add the facts that post puberty age (13 & 14 year olds) drop out like flies. What do we get? Man made Travel teams baseball.
Baseball dads and parent coaches could not face the fact that because their young ball player could not hit the ball very good and was on the verge of not getting much playing time and even dropping out of the game of baseball, Travel teams baseball began.
Travel Youth Baseball 'Myths'


Challenging the Selling Points
The youth sports parents and travel team coaches give us all the Rec. ball vs. travel ball talking points Here are some of the myths...
Travel ball tournaments have all the best players and the competition is the elite teams. 
Recreation baseball has a few decent players but a lot of really crummy players too. The competition is not very strong. 
You will not get 'seen' unless you play on a travel baseball team. 
Your kid better specialize in one sport and play year-around travel ball or they will never be good enough to get a college scholarship. 
Let me explain how all these myths can be challenged and de-bunked in detail here.
The 'Cover-Up' in Travel Teams
Paying to Delay the Unavoidable
Baseball parents in order to avoid and cover-up the embarrassment of seeing their own kids sit on the bench or quit the game altogether invented travel ball teams.
Sports parents instinctively don't want their kids to be hurt or embarrassed on the ballfield. The instinctive response for the over guarded parent is to rescue the kid and provide protection from emotional harm (and save face that their child is really not good enough which is not the end of the world by the way). 
Example: 'My kid's baseball coach is not playing my kid enough. We are going to take our toys and go over here and start our own team. That way I can assure my own kid will get to play regardless of the fact they cannot hit it, throw it or field it very well."
Could the Parents be basically paying to delay the inevitable outcome? More on avoiding the end game and having a longer playing career. 
Guaranteed Pay for Playing Time

Team Shopping in Travel Teams Baseball
We still have plenty of travel baseball players who can't hit it or play baseball very well as we do in Rec Ball too.
But their parents have paid their way into playing time as a parent solution.
Baseball parents will pay big money to make sure that their kids get plenty of playing time or travel to a Cooperstown tournament or to an 'Elite' tournament.
Often if the playing time evaporates on one travel ball team the baseball moms and dads pickup their toys and go find another travel team or start their own traveling team.
Plenty Will Take Your Money & Get Their Hand in Your Pocket
The bottom line is either the kid can play or they can't by the time they reach high school baseball.
It does not matter if they play Rec. Ball or youth travel teams baseball to get there.
Just know that there are plenty of folks out there eagerly waiting for your money if you choose to go the travel baseball league route.
Money talks—regardless of ability. You got the 'Jack'?--then you will play in travel teams baseball. 
Return to Youth Baseball Today from Travel Teams Baseball

Baseball Impossible: Player Development Make-Over



Build Your Own Culture of Player Development


&
Increase Your Players FUN Level

6-DVD Video Set Building Your Complete Player Development System

Click to Order

Audio CD Format Click Here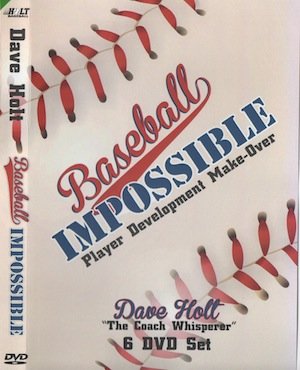 Coaching 6-DVD Box Set
Yes Dave, I Want to Help My Players Enjoy the GAME

Coaching little league baseball & youth baseball can be a blast or could be a  Tough Gig.

Who in their right mind would come back year after year and have teasing baseball practice and never improve their baseball skills? and get welled at by adults?
Baseball Coaching Videos:  Watch over 6 hours of tips on coaching approach, style, philosophy, and my unique player development system. 
Youth baseball carers are short-lived so lets make it count for our players. What do players really want out of playing baseball?
I want to find out more about the 6 DVD Player Development System

---
---