Hey Friends ... sign up for my newsletter and get my
FREE Practice Checklist
---
Are We Coaching
Baseball Football?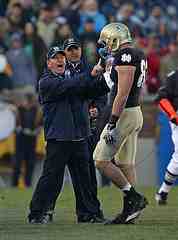 Baseball Football? We are baseball coaches although football is making an impact on our baseball coaches. Youth league fields are morphing into gridirons. Football techniques are infiltrating our baseball fields.
I have little beef with football as a positive sport that teaches many life skills and I encourage players to participate especially in high school.
I was a very mediocre high school quarterback back in my hay day. I do like football.
The beef I do have with the gridiron is the coaching demeanor that is so often easily accepted as the norm, like a critical tone of voice, and angry level of verbal presentation of many football coaches. Check your ego.
Football coaches often appear to have a free license to yell loudly, get in your face, scream, and use bad language, which is taken as just the conventional, exclusive way you treat your players by our society.

Treat Ball Players with Respect
I always go back to the professional baseball training model. You treat your players with respect realizing how much difficulty it is to playing the game. It should matter which game baseball football.
How do I recommend teaching the game? Never embarrass a player in front of others.
More and more you will witness our coaches shouting at players across the ballfield. Yelling loudly with a critical tone and embarrassing players in front of peers, opponents and their families.
Players are commonly yanked out of the game right in the middle of the inning for committing a mistake.
Follow the Pro Baseball Model

Professional baseball coaches do not treat players this way. Our school teachers do not treat their students this way. In Matthew 12:34 Jesus even warns us to watch how we express ourselves, For the mouth speaks from the overflow of our heart.
What can I do? Follow the pro model when giving your hints and tips.
The pro ball coaches are more apt to take the player(s) aside between innings and ask them What was your assessment of the play?
Take them out of the limelight and get their perspective. Then, reply by using this as a teachable moment. Go over the correct way on how to play baseball using the compliment sandwich technique.
Tone
Your tone can be firm without being harsh. It is worth repeating. You never want to embarrass your player in front of others.
You can speak in a gentle, quiet voice and still be firm. Review, recommend, teach, instruct, give advice, build self confidence and get ready to play ball.
Tony Dungy won a Super Bowl using this calm but firm coaching approach. Baseball football... it does not matter.
Between Inning Huddles Kill Skills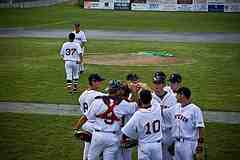 Many youth coaches have players huddle up before taking the field and after taking the field every inning.
It is like they have to give out all these quick help hints and how to play baseball instruction tips before and after each inning or they see themselves as not coaching. This is over coaching.
By huddling up coaches are taking valuable time away from the pitcher getting his between inning warm-up pitches in.
The firstbaseman is responsible to making sure each infielder gets at least two grounders between innings to keep their throwing arm warmed up. Outfielders also need at least a couple of throws minimum to stay tuned up.
By wasting time huddling up the players get cheated out of proper warm up repetitions. Watch the pros. Do they huddle up? No! No! No!
Baseball football, there is a difference. Football requires a huddle to call the plays. Baseball huddle is just wasting time.
Nothing but Show: Baseball coaches think they have to be 'seen' huddling up with the players between innings so they can affirm to the parents and the spectators that 'I am coaching and I know how to coach and I am proving it by having a huddle between every inning.'
Now there are times that entire team communication needs to take place just like a football huddle. In baseball it is silly and unnecessary to huddle up between every half inning. Know the difference in baseball football.
Red 42, Red 42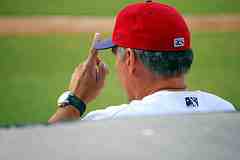 Often coaches will call out a football type play when a first and third situation comes up or a bunt is in order. Blue 38 or Green 98 which I guess is a certain defensive play. Players have to memorize their team play book.
Professional teams use a sign system. Either the coach will give a sign from the bench to the catcher or thirdbaseman to relay the signs to the rest of the infielders.
Both methods work. I just do not get why baseball people keep copying football.
Baseball football. I think I know why baseball coaches have gone to the verbalizing plays. They have to impress the parents that they know what they are doing. If the parents hear all these code plays 'Blue 143' then the baseball parents think the baseball coaches must be really smart.
Giving signs from the privacy of the dugouts for defensive situations does not allow the parents and the opposing teams to know the plays are being called and the baseball coach cannot impress the baseball parent as easily.
Our Coaches Dress like
College Football Staffs
Ever notice the really fancy, colorfully designed, team color combination collared shirts jackets and team apparel worn by college football coaches?
They look really good on the sidelines. Only now, our youth level coaches are starting to dress that way.
Many coaching staffs are spending a good amount of money on sports apparel collared shirts that match their teams' colors. They have their names or team coach screened on the backs of the shirts.
More and more youth leagues are taking on a football likeness.
I remember my first season in pro ball in Elmira, New York in 79'. The famous lefty, Johnny Podres was in town as a traveling pitching instructor.
A couple of our pitchers were playing catch with a football before the game. Johnny yelled out, Get that blankety blank football out of here. If you want to play football then go play football.
Stop and think folks. This is baseball, our great game. We do not have to football-ize it.
Back to Youth Baseball from Baseball Football Coach
---
---

Baseball Impossible: Player Development Make-Over



Build Your Own Culture of Player Development


&
Increase Your Players FUN Level

6-DVD Video Set Building Your Complete Player Development System

Click to Order

Audio CD Format Click Here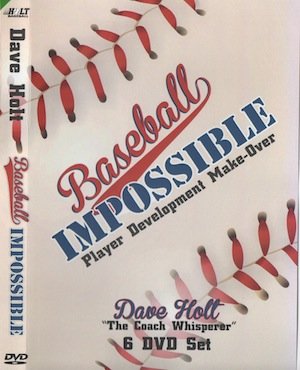 Coaching 6-DVD Box Set
Yes Dave, I Want to Help My Players Enjoy the GAME

Coaching little league baseball & youth baseball can be a blast or could be a  Tough Gig.

Who in their right mind would come back year after year and have teasing baseball practice and never improve their baseball skills? and get welled at by adults?
Baseball Coaching Videos:  Watch over 6 hours of tips on coaching approach, style, philosophy, and my unique player development system. 
Youth baseball carers are short-lived so lets make it count for our players. What do players really want out of playing baseball?
I want to find out more about the 6 DVD Player Development System

SHARE Your Youth Baseball Topics HERE!
The good, the bad, and the ugly. Your CHANCE to get it off your chest. Share with us what is on your mind.
We want to hear from you!
Allow for 12-24 hours for Questions and Comments to be posted after a review by our staff. (me)
---
---