Charleston Hitting Lessons

'You Will Go As Far As Your Bat Takes You'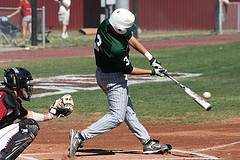 Instructor: Dave Holt
19 Yrs Professional Baseball Player

Promise I Can Help You
Hit for More Power


Boston Red Sox Player Minor League Catcher
11 years field manager Boston Red Sox
Player development expert
Pro Instructor and coach
3-Time Manager of the Year
Hi, Been blessed to work under Ted Williams, Carl Yastrzemski, Wade Boggs, Jim Rice, Rico Petrocelli, Terry Crowley and so many others!
I love to teach pro hitting styles and approach I learned as a pro player in the Boston Red Sox organization. 
Do you need Charleston hitting lessons? That question typically comes up at some time during a players baseball season for baseball hitters.
The answer is usually yes.
Why do you need hitting lessons? Because the amateur baseball volunteer coach does not have the proper baseball hitting mindset to coach baseball hitters for success.
More often than not the volunteer youth baseball coaches will do much more harm than good for players batting skills. Many well meaning, well intentioned, but ignorant baseball coaches really hamper hitting swing development.
Over coaching, wrong coaching, and a daily dose of negative scolding verbal episodes takes the batting life right out of youth players. Often young hitters are verbally scolded right out of baseball by youth baseball coaches.
Hi Coach Holt, Not sure if you're keeping up with local high school stats around the area (Charleston Post and Courier this past Friday) - but if so you would see Nick Bell leading in Batting Average (.511), hits, RBI. The work last fall with you is really paying off big and I wanted to give a big THANK YOU for your help. He is keeping with what you taught him and has made a world of difference. Hopefully we can see you soon - maybe check out a playoff game if you can! Best of luck - Barry Bell.
---
---
How Do We Sign-Up?


Interested? Click Here to Lesson Info Page
---
Avoid the Baseball
Parent/Child  Frustrations



Hundreds of times I have heard Dads and some Moms tell me, "I have brought him to you at Charleston Hitting Lessons because he will not listen to me any more." Frustrated parents try to coach their kids only to be disappointed when both parties become irritated about the situation.
Dads get on their kids thinking they are trying to help but the well intended advice to the kid sounds like, 'I can never measure up to your standards Dad.
Nothing I do is good enough." Pretty soon the kid says, "Why do I want to go to practice and the games and have my coach hammer on my mistakes and then get the tongue lashing again on the way home by Dad and Mom after I struck out.
I think I will not sign up this year and find something else to do with my time." Presto, another baseball player out of the game largely because the adults made the game so miserable to stay in it.
Tap Into Over 25 Years of Pro Baseball Instruction
At Charleston hitting lessons we know what kind of hitting mindset it takes to be good hitter. I come from a professional baseball background. I know how pro hitters approach hitting.
Amateur baseball coaches will mess you up keeping you from reaching your talent ceiling. Unless you are a complete natural hitter then you probably need professional hitting instruction.
You will not get this type of baseball instruction in the youth leagues or travel ball. Coaches and parents are so enamored in the win-at-all-costs approach that they never are able to see baseball player development as the main objective.
There are several baseball basics to teach baseball correctly that you will not get from youth sports coaches.

First: you need to know where to contact the pitches in various areas of the strike zone. If you do not know this you are doomed to batting frustrations.

Second: You need to know how to think on various counts. If you do not take advantage of the count when it is in your favor you will be in trouble.

Third: You need to know what types of different pitches to look for and what different pitches let go by. This alone in another of the absolutes of hitting success you have to know.
Do You Need Hitting
Lessons Instruction?
Ask yourself: Do you need batting lessons from a professional baseball instructor? Where else are you going to find out how pro ball players think, hit and approach hitting?
Not in the amateur baseball game. Many youth baseball coaches ruin hitters and prematurely end players careers because of the wrong approach to the game of baseball.
Can you afford to not reach your full potential because of poor of lack of educated baseball coaching?
You might need professional hitting lessons when:
Your child is completely frustrated.
The baseball coaches encourage kids to 'take' pitches and try for 'walks' or make the kids bunt too much.
You and your child are getting frustrated with each other when you talk 'hitting'.
Your child is at puberty age or post puberty and really likes to play baseball. ( Has a chance to make it to high school baseball).
You do not have time or space to practice with your child.
You may not need professional hitting lessons when:
When your player is hitting the ball consistently hard.

The kid is not really seriously into baseball.

Just because your neighbors kid is getting lessons.

Your kid has not reached age 13 and older.

You already approach hitting like a professional hitter.
Charleston Batting Lessons for
Baseball Hitters
Charleston Hitting Lessons run half hour (30 min.) in length.
The rates are $35 per half hour.

If you pre-pay for four or more lessons the rate is $30 per half hour.
The half hour can be split between throwing, pitching and fielding for a half hour and hitting for a half hour. This gives you a well rounded baseball skills instruction session that will polish up your skills and techniques.
We are open to all ages but would like to start when the players reach 10 years old and up. At age 10 the motor skills are developing enough where the kids can follow the throwing drills, hitting lessons and drills, pitching drills and fielding drills and actually put them to use as part of their game skills.
We have small group rates of $25 an hour for three to four players at the same session. That is $25 each for the hour. Call Charleston hitting lessons @ 843 695-9630 to talk with me about your needs.
Back to Youth Baseball Home from Charleston Hitting Lessons
Back to Charleston Baseball Lessons from Charleston Hitting Lessons 
Holt Baseball Batting Cages
---
---

Baseball Impossible: Player Development Make-Over



Build Your Own Culture of Player Development


&
Increase Your Players FUN Level

6-DVD Video Set Building Your Complete Player Development System

Click to Order

Audio CD Format Click Here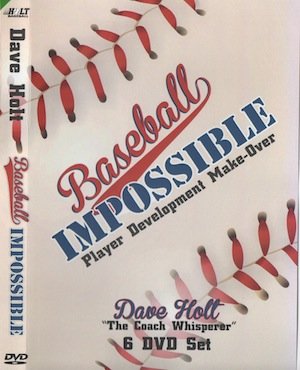 Coaching 6-DVD Box Set
Yes Dave, I Want to Help My Players Enjoy the GAME

Coaching little league baseball & youth baseball can be a blast or could be a  Tough Gig.

Who in their right mind would come back year after year and have teasing baseball practice and never improve their baseball skills? and get welled at by adults?
Baseball Coaching Videos:  Watch over 6 hours of tips on coaching approach, style, philosophy, and my unique player development system. 
Youth baseball carers are short-lived so lets make it count for our players. What do players really want out of playing baseball?
I want to find out more about the 6 DVD Player Development System

---
---